Kitchens are usually that space in our house that takes maximum beating. Even the largest kitchen is under extreme pressure of storing utensils, crockery, food, pans, etc., not to mention the appliances that are also required just as much to cook. All these things together make a huge mess in the kitchen which is not only hard to clean up but also an unnecessary chore. We all lack that additional space we crave in the form of cupboards and some extra room on the floor perhaps. When you find it hard to find a home for your new blender or your wine bottles do not have a slot to go into, then you need creative storage ideas and solutions such as these to come to your rescue.
Occupy the window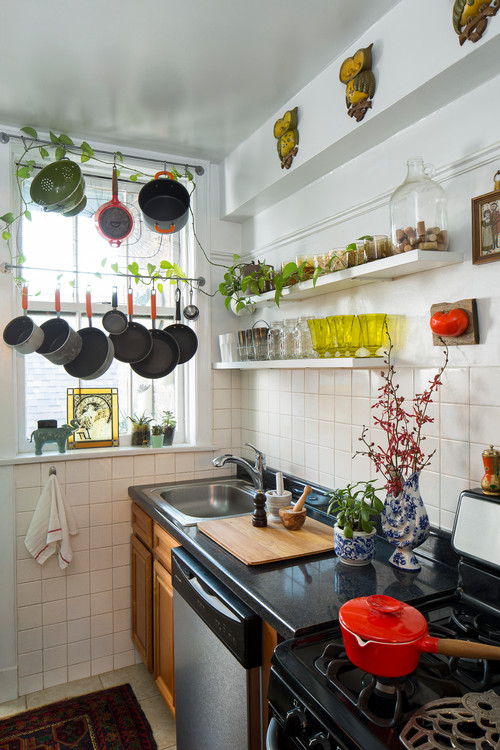 [Image: Studio Sven]
If your walls are already screaming with shelves and have nothing to show for except the utensils, then you can shift your attention towards the window. Just fit a few rails and hooks to hang pans will create a good storage space for your utensils. This strategy also meets another purpose of creating some privacy by blocking the view inside from the outside or obscures a not so attractive view.
Make use of old boxes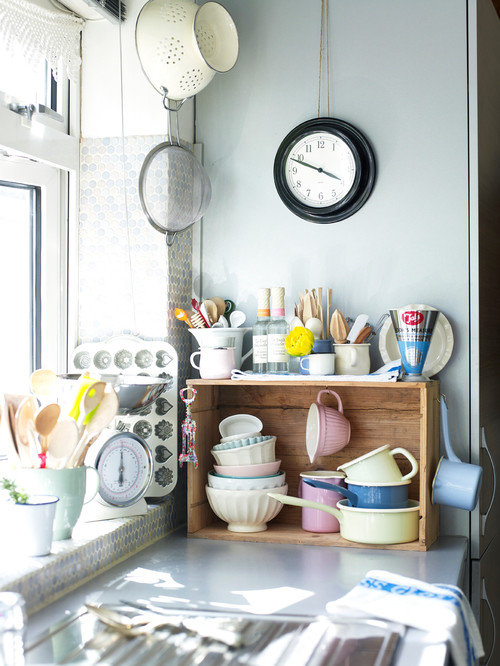 [Image: Joanna Thornhill Interiors]
Old wooden boxes and the crates that have been lying uselessly around the house can now serve a greater purpose! You can perch them up on a surface and they suddenly add levels of storage space.
If you don't have them at home, you can also pick them up from a garage sale or scout some vintage stores. You can use every inch of space by inserting hooks under the top edge.
DIY Spice Storage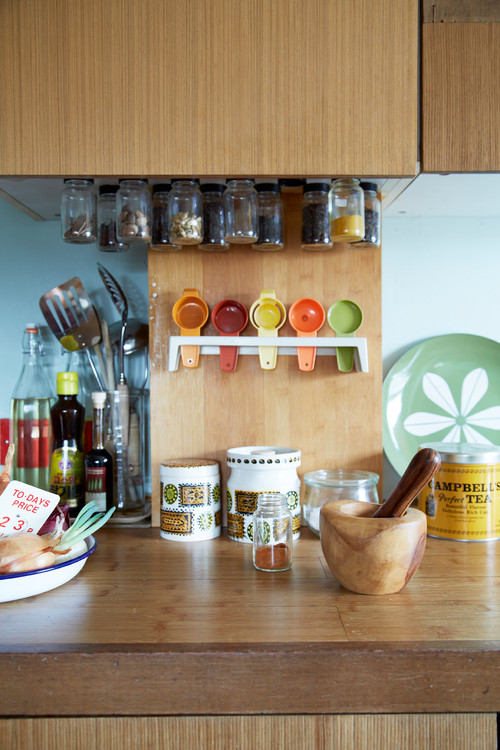 [Image: Joanna Thornhill Interiors]
Spice jars are something that take a copious amount of space inside the cupboards and are always way more than we actually need. But the only good thing with these jars is that they are small and not very heavy which means that they can be easily stored elsewhere. Nail or glue these jars to the underside of your kitchen cabinets. This way you will be able to store your spices within reachable distance and prevent them from taking too much drawer space. The best thing is that you will always know which spice is where!
Space above the doors
[Image: Moon Design + Build]
When are looking for possible storage spaces in our kitchen, we always tend to overlook that extra space lying vacant above the door. In this image, the kitchen door has been used from all sides to make space for small items that take the maximum space in your kitchen.
Make use of the sides 
[Image: Paul Craig Photography]
If you have a cabinet, that has some side space available to be used, then they will make an excellent spot for extra storage. You can add some rails or hooks that can be used to hang dish towels or you can also store larger items like chopping boards. All you need is a sturdy hook suspended from a loop to create a makeshift storage space.
The good old peg board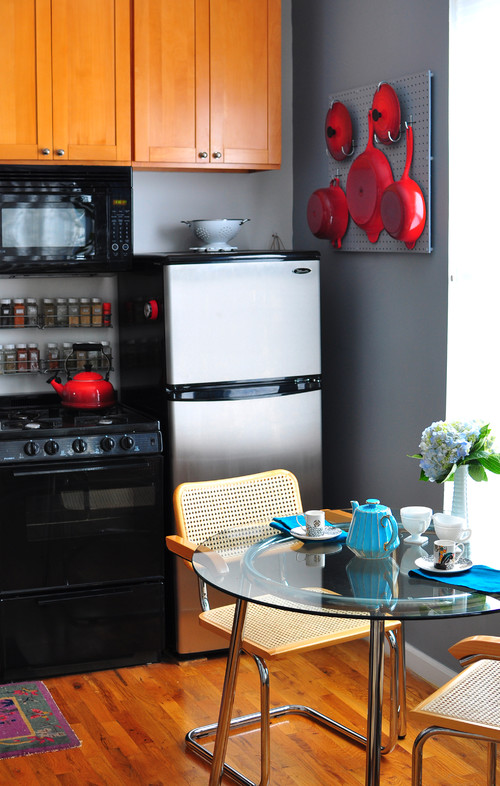 [Image: Scheer & Co.]
Pegboard is highly versatile and can be bought at an amazingly low price. All it needs is a simple fitting of cup hooks that can be used to store pans, utensils, and even small baskets if you use sturdy hooks. Feel free to match it to your kitchen by applying a single coat of paint and allow it to blend in naturally.
Shaker Style peg rail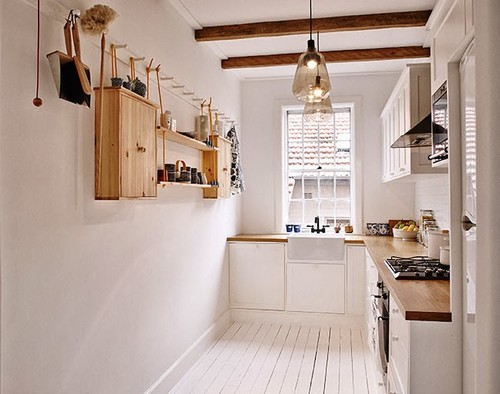 [Image: Mr. FRAG]
If you have a narrow kitchen, then a shaker style peg rail will work perfectly for your space. Since it may not be prudent to add cupboards on both sides, peg rail will help you in increasing storage and making more space available. You may also be able to use it for light storage if you suspend the rails into wall studs and use a stronger variety. For an easier application, you can use it to hang your aprons, dustpan, and brush.
Hooks, Jars, and Rails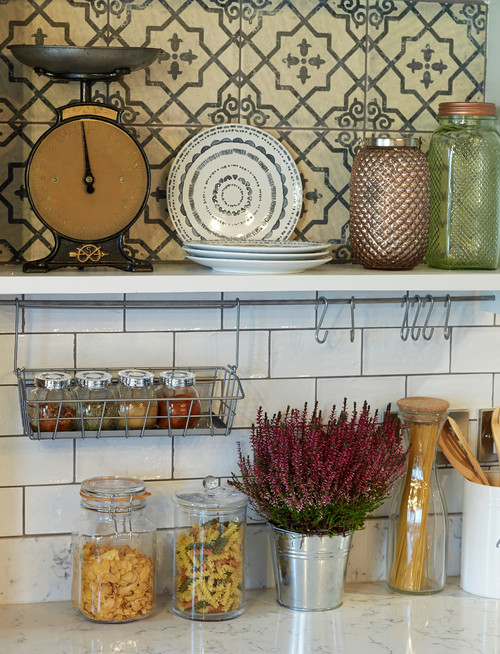 [Image: Cream & Black Interior Design]
Add rails to the underbelly of the kitchen shelves along with some S hooks and caddies. These ideas may have been there for ages, but they definitely work like a charm when you need to increase your storage. They are an easy solution for your everyday items like cups, utensils, spices, etc.
You can also put some dry fruits in a mason jar to increase the beauty of your countertop while using the space wisely. This will make the space available in the cupboards for containers that are unattractive.
Add a few nails 
[Image: Bohler Builders Group, Inc.]
If hanging rail feels like too much job that you are happy not doing, then you can take a much easier way out and stick nails where you would like to hang your spoons or chopping board.
Storage ideas are just about using every bit of space in your kitchen or any part of the room wisely. You just need to find the right way of using that space and you can make yourself plenty of makeshift storage. For now, use these simple kitchen storage ideas and tricks to get the most things out of your way.