Designed as a country house, La Cornette is perfect home that has a very stunning pastoral landscape around it. Nestled in Cleveland, Quebec in Canada, the home has been designed by Yiacouvakis Hamelin Architectes with an intention of offering contemporary shelter to two families. The pointed portion of the façade gives the house a very unique and appealing feeling, while there are small but a large number of windows on all sides for air and light. The interiors of the house have been designed in a traditional way with a lot of mixed and innovative materials.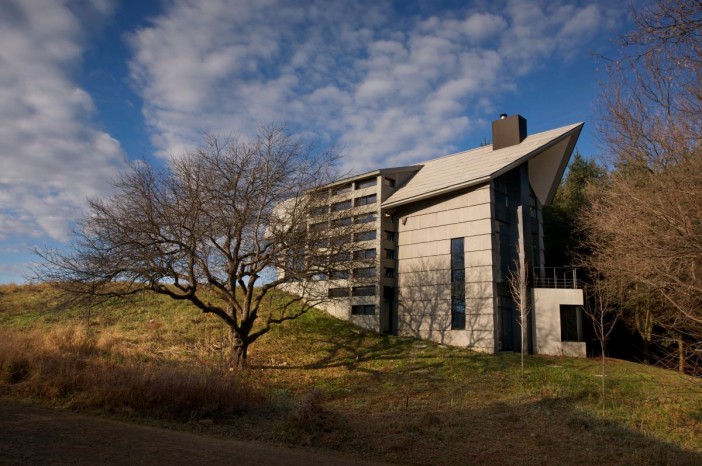 The design studio has used fiber-cement panels for walls and roof of the house, which is a purpose of making the house, stand the test of time. As mentioned, the large number of horizontal windows works for minimizing the level of sunlight and heat, but at the same time, offers different views. Although a heating system has been installed, the house works perfectly without it, thanks to the smart designing. The interiors have most of the parts designed wood, either in natural or painted for with use panels and planks. The furniture pieces have been designed as per measure.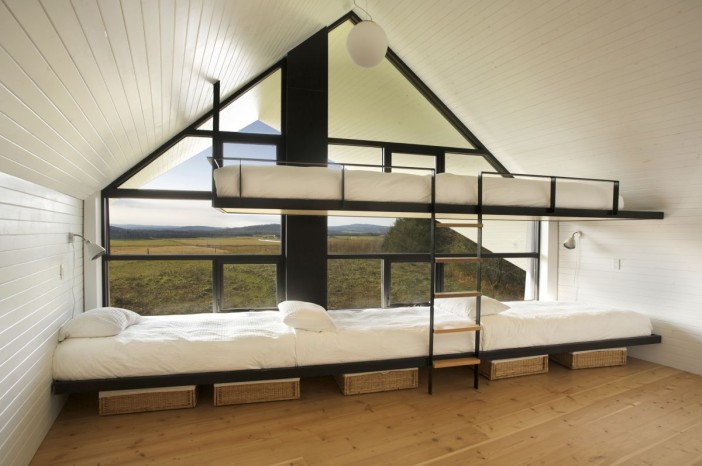 The unique sleeping area of the home feature wall-to-wall bed with bunk beds for the kids. Most of the furniture is customized to the needs of the home and is wood in varied shades. The lighting is amazingly effective with use of pendant and shaped lights all around the house. There is a long elongated couch around the living room, giving two families the option to have fun. Simple and practical, this home is a country vacation house by all means!
Photos courtesy of Yiacouvakis Hamelin Architectes