GLUCK+, an architectural firm based in New York has crafted many projects with their vision, and this Lakeside Retreat is one of their best works till date. Located in Adirondack, New York, USA, the design of the house is such that it remains partially under the landscape, something is worth checking. The lake front location of the house remains its prime highlight, and the studio has ensured that the environment and landscape around is used in the most functional way possible.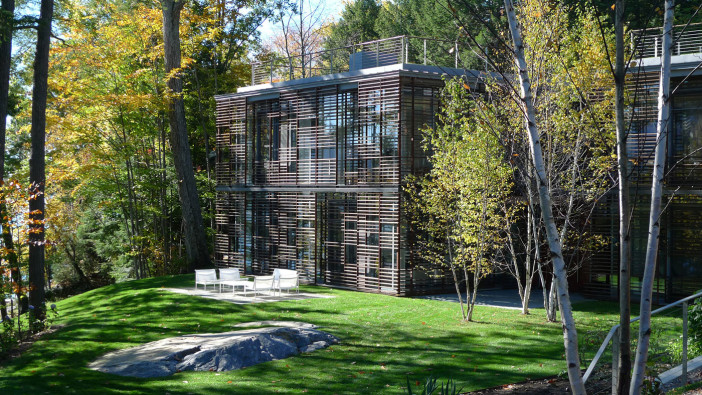 With the area, one can find the Gatehouse Garage located on the top of the hill, along with other buildings like Recreation Building, Family House, two Guesthouses and Boathouse. Intention-ed to be perfect getaway for the owners, the area has small structures buried in the hillside, enhancing energy effectiveness of the house with passive geothermal cooling, as well as, heating. Recreation Building opens to an entertaining area with panoramic views of the lake and boathouse. The Family House is designed to be extremely private without diluting the views around.
Inside the house, it is all about perfect lighting and furniture. The furniture choices are essentially modern, but there is extensive use of wood in many parts of the buildings, right from wooden staircase to beams. Many of the walls are more glass openings, ensuring there is ample sunlight from all sides with no damage to the needs of privacy. With a sustainable design, the house is more about keeping the views and landscape intact rather than just focusing on beautiful interiors. Classy and contemporary, this can be one of the few houses with such magnificent designing with the benefit of being located on the lakefront.
Photos by: Paul Warchol, courtesy of GLUCK+