The dining room is one those rooms of the house, which demands elegance and finesse. It is not a room just for the family but for friends and guests as well. Recently, however, the hectic life and erratic routines have led people away from the concept of dining rooms. So some people, especially those with a small nuclear family, prefer a dining area. Kids sit in front of the television to have their foods and more often than not their parents join them on the couch too! This in many ways is an unhealthy as well as unhygienic practice, which needs to be avoided. But, how to do that? Well, it's simple! Deck up your dining room or if you prefer the dining area in such a way so that the family loves to gather there at the table after a long day. The trick to it is not just a well-decorated table but also the perfect lighting to complement it. People usually do not pay much attention to their dining room or dining area and devote most of their time figuring out living room lighting ideas, but this is equally important too!
Deciding what kind of lighting will work well for your dining room can sometimes be a little tricky. The perfect dining room light should reflect both sophistication as well as an intimate worth; it should be formal as well as informal at the same time. Here are a few dos and don'ts that you need to keep in mind when selecting the lighting for your traditional drawing room-
Nothing works better than chandeliers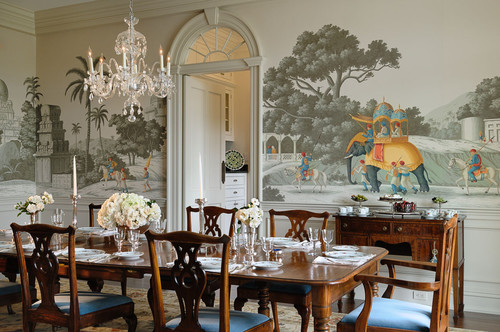 [Crisp Architects]
When it comes to decking up your dining room the traditional way, then it is always safest to opt for chandeliers. These divine structures always add a different elegance and sophistication to your room. Chandeliers were reported to be first used in the Middle Ages. They used to be just wooden planks arranged in the form of a cross and candlesticks were put on the edges of each plank. In fact, the term chandelier can be etymologically be traced back to a Latin origin, a term which also meant candlesticks. So, if you want to go all traditional, chandeliers, aesthetically as well as historically will sufficiently satisfy your requirements.
Dos
Chandeliers can be a little tricky to set up. There are a few things, which you must keep in mind when fixing a chandelier. The height must be right! It is essential that you get the perfect height for hanging the chandelier. If you want to can set the chandelier, right on top of the middle of the table. This is the ideal traditional way. However, if you do decide to keep it in the middle, make sure that it hangs a bit low, but not so low that it might obstruct anybody's vision. Our suggestion is that you keep the light at least 34-36 inches above the table for the perfect kind of light.
[Norris Architecture]
Don'ts
Do not even consider the fact you can set up accent lighting or any other types of light apart from the main chandelier light. The dining room demands that the light source remains just one. If you really want to modulate the intensity of the light, then you can always go for dimmers. Use the dimmer switch as and when necessary to create the ambience of your choice. Be careful as to not to dim the lights too much or your friends and family might not be able to carefully distinguish between the dishes served on the table!
Do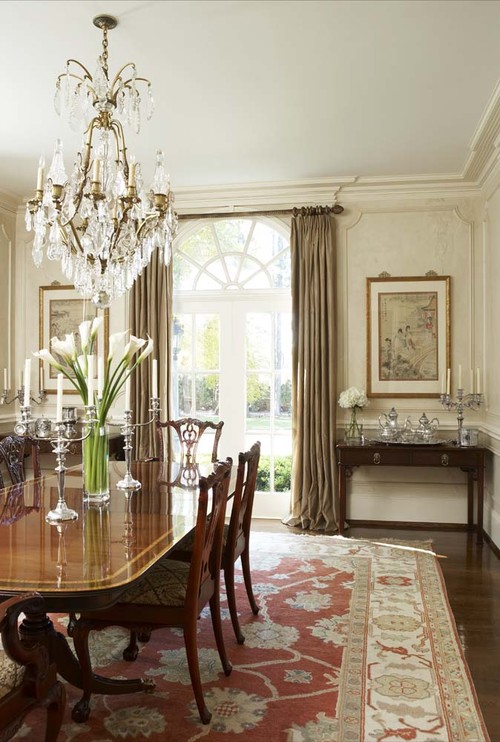 [Linda McDougald Design]
The ideal kind of chandelier for a traditional dining room would be a crystal chandelier. These come in various sizes and shapes, and hence, you can pick one which goes with your room. These crystals give off the most dazzling glow when lighted which gives both an intimate as well as formal elegance.
Don'ts
In the case you opt for crystal chandeliers, make sure that you get the measurement of your room first. If you try to place a big chandelier in a small room, then even with all its regal beauty the chandelier will look out of place.
Experimenting a little with pin lights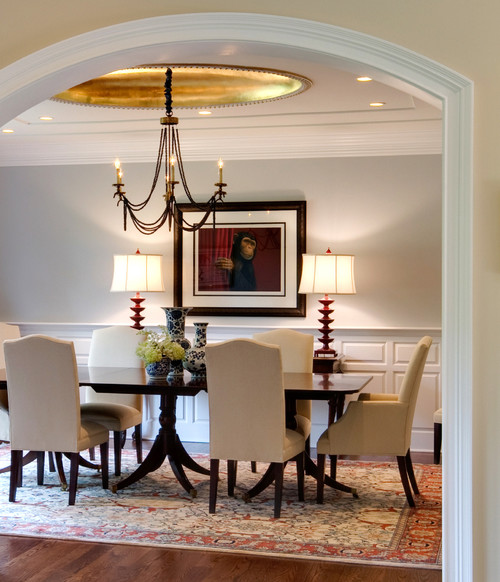 [Leslie Hayes Interiors]
If you do not want chandeliers for your traditional dining room, then one of the choicest options amongst all dining room lighting ideas is pin lights. Pin lights are often arranged in the way chandelier sticks are, but they have a different feel to them. You can use the pin lights to be placed in any way you want. The advantage of pin lights is if you add a few other task lightings to the room, just for decoration it looks good. It will not look too imposing as in the case of chandeliers. So you can have a shot at experimentation with this kind of lighting.
Another nice and bright option-sconce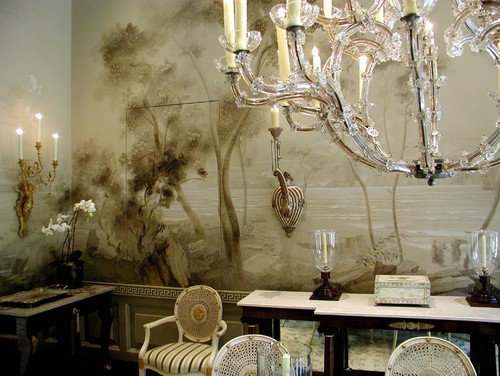 [Art Studio Sergey Konstantinov]
This form of lighting really gives you the option of experimenting. The best part about sconces is that they can act as complimentary lights to even the robust and bright chandeliers. It is always best to select sconces in line with the theme of the room. For example, if you decide to hang a traditional chandelier with candlestick bulbs, then you can go for candlestick shaped sconces. This will make sure that the entire room's lighting structures are in sync. If you want to add a different touch to the room, then you can go for inverted dome shaped sconces, modern inverted glass sconces, etc. In short, your plethora of options is huge when it comes to sconces!
Get all set to deck up your dining room with style and finesse with the right kind of lighting. This information will help you take the correct choice for your room and best of all an informed one!