A bathroom is perhaps the only room in an entire house where you can be alone, by yourself and cherish some "me" time. With that kind of no-questions-asked luxury, who wouldn't want to make the best of this private time? Take this bathroom lighting ideas to make your sanctuary into a perfect relaxation spot.
The advice below has been compiled after taking expert suggestions for changing your bathroom space into a functional, relaxing part of the house.
Here are the four types of light that will make your bathroom atmosphere just the way you want it to be. Choose amongst – task, decorative, accent, and ambient for that plush bathroom.
Task Lighting
[Randall Whitehead Lighting Solutions]
Task lighting, as the name suggests, is about tasks such as seeing yourself in the mirror. This is the reason you need proper lighting.
The best way to get a shadow less illumination reflection in the mirror is by mounting a pair of sconces at the eye level. You can place these on either side of the mirror for symmetry and function. This kind of light is the best for makeup, shaving, flossing, etc.
[Jennifer Gustafson Interior Design]
Important tip, however, is to avoid a light above the mirror. This also means that you will have to do away with the recessed lighting that you were planning for the ceiling. Overhead lighting is a bad choice for not just your bathroom but also as bedroom lighting ideas. Light exactly above your head with throw a wide array of light on your forehead, highlighting your eyes, nose and chin. This lighting is very ineffective for shaving and makeup purposes. Besides, this kind of lighting may make you look older by at least 10 years!
Proper lighting in the bathroom is important to make you feel confident and self-assured.
Task Lighting Wattage
[Hughes Studio Architects]
If you are talking about guest bathrooms or master bathrooms, you need to plan good illumination in these areas. You can consider compact fluorescent LEDs with the expert advised wattage depending upon the size and type of your bathroom.
Traditional Bathroom
It is also a good idea to put task light on a dimmer. This will not only help you adjust your eyes in the morning when you wake up but also power you down at night when you hit the bed.
Powder Room Task Lighting Wattage
[Urban Herriges & Sons, Inc.]
Powder rooms don't need high wattage lights. You can keep the wattage down as this is not the place to be used for morning rituals. When the wattage is low, the ambiance becomes more relaxing for the guests.
You can also complement the soft lighting with a color temperature that makes the room feel inviting while lighting up the guests in an attractive way.
Decorative Lighting
[Besch Design, Ltd.]
Add a visual oomph to your bathroom with this kind of lighting. A single pendant light in a square-shaped bathroom is perfect to add an eccentric touch to its overall design.
[Xstyles Bath + More]
Another way to induce sparkle is by adding candles to a bathroom atmosphere. It is the best way to make the ambiance more romantic and relaxed. However, make sure they are not close to any flammable objects such as towels, hair, clothes, etc. It is never advised to leave burning candles to be left unattended.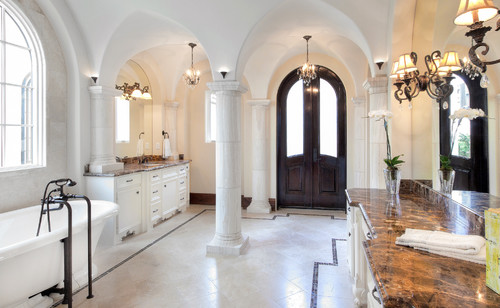 [Jerry B Smith Photography]
You can also consider installing flamboyant fixtures along the ceiling plane of a bathroom if it is in a rectangular shape. It will not only dress up the bathroom but also provide adequate illumination.
Accent Lighting
[Juli Baier Interior Design]
If you like unconventional bathrooms, then accent lighting and art will be the perfect for you. You can light up each piece of artwork in your bathroom with an accent light focused on them. You can also dedicate an alcove to a flower bouquet.
Ambient Light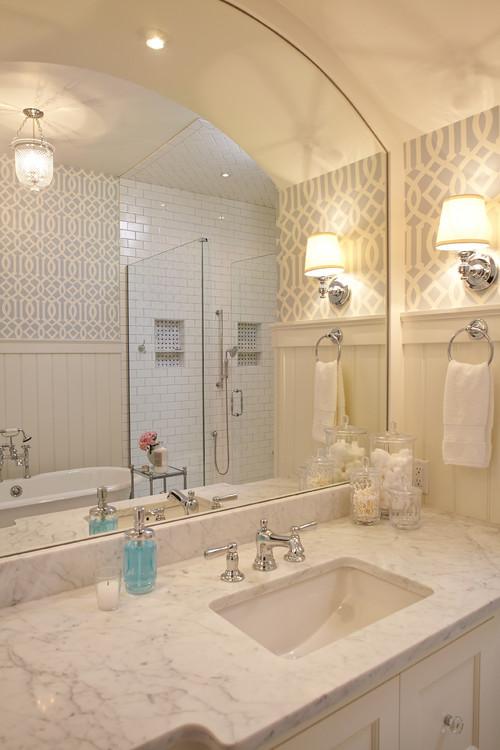 [Francesca Owings Interior Design]
The job of an ambient lighting is to fill spaces. When you have tall ceiling bathrooms, cantilever details or a cove, ambient lighting fixtures can completely splash the perimeter of space with its lighting abilities. You can install a pendant fixture with a translucent shade that is both decorative and ambient in appearance.
In Conclusion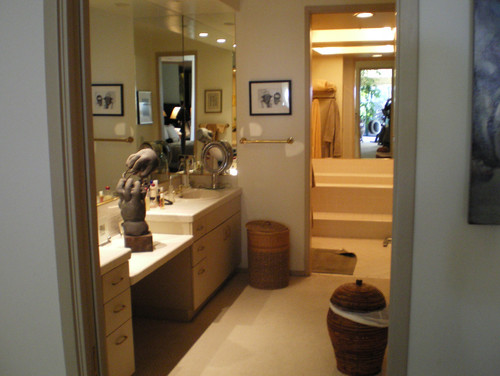 [Katie Anderson Interior Design Consultants]
In a dark bathroom, the most crucial thing is to bring in light. This becomes all the more important if you lack natural lighting in your bathroom. In this case, what you need is a plan that will illuminate the important areas such as a tub, sink, shower, etc.
[Katie Anderson Interior Design Consultants]
Sconces on large mirrors are a great way to light up your large mirrors that not only act as task lighting but also illuminate the sink vanity. If you must install recessed lights, you can add them on a dimmer and regulate it as per your mood's desires. Dimmers are a great idea especially for the tub area, which is used for relaxation and romance. Wall sconces are usable for decorative purposes.
[Katie Anderson Interior Design Consultants]
You can also plan large mirrors at the vanity sinks and over the tub. As a result, you can create layered lighting effects.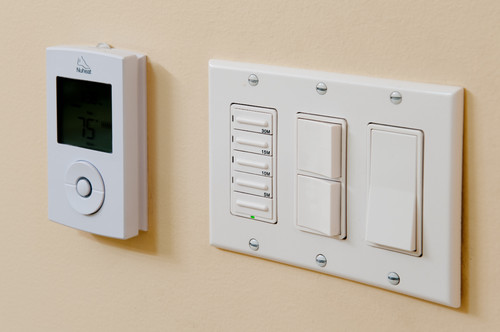 [HOUSEworks Design + Build General Contractor]
Another good point to keep in mind is to have light and fan switch separate. You don't have to switch on the fan every time you go to the bathroom to simply wash your hands. You can put a switch on each lighting source logically so that you choose what light opens when.
If you plan to use recessed cans over the sink, make sure that they are both on a different switch from your task lighting. 
Bathroom lighting is an important part of home décor and goes a long way in making it a place you want it to be. You can turn your bathroom into your personal zone with a simple play of lights!