S House designed by Vo Trong Nghia Architects in Vietnam is a prototype built for people living on a meagre salary. It is a low-cost technology home, which is based on the concept of reducing construction costs with increased thermal comfort and a do-it-yourself strategy. With the use of pre-fabricated concrete frames and locally available nipa palm leaves, the architect has figured out a cost-effective and easy way to construct a home that is portable and equipped with passive design features. The layout of the house is rectilinear in plan, which has wide openings for doors and windows made from polycarbonate panels that are held in place by steel frames.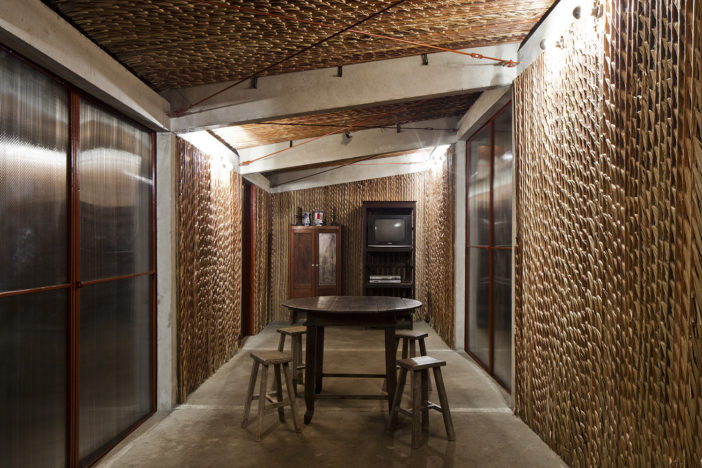 On the inside, the foundation of the house sits on a prefabricated lightweight concrete floor, which has better insulation properties. Also, the walls of the house are built by weaving palm leaves into a prefabricated panel that is joined by wood sections. This wall panel increases the thermal comfort of the home and helps in keeping the space airy and lends privacy, as well. At the roof level, the architect has used corrugated steel sheet as an outer layer that sits on a wooden rafter and is nailed using steel bolts over woven nipa palm leaves.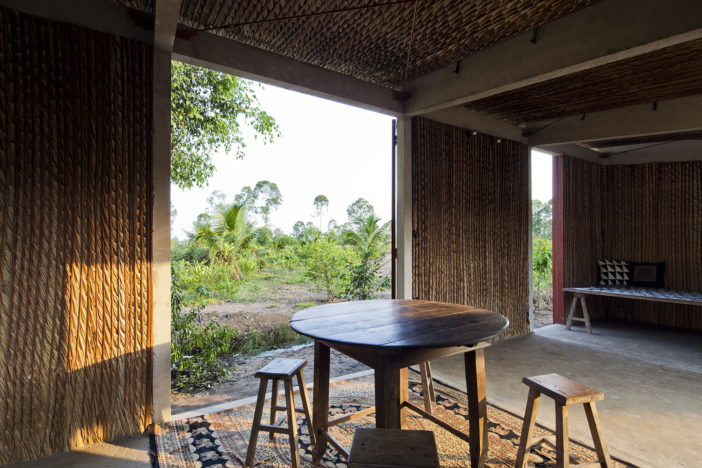 By designing such a light weight and durable structural roof, it protects the house from rain and sun along with increasing the thermal comfort of the home. More of such prototypes are being designed and built in and around this region with better passive design ideas and features, where different types of pre-fabricated materials and easy to do construction techniques help in leveraging the construction cost. The roof is also designed to be slanted in keeping up with the downpour of rain, which aids in rainwater catchment, as well.  On the whole, a highly effective solution to people living below the economy line, thus helping them to build homes in the most resourceful manner.
Photos By : Hiroyuki Oki