Designed by Wallflower Architecture, the Far Sight House in Singapore is a two-storey house with an attic and sloped roof that towers the neighbouring houses. Being built on a raised ground, the house comprises of two volumes that contain social spaces for the family on the first floor, followed by the semi-private spaces on the second floor offering some great design ideas. The roof level plan has a partially open to sky entertainment zone, which the family uses often to hold parties and morning breakfasts.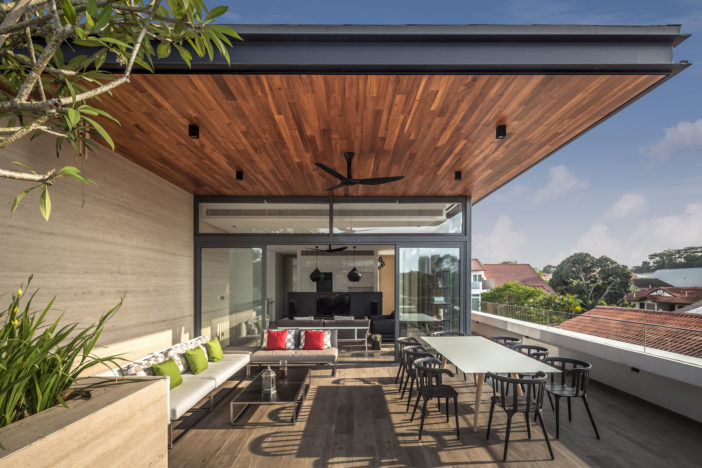 The house plan is rather narrow from the entrance and is rectilinear in plot, which houses water features on the exterior and interiors, as well. It is followed by the entrance foyer that leads to a spacious and well-lit living and dining lounge with partition that divides the kitchen from the entrance. The lower level plan has a guest bedroom with a utility and wash that is neatly spaced out, giving a clean access way to the rest of the house and is well hidden from view. Tall glass facades, green plants, operable ceiling windows, and sliding doors accentuate the exteriors and render an elegant look to the house.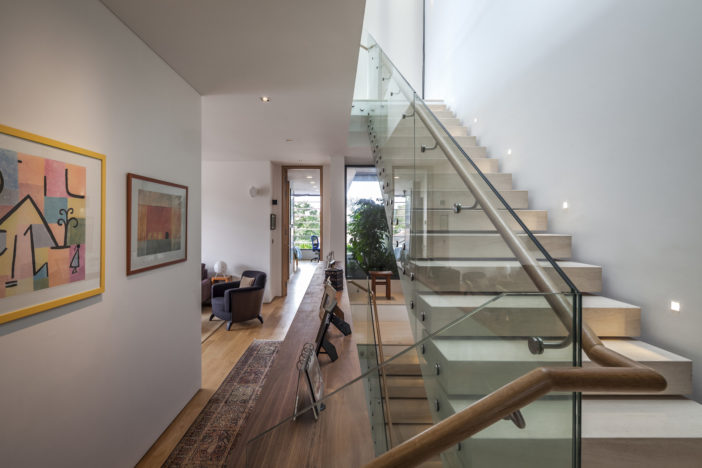 Moving on to the first floor, the family has its private spaces lined next to each other with individual walk in closets and a terraced garden. Each of these spaces overlooks the neighbouring houses and is partially hidden, to reveal moving silhouettes and ensure privacy to the inmates. The other interesting aspect of the house is that of the roof plan, which has an open party space deck, which overlooks above the attic space and plunges into viewing the beautiful residences near the house. It is one house that has all the elements for a comfortable stay and is worth to pride for the family.
Photos By : Marc Tey Photography