This is a luxurious residence named The Fish House and is located in Singapore. Conceived and completed by Guz Architects with the weather in consideration, the home has ample natural airing with a living space of 5,800 sq ft. The unique design of the house melts the entire setting into the surroundings. The swimming pool offers exceptional visual connections with the beautiful views of the sea, while media rooms ensures the interiors and exteriors are jelled together using large windows. The most distinctive part of the house is curved roofs, part of which is complete green with a garden atop. The curves of the roof resemble the sea in many ways and bring a very new layer to the entire house.
The interiors of the house are equally stylish and lavish with high quality furniture used in most of the rooms. Furniture choices are essentially in color, making the accentuated look even more appealing and tasteful. Parts of the interior ceilings and beams are designed in wood in a very polished but natural style, which works particularly with the other uncommon shades and layers of things. The media room with large glass walls demands instant attention with beautiful views. There are large open living areas, each designed with a set of functional and sophisticated furniture collection.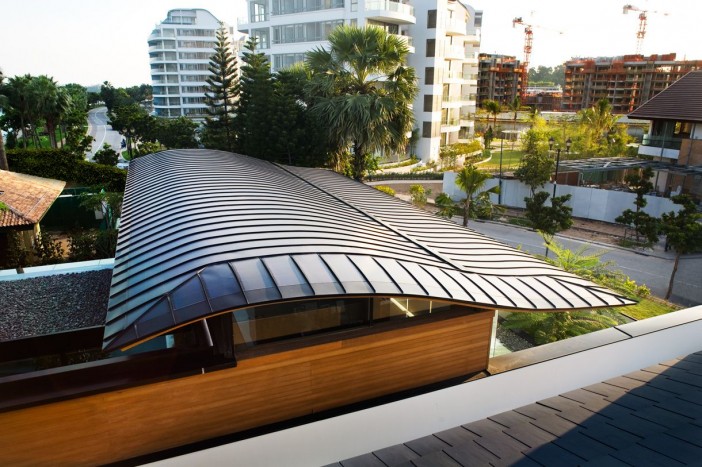 The lighting in each of the rooms is an attempt to make the objects look better and larger. Apart from LED lights on the ceiling, there are mounted lights and source lighting, ensuring each space gets attention of its own. Spectacular, classy and truly plush, this home is more about indulgence and fun than anything else with a modern twist in every corner.
Photos by: Patrick Bingham-Hall