Located in La Quinta, California, USA, this magnificent house was designed and conceived by XTEN Architecture. The main highlight of the house is the use of glass for complete walls, starting from the floor to the ceiling. The home opens to the desert landscape with full on mountain views. Inside the house are large freestanding volumes that are crafted of oak, stone and concrete as per needs and scales of the indoors and outdoors. On the main entry to the house, one can find those glass pivot doors that offer ample lighting and views.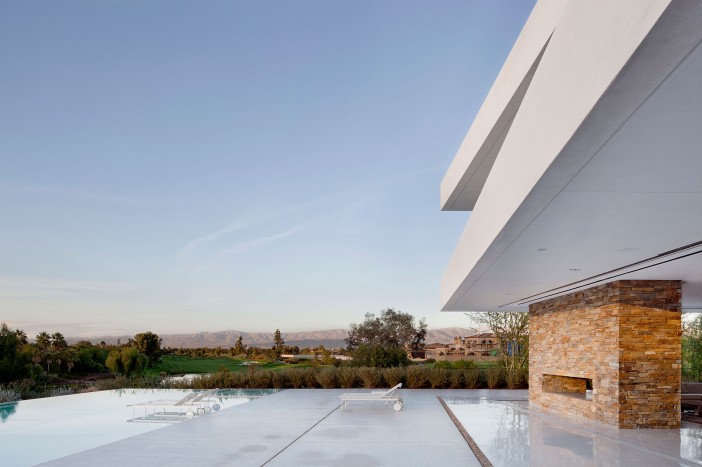 The terrazzo floors look impressing, and so the ceiling completed in white plaster. The fireplace design is in wood, while kitchen has been completed in dark oak. The architects have worked hard on making the design as environment friendly as possible with components and fixtures selected in the greenest way possible. The walls are as thick as four foot with use of stone and concrete to protect the house form solar radiation. The exterior portions of the house suit the desert landscape in perfection, and there is a swimming pool on the frontal portion.
For the interiors, the designers have used a blend of modern furniture with a few elements of bright colors used with white themed furniture. The use of orange chairs with a white sofa collection and dining table is worth checking. The chairs and tables are slender and sleek, and that's the reason the large concrete, stone and wood blocks look eternally complimenting. The lighting solutions are delights with use of ceiling lights, pendant lights and large chandelier lights in a balanced proportion. Simple, charming and truly adaptive in all respects!
Photos by: Steve King, Art Gray, Jeremy Bittermann