Magnificent homes are designed with care and extreme planning, and that's the case with the Static House project. Completed in the year 2010 by TWS & Partners, a design studio based out of Jakarta, the house is located in Jakarta, Indonesia with an astounding area of 7,530 square foot.
The exteriors: The house was designed with a vision of connecting the interiors with exteriors, as directed by the owners. The house includes two courtyard spaces that are combined and arranged vertically. The first one is located on the ground floor at a raised level, while the next one is located on the second floor. The house also includes a shallow reflecting pond that comes with a glass base to allow penetration of light to the room and courtyard below. For the exteriors, the material palette follows an earthy color scheme.
The interiors: Designing the home on a simple and minimalistic note, the design studio has used varied forms of ornamental furniture and artwork. For example, the living and dining room have white marble floor that works well with the similarly white colored leather sofa. The main entrance door has been customer made with floral pattern. Huge elements of art and traditional artifact remain one of the main highlights of this house.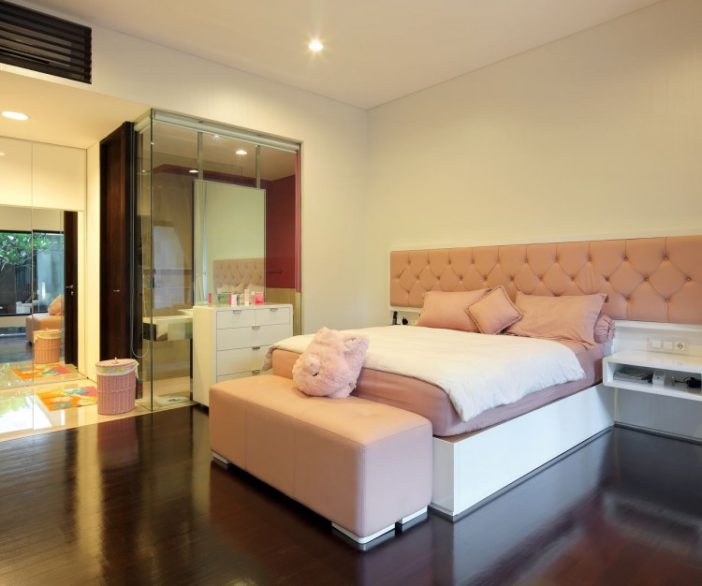 Furniture and lighting: Apart from high end contemporary elements of furniture, the house also boasts of ethnical elements used throughout. The dining table has been designed from one piece wooden slab in the natural style. For the lighting, there is extensive use of high end designer lights, lamps and free standing lights with combination with all kinds of source lighting and LED lights. The grandness of the house also comes from the well-defined lighting ideas and elements.
Photos by: Fernando Gomulya