The beautiful and pristine Mario Rocha House is located in Valongo, which is in the District of Porto, Portugal. Spread on two storey, the house was designed by Atelier Nunu Lacerda Lopes, a famed design studio and has some incredible contemporary living room decorating ideas.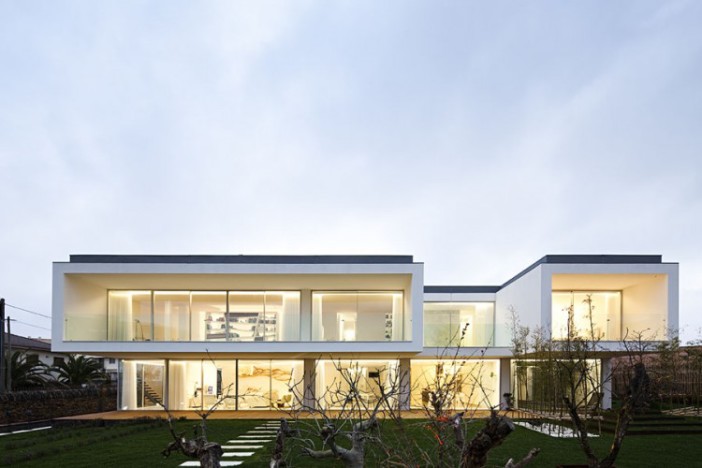 The exteriors: Keeping the location in mind, the house has been cut off from the street, and with the help of large glazed walls, the guests are welcomed in the site. The design studio has worked extensively on natural ventilation, lighting and circulation, and for that purpose, the compartments of the house are designed with height differences. This brings a few gaps for openings of light without diluting the need for adequate privacy. Using large glass panels as walls for the front portion and inside the site, the house brings in the pleasure of checking the outside world.
The interiors: Most parts of the house have been designed in smooth plastered walls in concrete with the flooring for the rooms done in wood and high end mosaic. The closets and bedrooms have wooden flooring, while keeping the guests and style in mind; the living rooms are completed in mosaic. Rather than using colors for accents, this entire white themed house is designed with wooden accents as needed, including the floor that breaks the monotony of white walls and ceilings. The kitchen decorating ideas are equally effective and in line with the design concepts.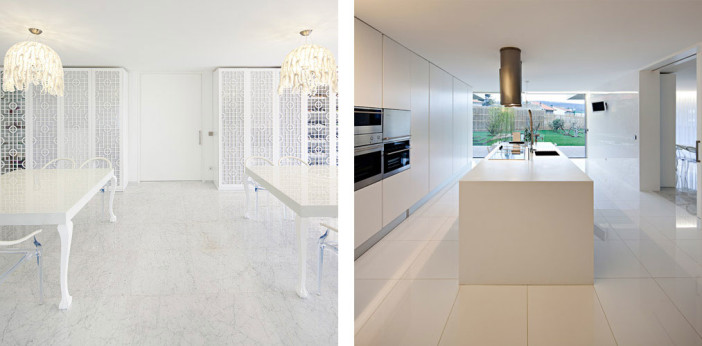 Furniture and lighting: The lighting for most of the house is in line with the white theme and used LED linings all around. Special pendant lights with very unique shades have been used in the living room, and there is much use of source lighting, as well. For the furniture, everything from the bed to the high end contemporary furniture, are chosen in white. Stunning and magnificent in every respect!
Photos by : Atelier Nunu Lacerda Lopes