The farmhouse style kitchen sink is classic and elegant choice for many homes providing some amazing kitchen design ideas. What makes this sink look perfect is the right combination of faucet that not only suits the look but also serves the functionality the way it is meant to. There are many styles available these days that make it hard for the people to make the right selection. Here are some tips to help you make a good decision.
Bridge faucets
[Image: Nouvelle Designs]
The best thing about farmhouse style kitchen sinks is that they can complement all kinds of décor, be it contemporary or conventional. Due to their rustic and classic finish, they best work with bridge style faucets. There is a split connection that allows hot and cold water outflow that is joined by a bridge. There is no centre hole to join the two taps.
[Image: Smith & Vansant Architects PC]
It is the width of a bridge faucet, which makes it such a good choice for farmhouse style kitchen sink. The built-in backsplash and wide sink complement this type of faucet visually, which is placed centrally on the sink.
[Image: Toronto Interior Design Group | Yanic Simard]
The faucet style works best when you need to add an extra measure of the traditional look to your kitchen décor. It is also usable with under mount sinks.
[Image: Tervola Designs]
Extra rich visual aesthetics have been added by placing the sink on a marble counter top.
[Image: Gaspar's Construction]
You can also place it in the centre for a more charming appearance. The installation in this image is a sink on one-half and an extra space as drying shelf on the other, which makes it an extra wide looking sinks. It has been placed in a nook which fills out the area completely and is a good utilization of the space.
Old School Faucets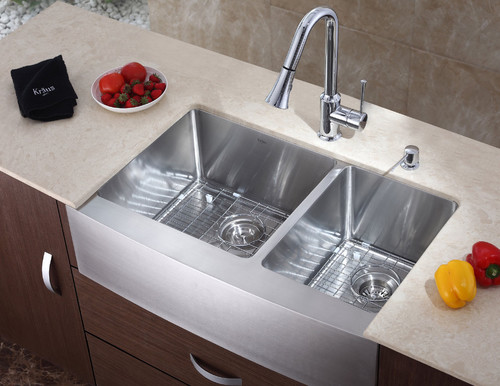 [Image: ExpressDecor]
To get the perfect look that complements the old world charm, you can get faucets with a one-hole installation that is less demanding and easier to install. You can also try the traditional looking "old-world" faucet, which comes with a straight bar which is supported at a right angle to the bridge. The old appeal has been added to a ball joint that is visible and extra curves that lend it the traditional appeal.
Contemporary Faucets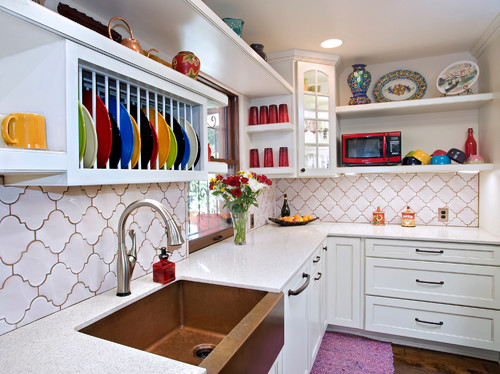 [Image: UB Kitchens]
If you have a modern installation in your kitchen, you can use a faucet like the one shown in this image. The faucet here has a traditional tall arch with more modern, sleek look with a very elegant single stick control.
You can also take this to another level by mixing metals. Here, the brass of copper finished sink is completed with a shiny looking silver-hued tap that blends both the elements of this kitchen into giving a finer and integrated appearance.
Faucets as used in restaurants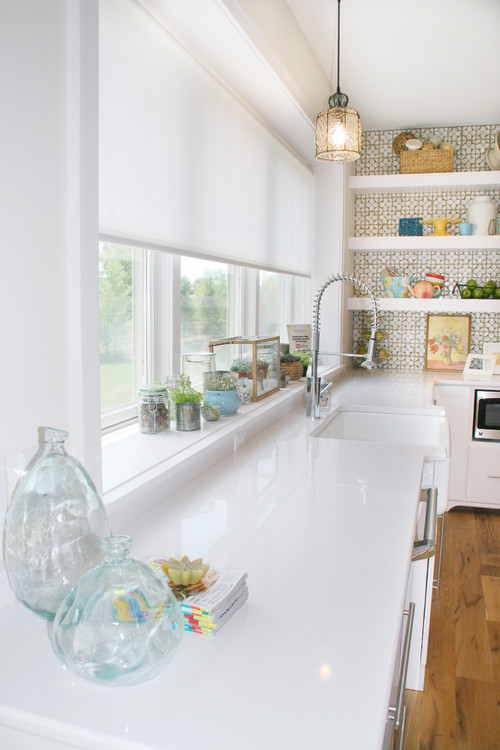 [Image: Green Apple Designs]
If you need an ultra modern finish, you can pair a pure white porcelain kitchen sink with restaurant styled faucet. Its rich and inviting appearance of a traditional faucet has been combined with an industrial finish.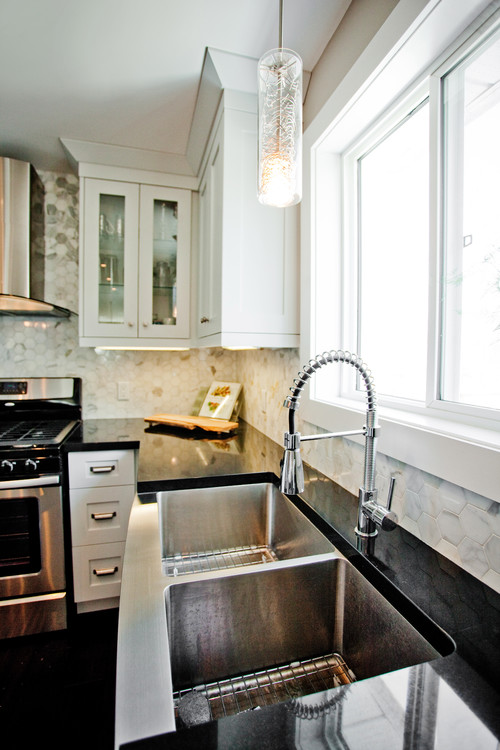 [Image: Madison Taylor]
Consider having a pull-down feature if you have a large and square sink as shown in this image. This kind of faucet is especially useful for people that are serious about cooking and can use the flexibility of a faucet like this one.
Increase the Size
[Image: Cook Architectural Design Studio]
If you really want to make a unique design statement, you can also select an extra long sink treatment that stretches from one end to another. It can be complemented with wide cabinet. If you want to select this type of design, then you can choose tall faucet so that it can stand out and does not get visually lost. This kitchen will automatically become a focal point of your farmhouse style home.
Simple and Basic looking faucet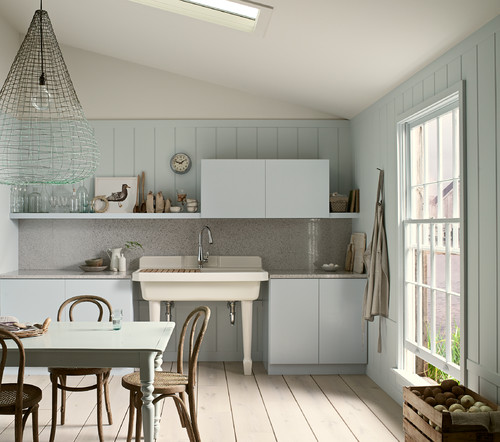 [Image: Kohler]
If you are looking for something more eclectic, you can also consider a standalone sink with no extra cabinets. This makes for a refreshingly pleasant design, which is unique and simple. Adding a minimalistic faucet will finish the look with a contemporary touch. The chrome on faucet complements the off-white porcelain sink.
Stone & Concrete Finish
[Image: Soapstone Werks]
Nothing works better with dark coloured stone the way brass or gold finish does. It contrasts beautifully providing the luxurious combination of the two.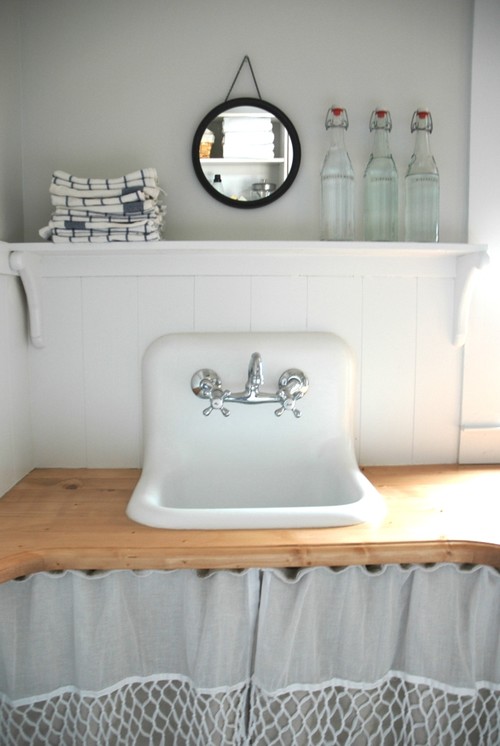 [Image: Home & Harmony]
When designing a traditional sink, just remember that while a small one is much easier in installation and maintenance, it is relatively tougher to work with it. Place the faucet enough to be able to use the full depth of the sink.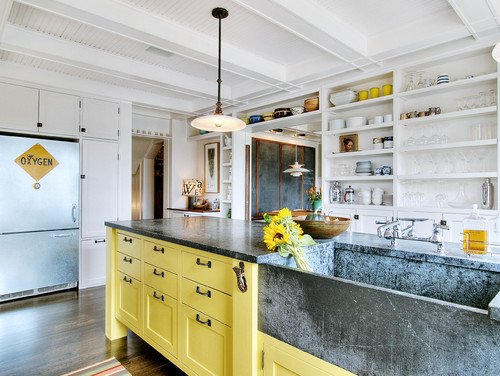 [Image: J.A.S. Design-Build]
If you have a quirky kitchen that has heavy patinated finish, then you can also complete the look with a chrome faucet that will lend crispness and also a sharp contrast to the material.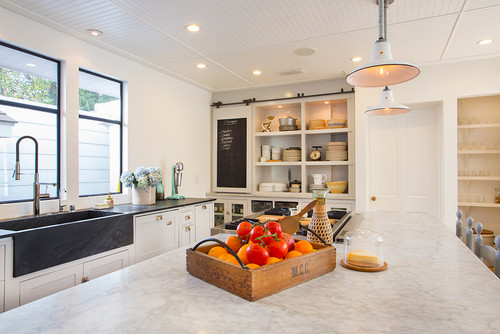 [Image: thea home Inc]
If you like the sparkle more than muted undertones, then you can use other aspects of the kitchen to include softness. This look can be particularly achieved with a wooden accessories and flowers.
Farmhouse style kitchen is really in vogue these days, but most people make the mistake of choosing wrong fixtures that can affect the look of this stylish sink. These kitchen decor ideas and tips will be helpful in making wise pairings that can complete the look and enhance the décor.