Apartment in Paris designed by Schemaa is a multifaceted layout, with an attic for a bedroom reached by a flight of stairs with in-built storage cabinets. The layout is divided into two segments, where at the entrance, the washroom recedes away from view leading to the main living hall and an open kitchen counter clubbed with an overhead storage. Everything in this apartment revolves around flexibility, space saving storage units and a de-cluttered interior. The storage cabinets are the highlight of this renovated apartment, where the space beneath the stairs is utilized and is shelved with oak wood flaps of different sizes offering innovative storage design ideas.
The storage-cum stair leads to the attic space above, which is comfortably designed to be the loft bedroom. Moreover, the attic has a skylight window that lets in natural daylight and air for ventilation besides allowing a glimpse of opening towards the entrance. Also, maximum utilisation of space is articulated by the use of storage shelves and even so with a wooden table lodged on to the wall as an art, when not in use by the client. It is all meticulously carried out and executed so that within a limited space enough storage options and free space for circulation is available.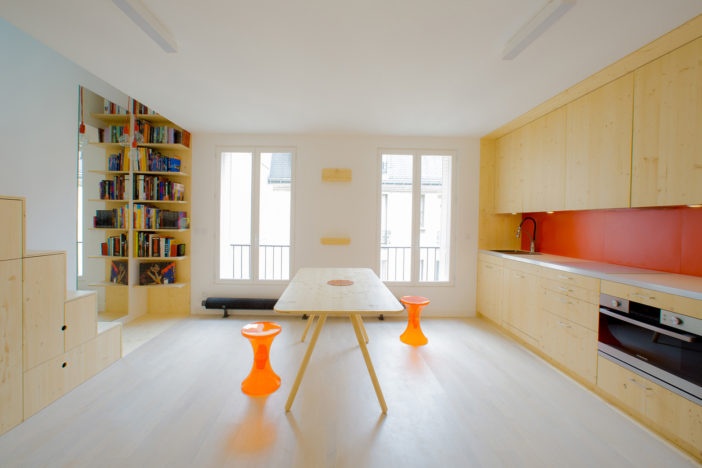 Also, the working counter towards the other side of the hall is packed with overhead storage cabinets that rise all the way up to the ceiling. Even the space is left devoid of any furniture, thus giving an uncluttered look to the apartment. Towards the rear corner there is an open shelf, which holds all the books and gives a splash of colour to the space, as well. It is a simple cuboid space, where the attic is given a new look and is made into a usable space for the client. On the whole, the renovation is about, creativity within a small space and fewer use of materials.
Photos By : Fred Toulet