Designed by Vo Trong Nghia Architects, the Bamboo Wing in Vietnam is an open shelter for holding concerts, meets, and various events to the public, in a semi- enclosed space, with an artificial lake in the centre. The bamboo used to build the structure undergoes a soaking period in a puddle of mud and later smoked to a get a red-brown shade on its outer cover.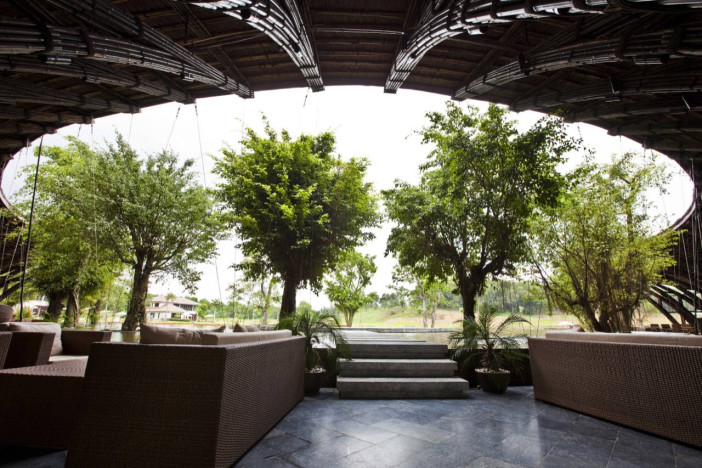 These poles render a great deal of flexibility giving the desired arched shape, to hold and support the roof. Primarily, the bamboo wing, supported by a cluster of two bamboo poles in either direction of the roof, stems from a concrete base on the ground, thus creating a vast expanse of shelter, with a slight incline of the roof towards the inner edge.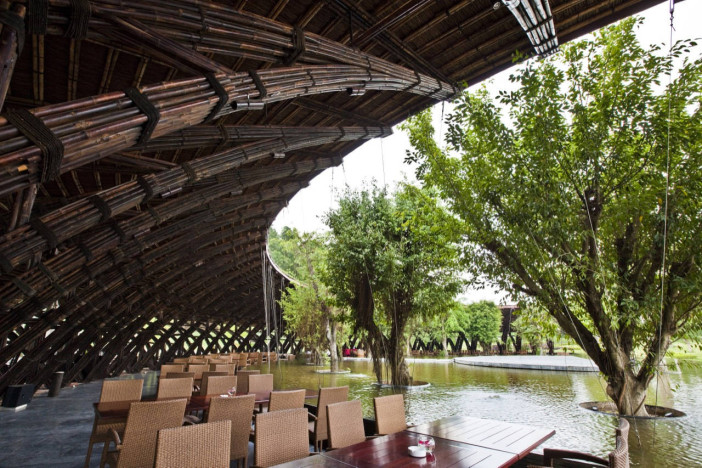 The bamboo wing, supported by the bracing sections, surrounds an artificial lake with a knee-depth of water. This water body evaporates as vapour during the day, whereby it cools the warm air near the floor level of the bamboo wing, thus improving the microclimate of the surrounding. The hot air escapes through the rooftop, and the water body visually stimulates the feel of being close to nature.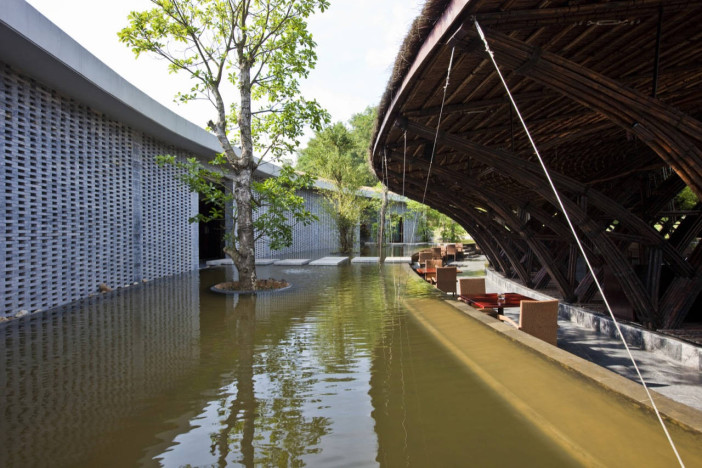 On the other hand, the bamboo roof lined by a layer of nylon prevents rainwater from entering the shelter. The outer edge of the pool with a rounded edge is of black grindstone with a curved depth of the inside rim, which creates the illusion of portraying the water, as being too deep.
Likewise, the various levels of the floor create an elevated look to the arena, which offers differently stepped seating options meandering the pool. The entrance to the arena is by means of a pile of rectangular steps embedded in the pool, which bisects the hemisphere into a quarter, to reach across the various floor levels. In essence, it is a very complete and innovative design of bamboo, with a variation in structure and its construction techniques offering some awesome design ideas to the spectators.
Photos By : Hiroyuki Oki