Designed by MEMA Arquitectos, El Fabuloso is a contemporary rooftop bar cum restaurant that heats up the nightlife of Bogota in Columbia. Unlike a stereotype glitzy bar, the architect has essayed "a laid back feel" by using "wood" as a predominant material to its interiors.
The design ideas and elements echo a "rustic nostalgia" to be the sole essence of the bar with its sleek lines and inviting wooden seats lined up in a clutter free manner. With regards to space considerations, the architect has worked out a design that allows free flow of movement and has a more formal seating arrangement. In the initial design phase, the concept of the bar was inclined towards "celebrating life," and it got translated into a terraced design that gave away scintillating views of the sunset and sunrise.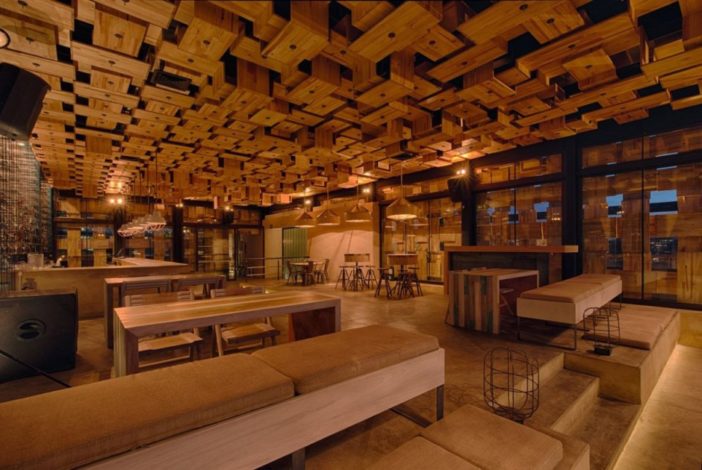 Located on the 7th floor, the interiors of a bar resonate a warm feel with the wooden seats, large oven, and rustic floor. The tone of the interior is highlighted by the wooden ceiling that is artistically designed to improve the acoustic conditions of the bar. Moreover, wood lends a warm colour to bring out a relaxed ambience to the bar. The other highlight in the bar would have to be a variation in ceiling height, which adds a more dramatic effect to the overall ambience of the bar. The terrace of the bar opens up to some vivid views of the city skyline and is designed as an open space sans seats to engage lively conversations.
The facade of the bar is designed to look like a basket and is beautifully interwoven with the surrounding landscape of the city. Clean look, rustic feel and straight lines create a bold and warm architectural statement for El Fabuloso, the happening bar in Bogota.
Photo By :- MEMA Arquitectos, El Fabuloso