The Beton Restaurant designed by Yunakov architects in Ukraine is a trendsetter in fine dining, where rusty metal and glass is used to highlight the varied design features incorporated from wood, and exposed concrete in loft style. Another aspect of the restaurant is the brilliant use of colours from the bright yellow signboards to the lemon green cushions paired with azure blue and royal purple. It is a unique blend of colours that raise up the energy levels in the restaurant. The architect has segmented the restaurant to cater to different sections of diners. The restaurant is comprised of a bar and karaoke, a children's lot, and the reserved room for premium diners.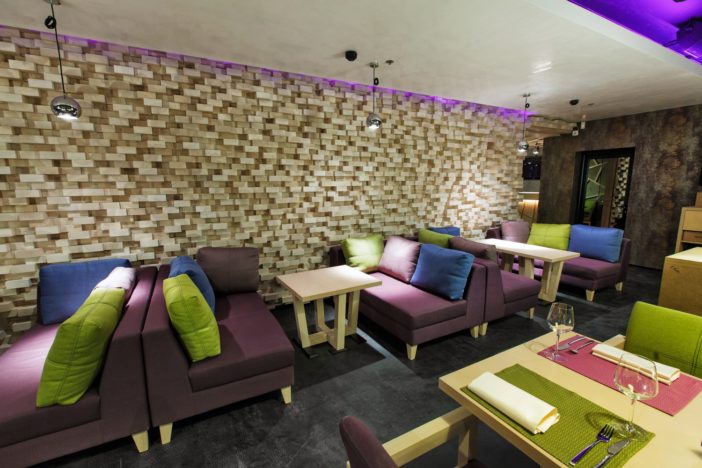 Most dominant design feature in the restaurant is that of the exposed concrete panels those clad the interior décor and give an industrial feel to the space. There is a crispy edginess to the design, where layers of textures by the use of rusty metal is brought out brilliantly by the architect. Not to forget, the glass panels at the lounge are inserted with interior drawings of the restaurant and it acts like a quirky signboard in a bright yellow shade that complements with the grey shades of the concrete wall.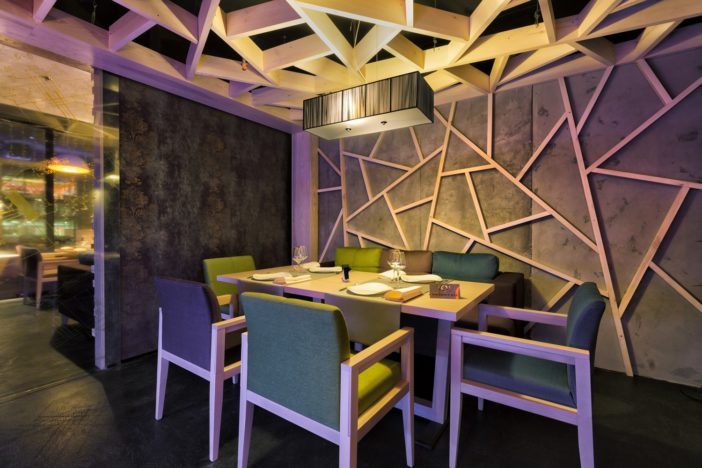 The use of concrete foam walls in the bar room, has good acoustical properties and helps the diners to enjoy their karaoke rounds. Moreover, the use of Lounge sofas along with regular seats and tables gives a more relaxed feel to the diners, while enjoying soft music being played in the background. Again, the architect has used fabrics as curtains to drape walls, and also as a flow screen to conceal washrooms view. On the whole, the Benton Restaurant is a unique blend of varied shades of colours, fabrics, and materials, which give an ethereal experience to the diners.
Photos By : Oleg Stelmah / Electraua