The Padarie, a café cum patisserie joint, designed by CRIO arquiteturas is all about bright, warm colours and a livelier environment in the busy streets of Porto Alegre in Brazil. It is designed in such a way that it promotes active customer participation, where tasting and buying products of the shelf are easy and rewarding experience providing some remarkable design ideas. Divided into 2 different levels, the patisserie joint has well-defined service areas and clearly demarcates the zoning between the consumer, the work areas and the admin. The consumer is allowed to browse through the various sections of the joint in a more organised manner.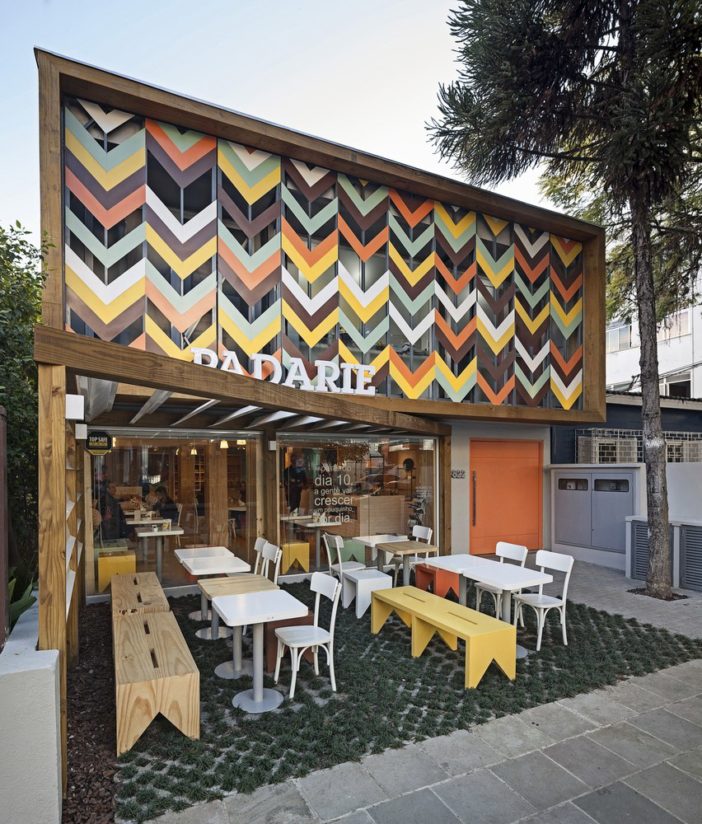 On the first level, right outside the entrance, a wooden pergola shades the limited exterior seating, flanked by a bright orange door for the main entry. Once inside, the floor layout is orderly with the food counter adjacent to the entrance, with a table seating arrangement facing its white tiled counter. The billing counter and the main kitchen area form the barrier that separates the consumer from the work staff area. Moreover, the restrooms and service entry points are well designed both for the working staff and the consumer, as well. At the back of the kitchen lie the lockers, store and back entry for the kitchen staff.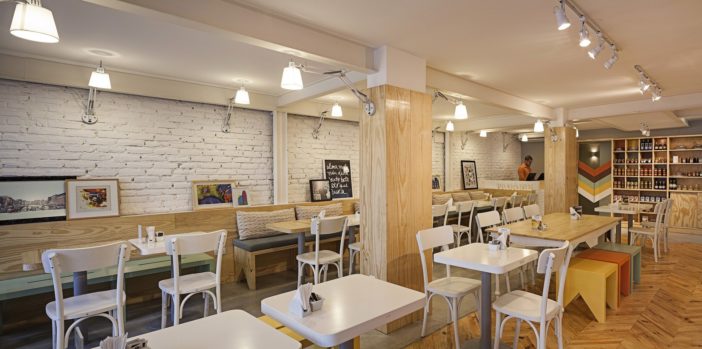 The flight of stairs behind the food counter leads to the second level, which is used for patisserie, bakery, store and the admin office. The facade covering the admin office is designed using bright red, yellow and blue colours in a zig-zag pattern that represents the shape of the split wheat kernel. Even the interiors are designed to reflect the facade pattern on the flooring using ash wood and the furniture are painted in bright colours that exude vibrancy and liveliness to the patisserie joint. On the whole, the Padarie is lively, welcoming, and exhibits a true pride to a baker.
Photos By : Marcelo Donadussi