The Cahier d'Exercices designed by Saucier + Perrotte Architectes in Montreal, Canada is a fashion retail outlet for clothing, accessories, shoes and leather goods. It is a narrow strip of layout, worked out with a black and white combination, which brings out the luminosity of the space, the displayed goods and the brilliant use of materials in a gradient pattern. The use of black hardwood for the floor, ceilings, complements the charred black brick wall that runs over the entire stretch of the store. On one side, the exposed wall and the other side, the open cubicle shelves in white create a perfect ambience and display arena for the merchandised goods.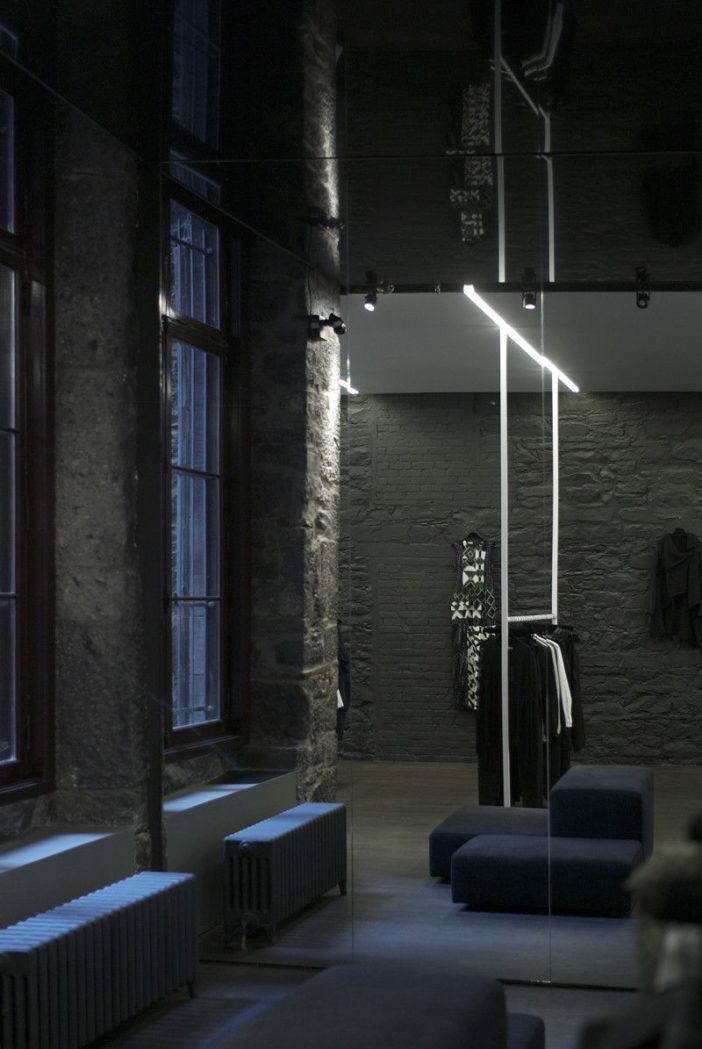 A black and white wall with suspended display cables creates a tension between the space for the clothing and that resonates well with the gradient lighting pattern on the ceilings from dark to light. The transition from the dark entrance herringbone steel plates to the hardwood floor, which moves from darkness to reflective bright lights, the space is kept in a state of motion, which keeps the ambience lively and energetic. Rooms that ought to be hidden from view are the fit out areas, the back office and kitchenette, which are all creatively designed behind the wall length display racks and are steered away the from public sight.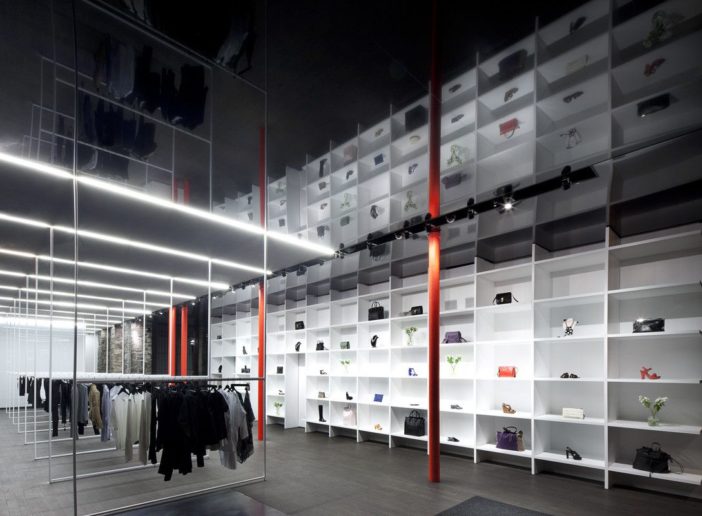 The walk through between the suspended cables and the display rack with odd cubical shelves is for the consumers to explore, see and feel the space, which alternates between the displayed goods, lights and materials. A very rustic and retro effect is shed on the walls, which complements the interior décor of the retail store by leaving the walls to a black charred state. It enhances the feel of the store and is quite a refreshing take on modern retail outlets to follow in the coming years.
Photos By : Marc Cramer, Gilles Saucier