Designed by Peruvian Architect Juan Carlos Doblado, the House on the Andes, an L-shaped structured home, is built on a sloped site overlooking the Andes Mountain in South America. This house is designed using two concrete volumes that integrate to create a unique composition of spaces. With transparency dominating the design ideas and theme of the house, the architect has used glass facades towards the exteriors to extend the interior space beyond its limit. Both the volumes are designed facing the Andes Mountain and enjoy the breezy wind drifts flowing across the interior spaces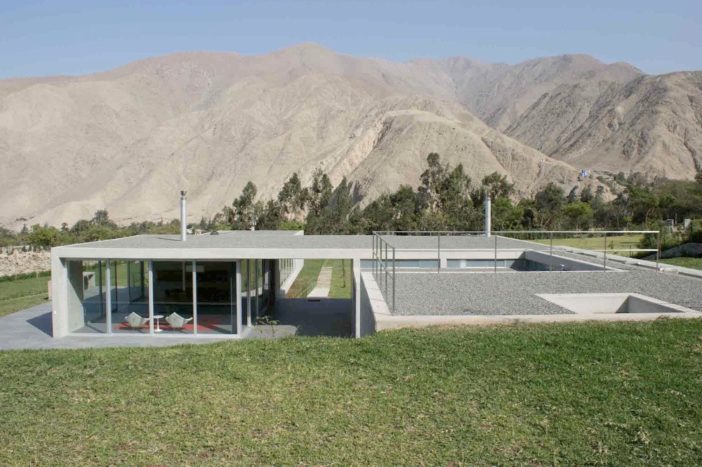 With a sloped site, the advantage to build spaces beneath it shelters the home during warmer days, and also, provides the necessary coverage to extend the space as requirement arises. The architect has designed the two volumes using linear spatial arrangement radiating from a centre focal point that is covered with the roof, and it seemingly integrates the lines projecting out towards the exteriors. Most of the principal family living spaces, kitchen, and bedrooms are designed in the first volume, whereas the second volume houses the guest bedrooms, and the core service areas.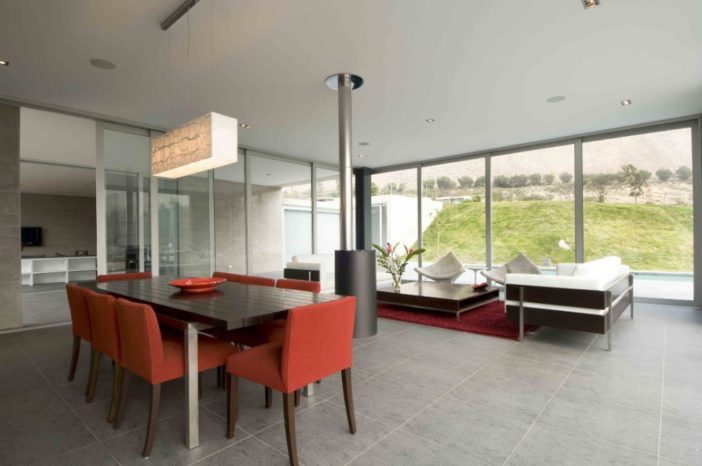 The facade of the house is constructed using concrete and left exposed with an unpolished surface, and is constructed on a raised foundation of concrete bed. With glass facades on either sides of the volumes at right angles to each other, reflection of spaciousness is portrayed by the architect. With glass sliding doors, the internal spaces are opened up to reveal smooth flow of circulation, and it encompasses the two volumes as a single unit. The House on the Andes is a clean geometric design on horizontal and vertical planes that define spatial typologies into habitable dwelling units.
Photo by :-  Juan Carlos Doblado