Designed by n-lab studio architects, the house THE in Luxembourg is designed for a family that enjoys nature talks and clutter free space. Built in the city of Luxembourg, the architect has envisioned a seamless facade with an overhang that covers the front entrance of the residence. Most of the residential frontage is engulfed with white plastered walls that have clear wide openings faced with translucent glass.  Wooden slats entail the sides of the residence, thus, filtering the visual sight and create an extended space projecting right through the first floor. Segregated as 2 levels, the ground floor, occupies clean spacious rooms holding the living, kitchen and formal lounge rooms.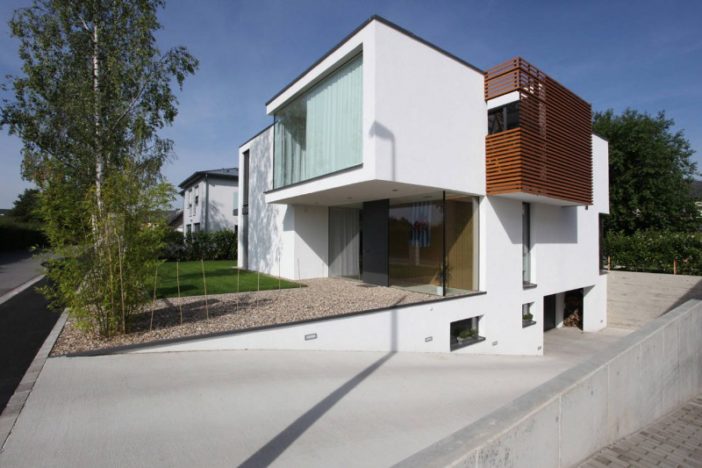 Minimalistic interior design, sleek and fine detailed wood works, are the major highlights of the residence and score well with the outward appearance of the residential facade. A sloped pathway leads from the entrance points to the basement floor that houses the mud room and guest bedroom. Full height window openings, spanned by steel members throw off light into the interior rooms and bring in breezy air during the hot summers.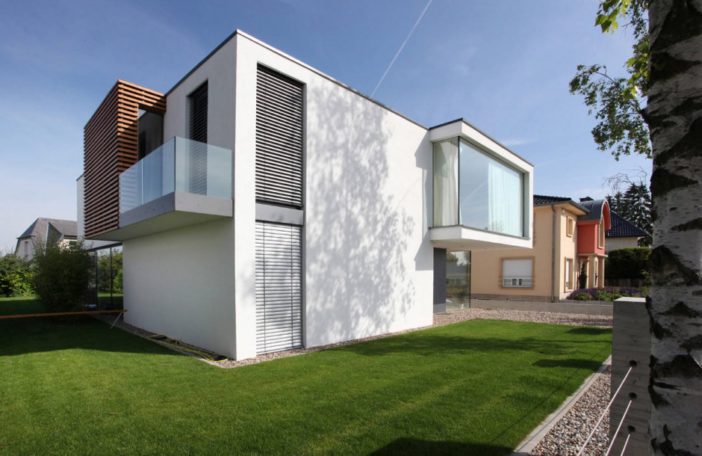 Visualised as a contemporary pavilion facade, overlooking the street, you also find a still pool that steams down the air at the outdoor patio. It doubles up as an entertainment lounge and also allows forming an interactive space around the landscaped garden. With a modernistic touch, the house sans colour free is beautiful with a monochromatic white palette that looks elegant on the exteriors and internal rooms. A visual play of contrast in black and white can be seen around the house, and it highlights the vibrancy and depth of space to a large extent. The residence is definitely eye captivating, spacious and is a panoramic sight for the onlookers.
Photos By :  n-lab Architects