Situated in Australia, the Maedaya Grill & Sake, designed by EAT Architects, recreates the feel and aura of traditional sake Wine house in a contemporary style offering some great eco-friendly design ideas. Moreover, the two-tiered restaurant exhibits the simplicity in the use of materials, which bring a strong flair for Japanese design in a modern context.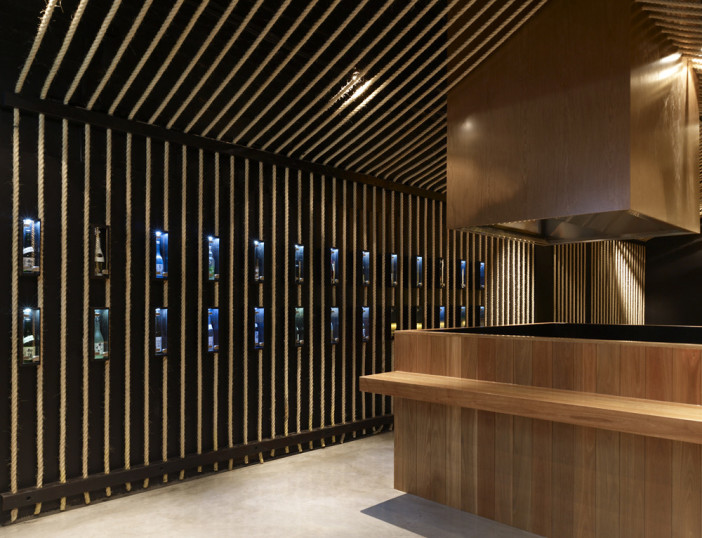 It stands portrayed, by the use of Manila ropes, to recreate the charm of sake making bound in caskets by thick ropes. In this particular design, the manila rope strung to the ceiling takes the shape of a house, by means of an L-clamped steel plate, anchored to a wood on the wall. The ropes run across from the bottom of one side of the wall to the pitched gable roof and moves across a black powder coated pulley reaching the other end of the wall. This process continues with the rest of the manila ropes, and each of them stands at a successive distance from one another, thus making an array of ropes in a linear line.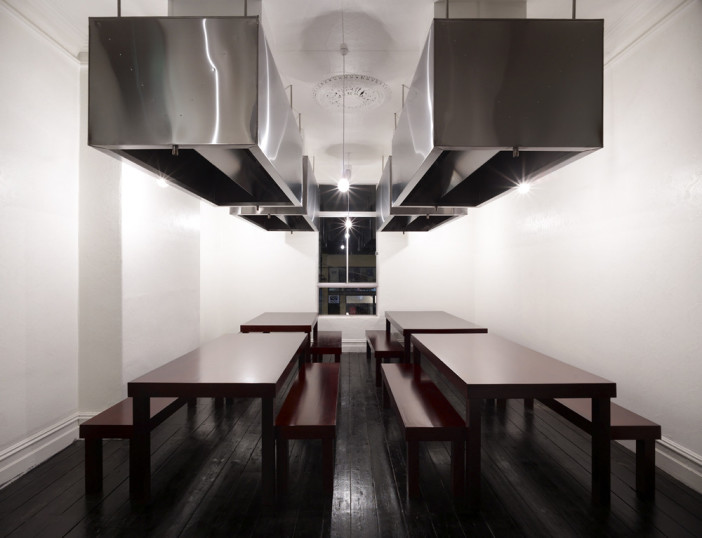 In between these manila ropes, small wooden caskets, fixed by means of a screw, hold wine bottles of customers as a souvenir. On the other hand, the upper level of the restaurant is a simple white and black-clad interior, with straight-legged oak wooden furniture for sizzlers. To dramatize the décor, rectangular chandeliers in a glossy stainless steel finish run across from one end of the table to the other, thus creating a play of reflection with the décor.
The flooring is of timber, with a Japanese black stain, that gives a glossy illumination to the lights hung from the manila ropes. Moreover, open kitchen with a wooden counter adds a sense of visual dynamics, to the interior arrangement on the lower tier. The wooden service counter appears floating above the floor and stands illuminated by a strip of LED lighting. Overall, it is a play of light, ropes, and minimal materials with an elaborate design, which completes the whole picture of the décor.
Photos By : Derek Swalwell