A two storey house, known as the Taquari House designed and built by Ney Lima Architects in Brazil speaks volumes about minimalistic use of materials. The house on the whole is an ode to the aged savannah tree that sits comfortably on the central courtyard of the inner volume. With a cooking bistro counter complete with a dining table at one end and a relaxing living lounge at the other end, the house wraps up into a u-shaped lot containing the savannah tree. The tree breathes life to the spaces around it and lends its brilliant shades of colours onto the clear window openings of the house.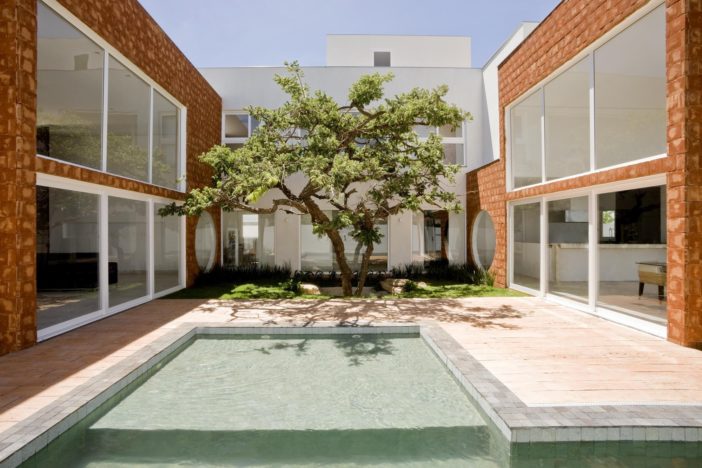 Other aspects of the house are the exposed concrete frames and the ceramic coated walls of the facade that illuminate the house in vibrant hues. The ground floor of the house occupies a still pool overlooking the tree and is done using a green tile stone that reflects the water to cause interesting silhouettes of the facade. The first floor occupies the master bedroom suites and the decks that cover the living spaces and the bistro kitchen on the ground floor.
The Taquari House has a corten steel entrance door that is framed by a slender strip of exposed concrete walls. It builds an element of interest to the red ceramic clad facade that was inspired by the adobe houses of Gaia. The house transcends from one space to another through the use of internal glass facades that break the external barriers and allow filtered daylight and glimpses of the surrounding landscape. With simplistic design ideas and concept, the house is a perfect home for the residents to enjoy their stay amidst nature.
Photos By : Edgard Cesar