Designed on a site, which originally housed a bungalow, the architect Paul de Ruiter called for a demolition to construct a new home on the existing site. The site based in Netherlands, faces the street and was required to create a settlement that provided privacy yet give opportunities for the exteriors to embrace the internal spaces. It is a one storey rectangular stretch of layout that houses the various internal rooms based on the functional aspects of the family and their day to day usage. The architect has employed a simple principle, where the layout of the house, Villa Berkel, is divided into three horizontal strips offering unique design ideas.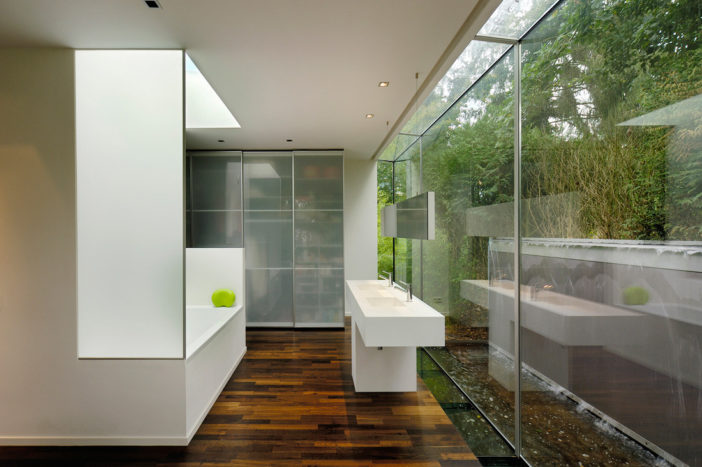 The first strip of the house tracks down the public spatial rooms of the family, and the second strip follows up with private zones such as the living spaces, kitchen and the bedrooms. For the third strip of the house, the architect has opened up the backyard deck that relates to the gardens and surrounding landscape elements of the house. This arrangement takes care of the private and semi-private areas of the house, which receives internal daylight by the sky lit roofs.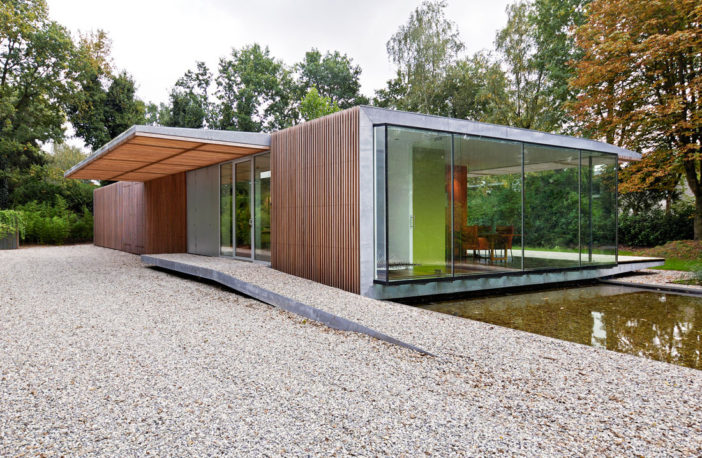 To bring in the exteriors into the interior envelope, the architect has used glass facades on all the 3 sides of the house that revels the public spaces, of the home. These glass facades also illuminate the internal rooms that were previously blocked by the thick woods surrounding the house. An additional cellar was added to the basement of the house for storage purposes and was accessed by means of a retractable ladder. The house interiors look pleasing and well planned to accommodate 2 master bedrooms and children bedrooms for the family. Together the Villa Berkel is a quality residential home with a finesse for elegance and contemporist design.
Photo by :-  Paul de Ruiter