Designed by Arkylab Architects in Mexico, the Xafix House is a three-tiered house, which revolves around the design idea of bringing spaces closer around nature in an enclosed manner. The house is built on a narrow site, oriented toward North-South and faces broad daylight on the internal facade, which is partly blocked by the external exposed concrete panes that hold polyurethane foam panels in place. The architect has designed the external facade to shelter the internal enclosure that opens on to the grass court. On the inside, the house is designed as an L-shaped that is bordered by the grass court.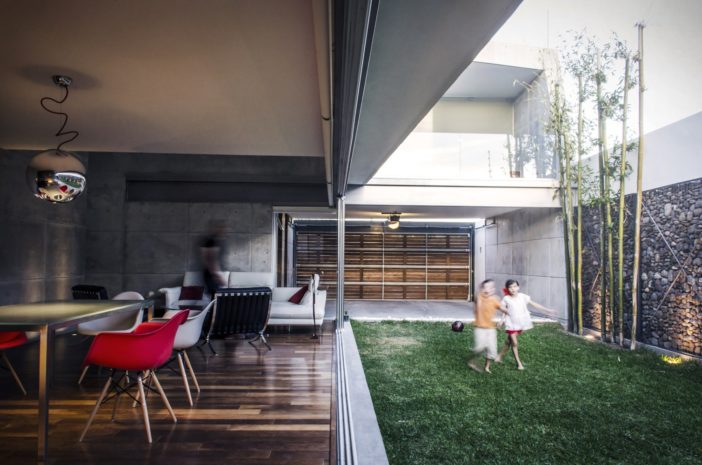 The house opens on to the grass court, where the concrete ceiling provides a shaded covering and is highlighted with full height clear glass panels. Based on the functional aspects, the house is divided into 3 layers, where the ground floor is designed to entertain and used for social gatherings. The first floor houses the private spaces and the roof is designed to hold a terraced garden and working studio for the family. It is all interwoven to relate to one another and the spaces in them itself are elaborately designed to overlook the grass court, adding a green element to the grey toned house.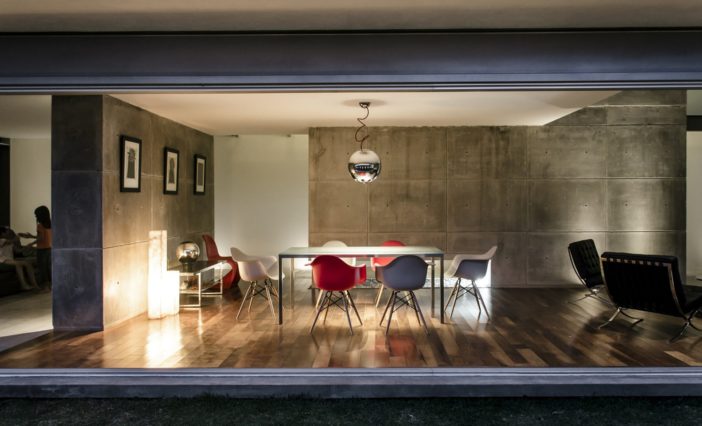 Very simplistic and straightforward design, there are less room for errors, as the house directly addresses to the site and needs of the client. Moreover, the use of eco-friendly materials and polyurethane foam helps in thermal insulating properties thus reducing the internal temperature of the home. Easy to maintain and clutter free spaces help in establishing a harmonious rapport with the building. The Xafix House is a designer's experiment towards playing with closed spaces without confining the needs or other spatial aspects of the home.
Photos By : Oscar Hernández