Sake Manzo designed by Beijing Matsubara and Architects in China is a restoration of a former Chinese restaurant into a brand new Japanese décor for sake wines. The theme of the restaurant is to introduce the rich tradition of Sake wine into the Chinese culture. With the existing restaurant, ripped inside out, the structures and its other integral elements were retained to act as the foundation for a new and refined Sake Japanese restaurant. The layout of the restaurant is narrow with the shorter side facing the entrance, which enabled the architect to incorporate various design elements from the Japanese architecture to render a fresh and richly layered décor.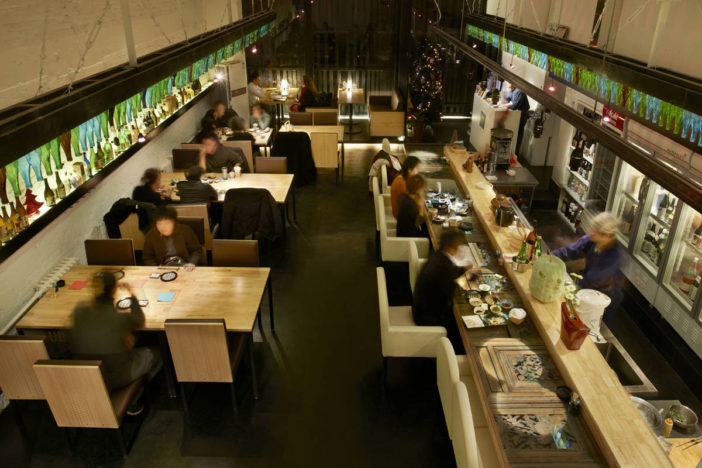 At the exterior, the facade is wrapped with wooden louvered panels that hint at the activities going on inside the restaurant, whilst maintaining the privacy and charm of an old Sake wine shop, as well. On the inside, the narrow interior is divided into various sections singled out by a corridor, catering to different seating groups with varied seating arrangements. There is also provision for two large kitchens, where food can be prepped and stored for the customers. Being a Japanese inspired décor, the Sake wine is used as designer bottles for lamps and design patterns on the walls and ceilings along with wooden panels to tie the décor with a harmonious flow of movement.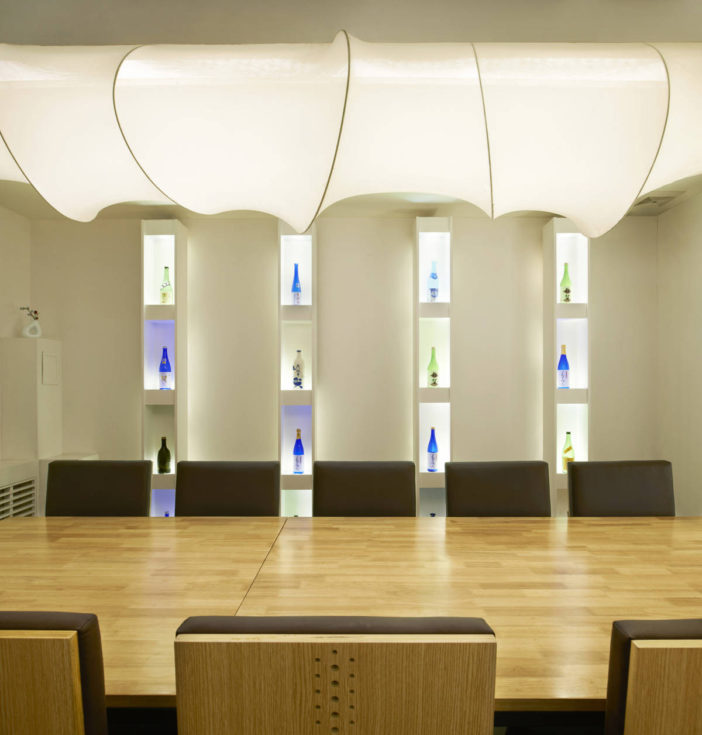 Much of the design elements based on Sake wine are hand made by artisans, with rich colour and texture that liven up the restaurant. Even the Chinese lanterns and panels from the former restaurant are incorporated into the interior as counter tables and hanging lights from the ceiling. The Japanese styled tea rooms with low seats and latticed screens along with an inner courtyard garden link the restaurant to see beyond the narrowed length and is very inviting to the eyes of the diners. On the whole, a rich and vibrant interior décor with an earthy appearance on the exterior adds a sense of balance, rhythm and harmony to the entire restaurant and the surrounding, as well.
Photos By : Misae Hiromatsu