Designed by Ippolito Fleitz Group, the WakuWaku "Organic Bistro" endorses unrefined and wholesome food produce for a Vintage Industrial décor in Hamburg, Germany. As a result, the interior décor focuses on identifying with the trademark values 'organic and ecological' that resonate with the interior theme of the bistro.
In addition, the rectilinear layout of the bistro segments into an assorted space to dine, cook and display, organic food produce in an open shelved wood case. For this reason, the architect emphasised on the natural texture of wood to render a lively atmosphere for the bistro. In like manner, the spatial concept aims to integrate the use of wood as a dominant material to demonstrate, sustainability as a core brand element.
With this in mind, an L- shaped, vertical module of open shelved wood fabricates into an assorted box of compartment from floor-to-ceiling to exhibit, exclusive organic produce of the bistro. These assorted compartmental shelves sweep across from the entrance to other end of the wall and extend as an overhead open-shelf above the service counter. Moreover, these display compartments are the primary focus of attention in the bistro, and hence, the architect retains the rugged texture of the wood.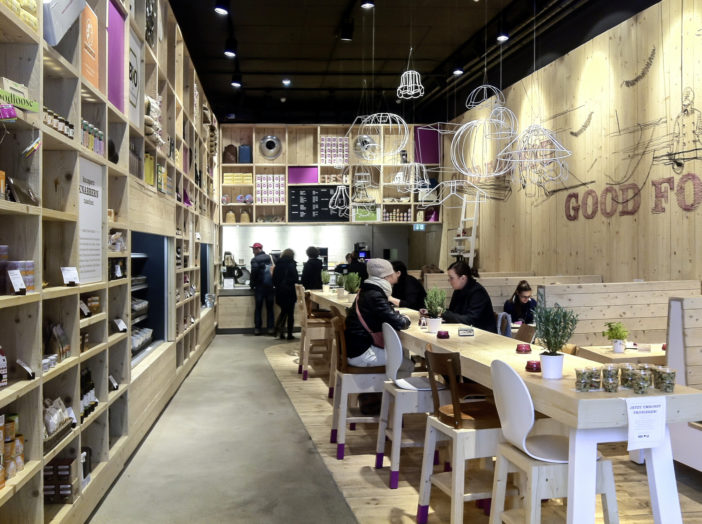 Consequently, the need to accommodate diners in a cosy and laid back seating style proved to be an advantage to the bistro. For this reason, the architect proposed two kinds of seating arrangements, using a narrow wooden counter along with assorted chairs and likewise, a row of back-to-back wooden seats with a table.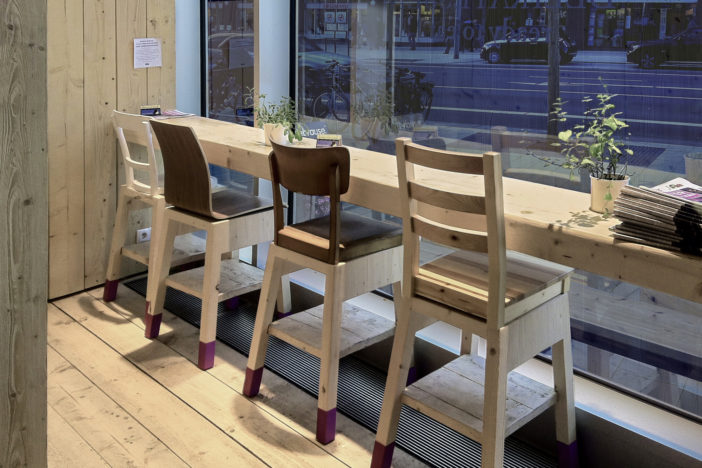 Furthermore, the back-to-back seats align to a wooden panelled wall, highlighted by outlines of rough sketches and calligraphic work by local artists. Besides, these fine details, the architect mirrored the use of wood for the flooring along with a matte finish of concrete for the kitchenette. In essence, the design of the bistro is remarkable with the simplicity in use of wood and rustiness in style.
Photos By : Benjamin Nadjib