Houseboat designed by Mjölk Architekti in Czech Republic is a mini boat house with minimal but needed necessities to accommodate a single family on board. The challenge to design a house on a boat is often met with many hurdles, but here, the architect has used the available space effectively to meet the needs of the client. A more or less rectangular carpet area, the houseboat is bridged to the quay by a wooden bridge for entrance and has an open pier platform to board the client's motorboat.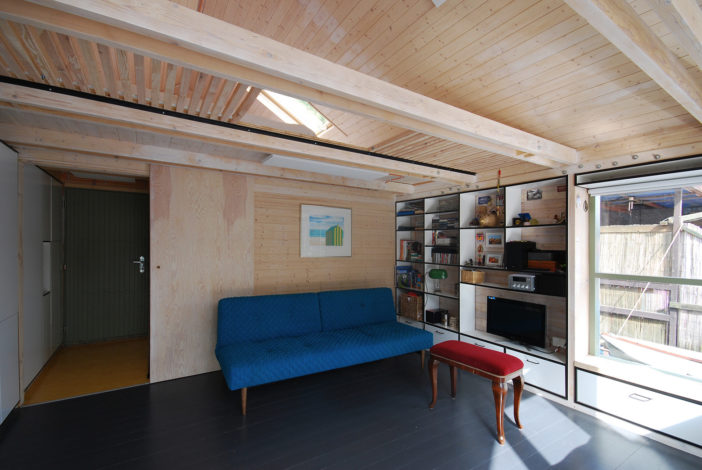 The interior design of the houseboat is kept simple and realistic with less clutter and a furniture free zone, so as to give a feel of spaciousness. With a pitched gabled roof, the architect has also made provision for a loft space, which acts as a sleeping area. There is also a skylight dormer window on the roof, which lets the client get natural daylight and fresh air for ventilation. On the space below the loft, there is a living room, clubbed with a kitchen counter and a washroom towards the rear end. This layout is simple and has built-in cabinets that save space and give enough room for storing, and also, acts as a seating area.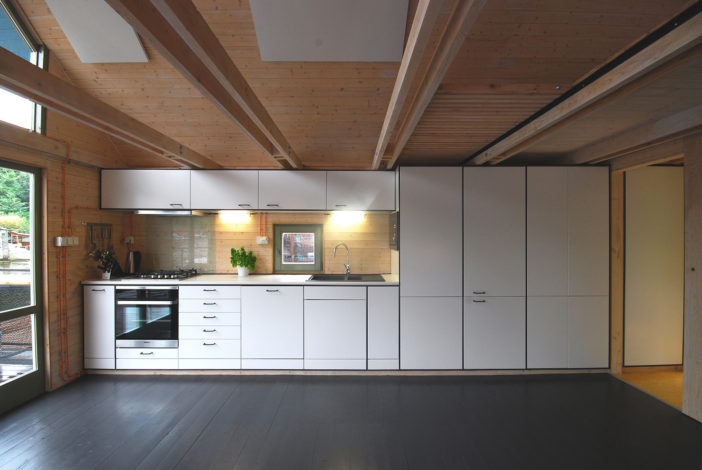 With minimal frontage, the Houseboat is designed to have large span windows facing the sea, which spills the interior onto the exterior pier. Built entirely of reclaimed plywood, steel and glass, the Houseboat is fitted with the necessary lighting and toiletry fixtures to make it as a portable home. The flooring and ceiling are also strongly interwoven with plywood planks to give and provide a rigid support to the internal core structure. On the whole, it is a simple home, where within a limited volume, the architect has managed to achieve a comfortable level with bare necessities and is left to be flexible to adapt in the coming years.
Photos By : Courtesy of Mjölk architekti