A Circle in a Square designed by Binocle is located inside a museum in Japan, which caters to the curator, visitors and work staff as an open planned restaurant. The highlight of the restaurant is the curved wooden structure of the open book shelf, designed inside a rectangular room. Moreover, other design elements such as tables and seats and the hanging lamps are designed to be circular, as well. The concept, behind embracing the curves, is that the flow of the space is not restricted, which causes a harmonious motion in place and adds more dimension to the curved interior.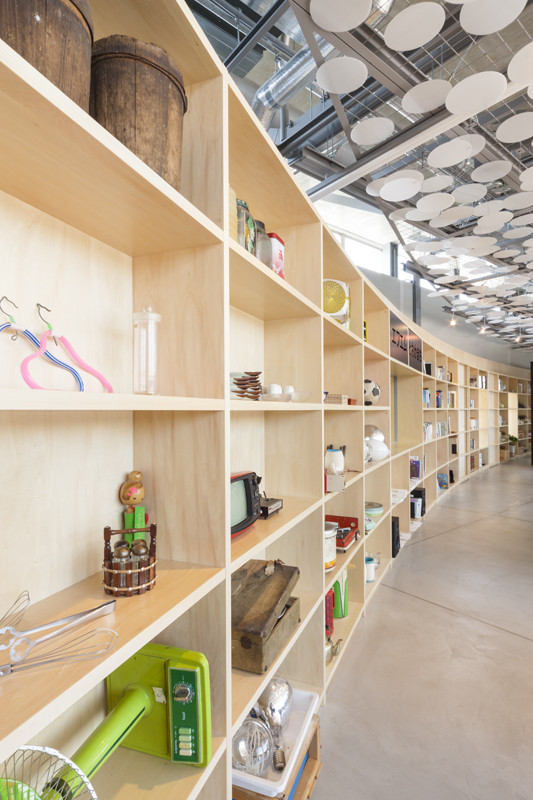 Moreover, designing a curved wooden shelf helps in storing books and artefacts, which is clubbed with a black chunk of the cubical box in the mid-section. This cubical box acts as a restaurant, coupled with high seats at the counter and a media gallery along with a curios display shelf. It has three multiple functions, where the wooden shelf acts as the primary and major source of the focal point. The circular tables are designed with a metallic streak that co-joins with the successive tables to create a flow of direction, which portrays a river like appearance. Even the ceiling above the curved structure is fitted with polycarbonate circular mounds that rotate over a period of time in a subtle motion.
On the whole, there is a reckoned force that draws attention to these miniature design elements and gives the illusion of visualising a circular space inside a rectangular volume. On the other hand, the combination of white lacquer with wood softens the look of the interior and eases the strain on the eyes as the curved structure cannot be viewed in full length, and can be done so, using a panoramic view. Nonetheless, the design idea and concept is unique, by using a single structure for varied purposes and brings the existing space to life.
Photos By : Giovanna Silva