The Workshop and Gallery, in Alicante, Spain, by Estudio Ji Arquitectos is about a multifunctional space where various activities take place under a single roof. It is a store with mixed use spatial functions that are adaptable and will evolve or be transformed during various stages. The architect has taken the aid of a modular lattice plug in system that makes these spatial transformations look much easier than said and done. This mobile lattice system is made of thin vertical wooden slats that are evenly spaced at regular intervals to form a kind of wood partition or screen. In between these wooden slats, a modular plug-in piece of 190mmx90mm wood section is inserted and held by means of in-built screws. These plug-in sections act as a display area, a stand-alone gallery, a workspace table, as a partition, and as a window too.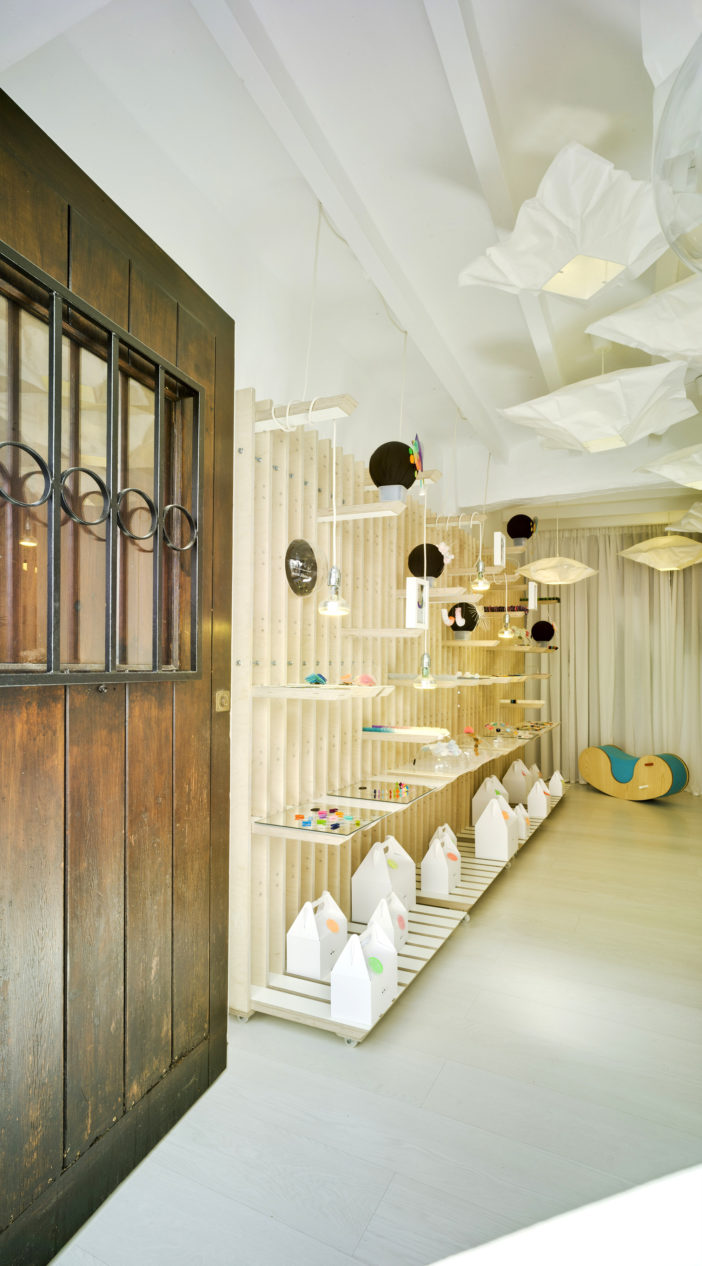 With multiple functions, these latticed wooden screens are movable, and hence, the need to configure to a particular layout can be overridden. They divide the space into various sections as a workshop and gallery for the studio to take over the multiple roles and they are flexible. Moreover, these modular systems can be used to display jewellery, hold potted plants, to create workspace tables and display units at varied heights.
The store is clad with white walls, and the ceiling has a fabric drop with in-built lights that brighten up interior decor of the room from every corner. Moreover, the wooden floor is raised at different levels as the space progresses towards the exhibition and workspace and looks soft and glossy with the lights beaming over the display units. It is a compact space where without the need of internal walls or partitions, the modular plug-in latticed system lends privacy, segregates, and displays, organises and screens spaces. On the whole, multiple functions with a single system; the store is one of its kinds that is innovative and very much functional.
Photos By : David Frutos, Courtesy of Estudio Ji Arquitectos