Built and designed by PAR Architects, the Tavonatti House, in Cachagua, Chile, is an interesting mass of space, which is planned on a sunken site surrounded by cactus and thorn shrubs. The house is composed of 2 different blocks of living space that overlaps over the other to form an L-shaped massing structure offering some unique design ideas and layout. With a thick crop of cactus and other wild shrubs growing around, it seemed quite natural to build a house that responds to the surrounding environment.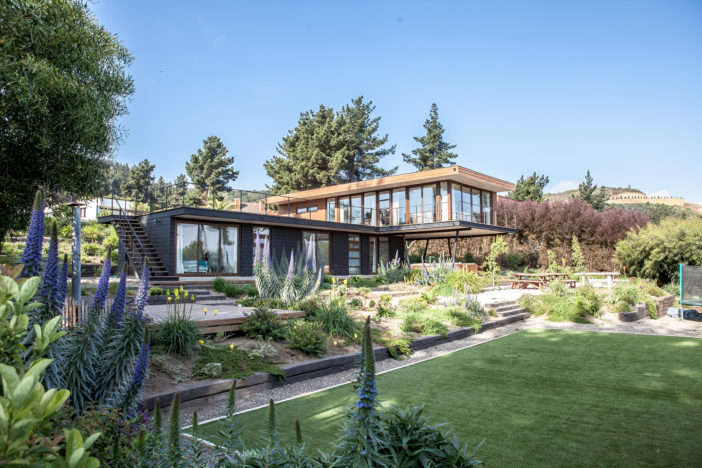 The sunken level of the site is reached by a flight of steps from the levelled ground, and consists primarily of spacious master bedroom suites with a cubical gallery. The bedrooms are laid out one against the other, with a neat aisle of corridor as an access path. With a clear glass facade overlooking the bedroom entrances and corridor, light and air are allowed to pass through to facilitate easy cross ventilation. Other than the glass facade, the rest of the massing is covered with black stained wood that creates a contrasting backdrop against the silhouettes of the loose sand particles.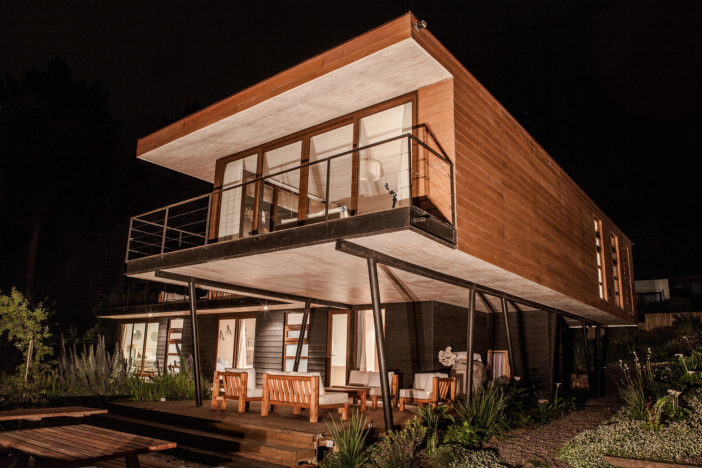 Moving over to the levelled ground, the other rectilinear block that sits perpendicular to the sunken site is well planned into public living spaces for the family. There is a spacious bistro kitchen counter, with a dining lounge, where guests are entertained. The family has a separate formal living space that looks down to the sunken site and is exposed to the views of the surrounding dry landscape of Chile. Enclosing the top block on all sides is a fenced deck that acts as an extension of the house and overlooks the gallery from above. It is a simple massing of blocks that creates a dynamic setting for a house in the wilderness in an exuberant manner.
Photo by :- Diego Elgueta