You don't necessarily need to have a home office in your house to create a designated workspace. However, by creating one, you can really find a workable solution for all the work related things strewn around the house and make them find an elected spot. This will help you in not just keeping your important receipts in one place, but also keep the rest of your house sorted. In order to create a functional nook in the house, you must pay attention to the habits of your family members and work towards solutions that will help everyone when your home is messy.
Find a productive spot in your house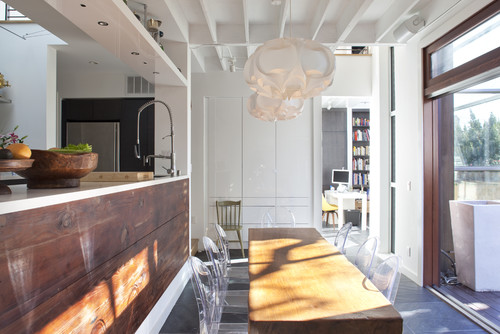 [Image – Feldman Architecture, Inc.]
If you are a kind of person, who needs lot of natural light to work productively, then that home office in the back of the house with no natural ventilation or light system will be something that will not be sustainable in the long run. You will end up avoiding that dark room to work at the kitchen dining table that gives you nice view of the garden and lots of sunshine. If this is what makes you work efficiently, then this is what you need to get out the best in you.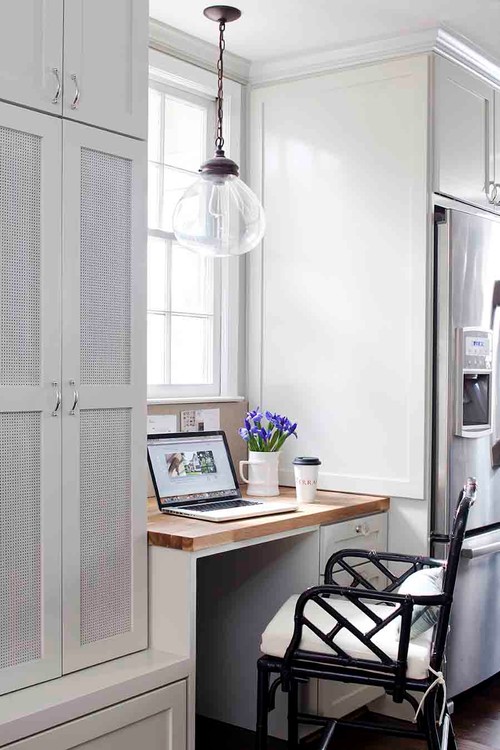 [Image – TerraCotta Properties]
Rather than complaining about the dark room or getting upset about not using the office properly due to lack of natural light and forcing yourself to work in in-conducive setting, it is advisable to get yourself a nook in the kitchen that is more suitable to your preferred work ambience. If not sure on how to set up, you can consult an expert for possible design ideas and solutions.
Set up that small area you require working. This will instantly find you a solution not only for a dark room office, but also a dedicated spot for all your important paperwork that was earlier taking space on the dining table. You can put your former office to a much better use depending upon its location in the house.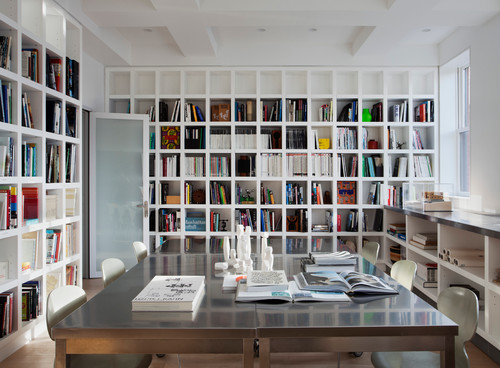 [Image – Space Kit]
If you have a house that does not have a home office or worse, no space for a home office, then you might feel strained to find a spot to do all your work, school work and other craft supplies. In this case, there is a small room attached to a family room, which is barely used and can serve the purpose perfectly by being the dedicated home office. The room was put to better use and the family now have a quiet space to do their important tasks.
Make use of the available space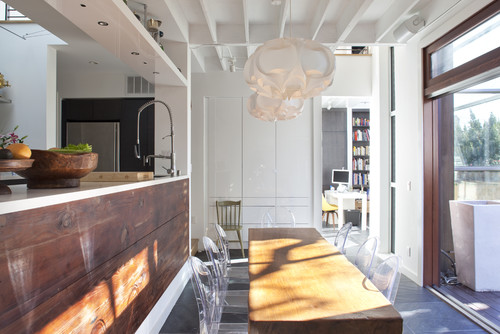 [Image – Meritage Homes]
The formal living room was transformed into a large family room and a family room was turned into a home office with a lot of storage space. It was completed with a conference table that could be used as a workspace by family members or additional space for entertainment purposes.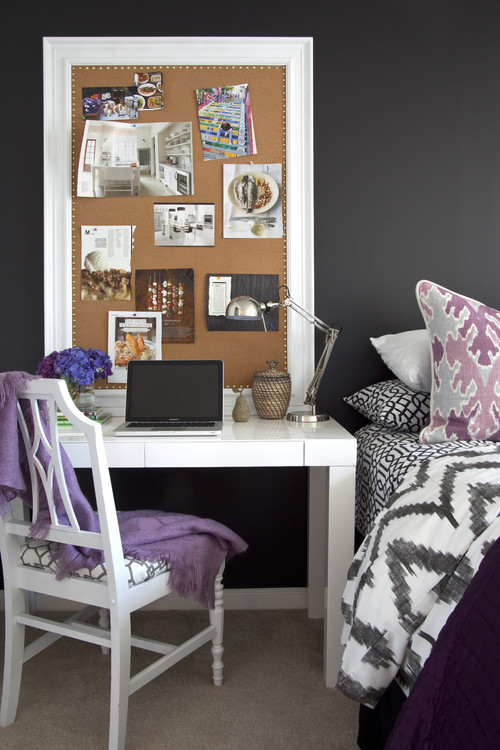 [Image – Dayka Robinson Designs]
Once you have located the spot that you think is perfect to make you feel productive, then use it to its best ability. Don't wait for a traditional office space arrangements and sacrifice the one you already have that meets the requirement. You can adjust the desk close to the bed or next to a window.  You can check for bedroom design ideas for more thoughts.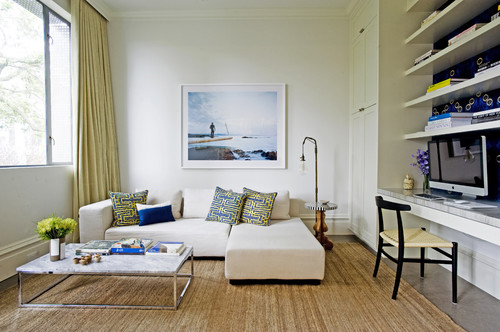 [Image – Todd Davis Architecture]
You can also consider a traditional office setting if you have an ample of space in your house. You can revisit the living rooms arrangements to make the adjustments and make the room available for office work, as well.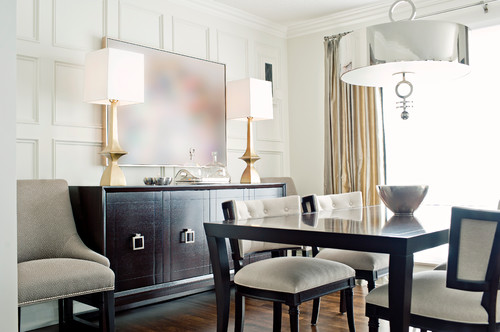 [Image – Elizabeth Metcalfe Interiors & Design Inc.]
Don't limit your thinking capacities and stick to the conventions. If you are accustomed to sorting your monthly bills at the dining table, then you can move the china to kitchen cabinets and use credenza to store a basket full of check books and pens. The sideboard in this image may have been used for any purpose, to store office supplies or crockery. Either way it looks like an interesting addition to the décor.
Let the Natural Tendencies flow in your decor
[Image – English Heritage Homes of Texas]
They call home, sweet home for a reason. It is perfectly natural for your home to accumulate a pile of books or papers. The home office area is designed in such a way that it can afford to be messy. Don't get stressed because of the pile and try to control your urges to sort the chaos.
You can designate a day of the week to sort the pile and keep the papers or receipts that are of use and throw away the ones that are not. While it takes only half an hour to seize control of the situation you thought was chaotic, you can also be aware of the things that you keep and the one you discard, which gives you a greater control over the items in your home office.
[Image – Ellen Grasso & Sons, LLC]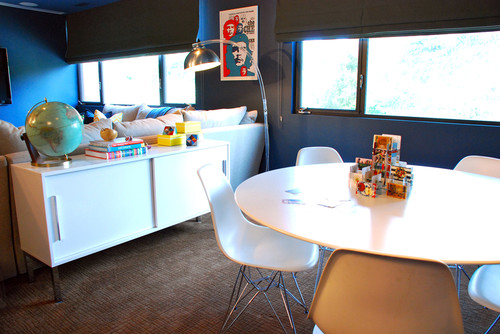 [Image – Jessica McClendon]
If your family is naturally messy, then instead of trying to fix the behaviour, think of a design that compliments their behaviour. This will teach them a thing or two about organization without you stressing about it.
If your son never keeps the markers in a drawer, give him a pen holder on the table top where it can be stored easily. Give your husband a magnetic wall where he can stick all his important sticky notes and never lose them.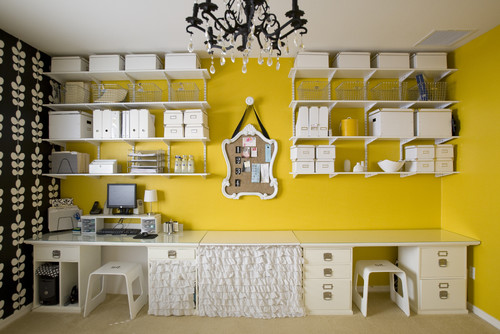 [Image – Michelle Hinckley]
The thing that works for the kids is that they can either have dedicated a spot on the kitchen table or space in their bedroom that is ideal. If your kids are most productive in the den, then you can place all their homework and supplies on a bar cart so that they can put the things away when they are done. This is also a very good option if your kids have siblings and cannot study or work in the same room.
You can also consider using the industrial furniture, which is usable in small spaces and extremely functional. Try to incorporate a long desk for a shared office space. This really helps in increasing the functionality of the space when it does not have room for a bigger table.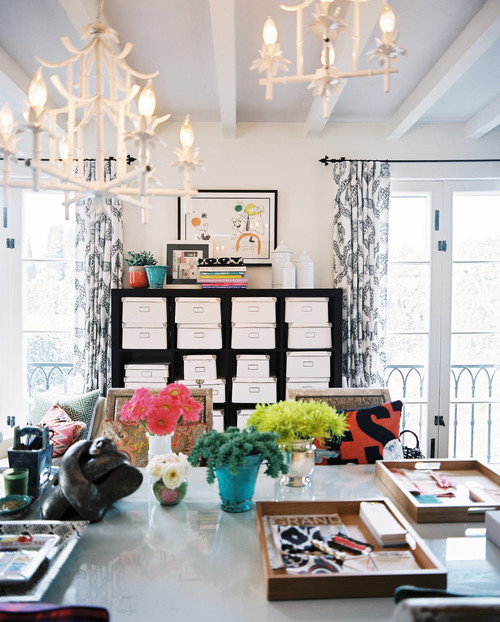 [Image – Burnham Design]
The other best solution to beat the clutter is to use the wall storage called the box system. You can store all the items in white boxes and identify them with clear labels with the items stored in them.
They really help in keeping the space free from clutter and storing the items that are most likely to get lost. You can also locate these items quickly when you need them.
[Image – Martha O'Hare Interiors]
When you are designing a home office space in your home, it is important to discuss what your family's expectations from that space are. It can be a small nook in the house or a lavish room decorated to its best ability, the point of incorporating a room for office purposes is to make sure that the life around the house runs smoothly.
Home office is a necessity these days considering so many people working from home. It is not really that difficult to find a space in your house that will be able to meet the purpose and make you more productive. Use these interior design ideas and tips to transform your home into a workable spot for a smoother life and a peaceful home.