Oiticica Restaurant designed by Rizoma is located in a well landscaped site in Brazil and is surrounded by a dense growth of palm trees. It overlooks a meandering lake and enjoys a tropical climate throughout the year, thus providing the niche to make use of the evening breeze and westward winds in the mornings. The restaurant is designed with a sustainable design ideas and concept besides with the use of locally available material and space that originates with simplicity in usage. A universal concept of traditional sun shading system was introduced in the restaurant, known as brise soleils that reduce the impact of sun's glare over the building facade.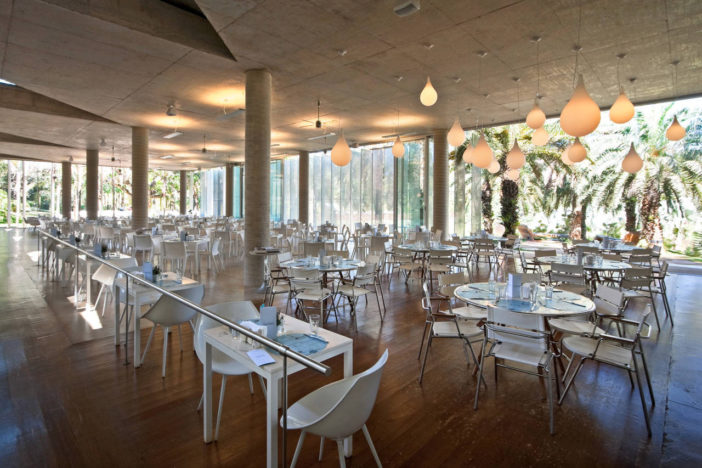 The entire stretch of the building facade has vertical pierced screens that conceal the inner activity while still managing to avoid the harsh sun's rays and still provide subdued lighting and ventilation. On the other hand, the use of green roofs with north opening windows deflects away the longest rays of the sun while the shortest rays illuminate the ceilings and the mid –section of the restaurant. It also helps in facilitating effective cross ventilation where the hot air rises up and is released through the roof openings while cool air flows into the building from the brise soleils.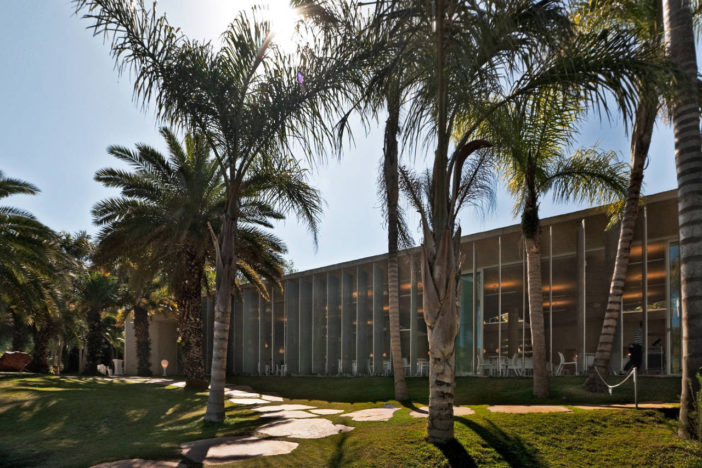 Inside the restaurant, the interior is very formal and faces the lakes and lush palm trees, which provide a better controlled microclimate to the site. With kitchen and service counter pushed towards the back, two-third of the interior provides comfortable seating for tables of four with enough circulation space. There is also an outdoor dining area with limited seats nestled under the shade of the palm trees, which get the cool breeze from the westward winds. The restaurant is well lit, airy and provides a comfortable ambience to enjoy the food being served amongst nature which is a truly rewarding experience.
Photos By : Henrique Queiroga