Designed by Naoi Architecture and design office, one storey residence, the Large Hipped Roof House in Japan, built on a semi urban lot reflects traditional Japanese design ideas and fundamentals bringing together nature and the residence. The residential lot was effectively utilised in creating green pathways for the residents as the house occupied a small share on the rather huge plot. The major highlight of residence is definitely that of the large hipped roof, that raises all the way to the attic at the rear end.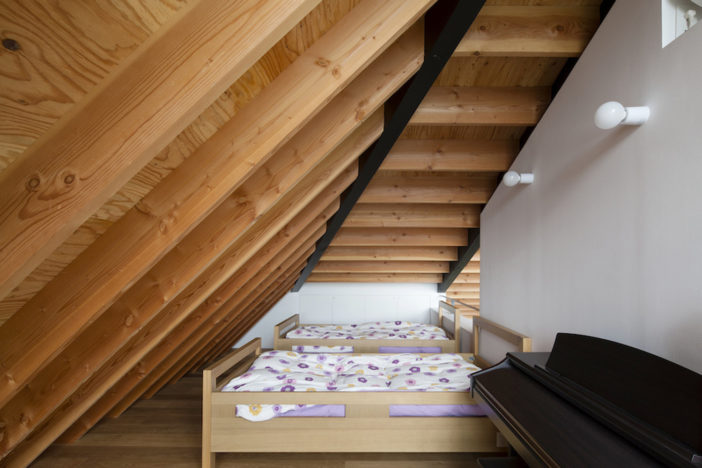 Using simple forms, the architect has created spaces that diverge out towards the exterior and has placed the living lounge right at the centre of the house to connect a sense of belonging with the residence. The frontal and rear facade of the house is decked with low E-glazing windows and over eaves that bring down the internal temperature of the house.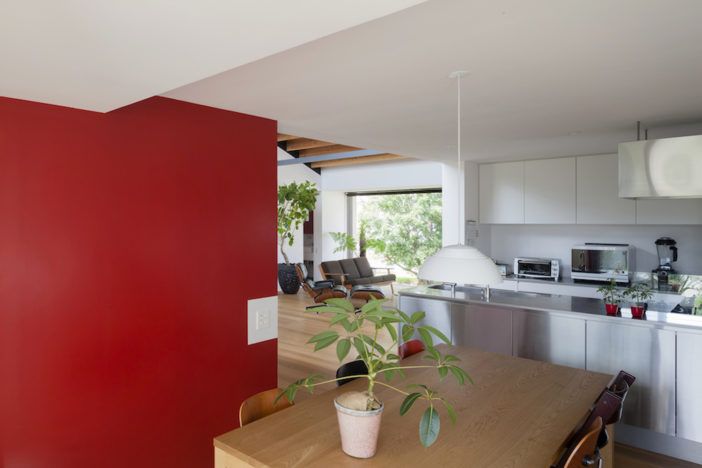 With a staircase reaching the attic floor, the hipped roof is erected using wooden girders held by rafters that run throughout the residence. An addition of a sun deck with an open to sky internal courtyard is also designed at the rear end of the residence. The attic room is transformed into a makeshift bedroom that gives enough space to move around and capture splendid sights of the surrounding areas.
Minimalistic interiors, Japanese folk architecture and landscape find a place at the heart of this Large Hipped Roof residence that creates a harmonious relation to flow within the spaces. Sky windows are an essential part of the hipped roof that occupies the entire rear end of the top facade. It brings in sufficient daylight to the rooms, giving an unhindered view of the sky and trees. A very simple and graceful design, the Large Hipped Roof residence reflects the nature and its vibrant colours.
Photos By : Hiroshi Ueda