There are many people that are not very comfortable with the idea of adding colour to their homes. As much as they would like to break the monotony of neutral shades, there is always this fear of bright unmatched hues that are outside their comfort zones. If you are not comfortable with too many shades of colour in your home, then it is bound to make you nervous when you imagine walls covered in orange or green.
However, colour is to bring life into your living space and do so without inducing the shock effect. If you play around with the palette that makes you comfortable, there is no end to the possibilities no matter how bold or dull a shade is. Here are some quick interior design ideas and tips to help you escape your comfort zone and experiment with a variety of colours in a palette with ease.
Power of subtle metallics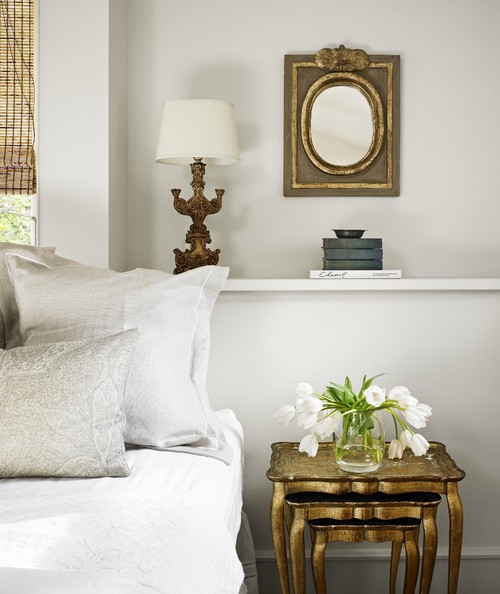 [Image: Hugh Jefferson Randolf Architects]
Metallics that are a fine mix of gold and other warm shades like copper or brass have a classy appearance and can mix beautifully with white and black. They take the colour scheme to an all new level by adding life to the room. The depth of the colour palette is enhanced by its glamorous undertones and luxurious finish.
Combination of neutral colours
[Image: Angela Ruple Interior Design]
This is one of the safest bets for people that have colour shyness. Mixing neutrals rarely ever go wrong and you can evade looking at a block of loud colour that makes you ill at ease. The best thing about neutrals is that its various shades induce a quality of rich look without using wild colours. Use an aesthetic blend of grey, beige, white, rustic wooden tones and black and allow its contrasts to bring each shade into life.
Shades of Navy Blue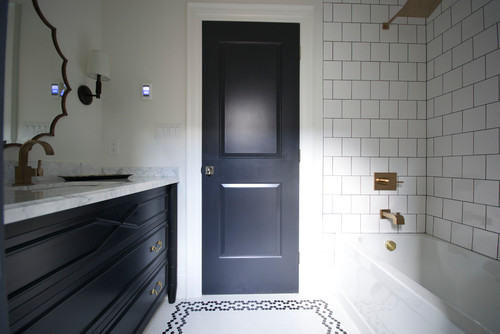 [Image: Meredith Heron Design]
Blue is always the safest colour in our environment as we are naturally tuned to seeing that shade in our vicinity – the sky! Navy blue, on the other hand, is a neutral shade that is timeless and will never be out of fashion. The best thing is that it blends beautifully with everything. This will be the best starting point when you are looking for bathroom design ideas to expand your colour palette. You can start by introducing this shade to the doors or cabinet units that just merges into the décor seamlessly.
[Image: Christopher Stark Photography]
It is the immortality of navy blue that it can also be used as coloured upholstery in your living room. It can easily coordinate well with upcoming trends and let the accessories enjoy the limelight, without asking for too much attention.
Add natural colour with flowers
[Image: Croma Design Inc]
If you have a specific spot in the house that cannot be showered with burst of colours with furnishings, flowers will provide a refreshing change to the scenery. In this image, the only way the colours have been added is with flowers and a tea towel. However, the space still seems like it has been done up in shades of pink.
This arrangement is very pocket-friendly as a simple of carnations in a clear vase will have an amazing effect without being too expensive.
Palette friendly colours
[Image: Faiella Design]
If you are still willing to take your experiment a notch higher and would like to add a colour or two more without overpowering the existing palette, then choose shades that belong to the same family. They will blend in together more naturally and will have a similar degree of elegance.
Pastel Green
[Image: A. Rejeanne Interiors]
Pastel greens are classy and also very trendy without being such a loud colour that it makes you uneasy. Since the green is ever present in our nature, we are organically capable of pairing it with any other colour which is one of the best ways to add life without creating a discomforting contrast.
Fresh look of Mint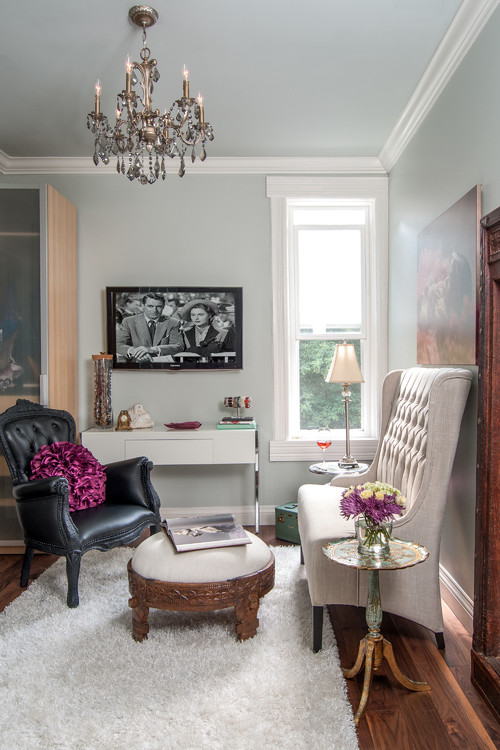 [Image – Stephanibuchmanphotography.com]
If you are unsure about the pastel green, try an even safer colour which is almost neutral – mint green. It works perfectly with the wood tones and makes the white trim appear far more elegant that it actually is.
Bright Pillows
[Image: Arent & Pyke]
A combination of throw blanket and pillows can add an amazing burst of colour in a very eco-friendly and versatile way. They can be mixed and matched with several things in the room and can be rearranged every now and then to create a different look. Just by moving around these pillows can change your room's appearance by leaps and bounds and is considered one of the finest living room interior design ideas.
Glassware for tinted tones
[Image: Jessica Helgerson Interior Design]
Tinted glass has the ability to blend in with the environment and also add its own vivid colour to the ambience effortlessly. Due to the transparency of the glass, the colour can easily complement any kind of décor. Add a few pieces in a room to create a collective look. You can scatter the pieces across the room or cluster them together for a rainbow of colours.
Play with the pattern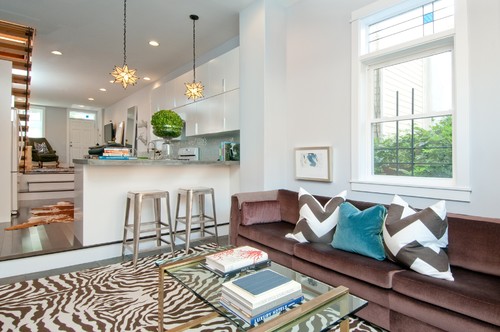 [Image: Michelle Miller Interiors]
You can bring in an incredible drama to your room by playing with different patterns and fabrics. Your room may not have a lot of colour of its own but these patterns will do wonders when it comes to comes to adding some interesting hues. You can look at the latest Chevron for the pillows or animal print for the rug. Even the natural wood grain has a lot to offer with its simple presence.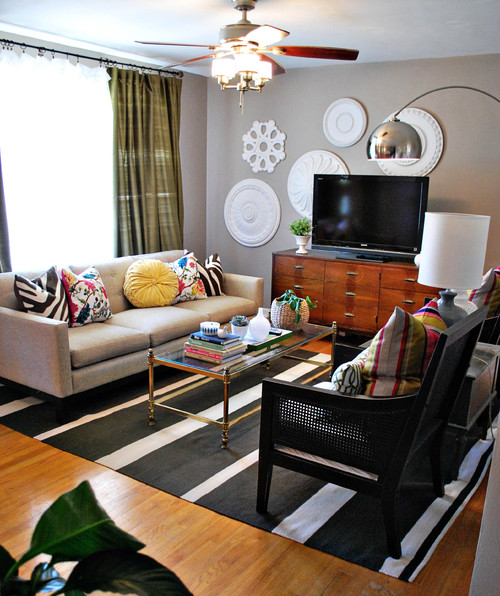 [Image: daveandjoi.blogspot.in]
Bringing all these patterns together with a neutral tone will give your space a happy and cheerful feeling. Small contributions have been made with plants and pillows that do a lot to enhance the colour quotient of the room.
Colours are friendly and have a way of refreshing the room by their presence. With simple tips and tricks, you can make even the dullest of colours come to life. If you are unconfident about too many colours in your room, then you can use these frugal means and still get pretty much the same effect.