Designed by PARAT, the working studio of Office Mindmatters is a creative and ingenious solution, which improvises conventional working spaces, into a better and reformed workstation, in Germany. As stated in the brief, the proposed design ideas and concept accommodate shared spaces, with dual functional modes, for catering to various working events.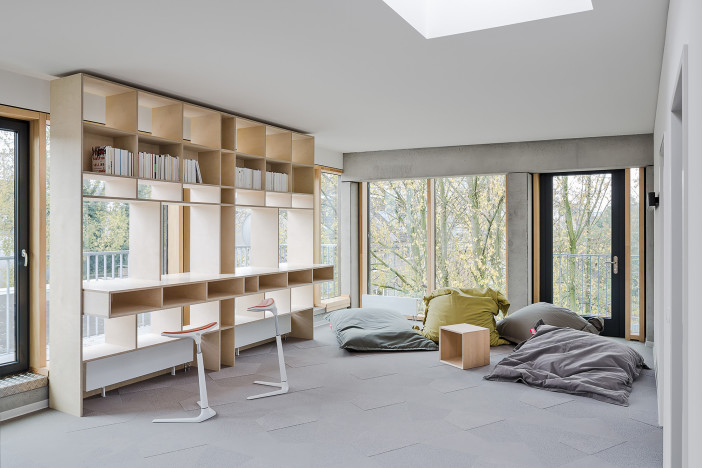 Considering the linearity of the floor plan, the spatial zone is significantly a mixed-use typology, with a network of workstations clubbed together for a specific function. Likewise, the addition of a glass panelled boardroom, a slightly smaller discussion room, and a cabin with restrooms are the only enclosed structures found in the office.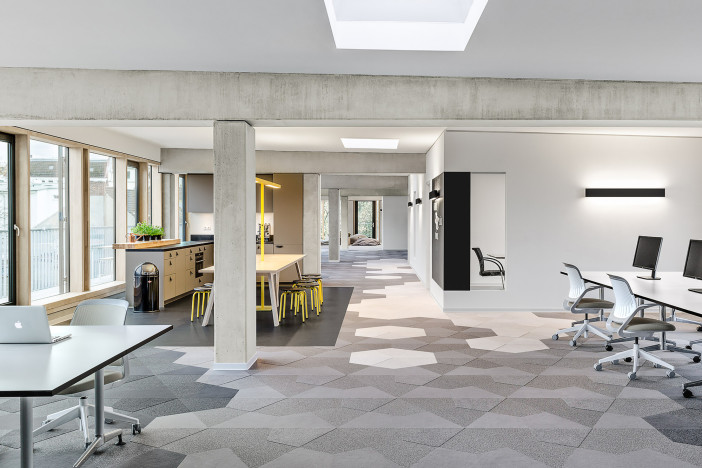 On the contrary, the arrangement of the worktables and chairs dictates the flow of circulation and segregates the spaces without the aid of a partition. For this purpose, the use of a starry white to ash grey mosaic in a geometric pattern stands laid across the floor, where different shades indicate the various areas of the office décor. Primarily, three tonal values of grey shades come into focus for denoting specific work zones. First, pale ashes mosaic for the public space/lounge area, secondly a medium rare grey tone for the open office, and finally a dark grey for the work area.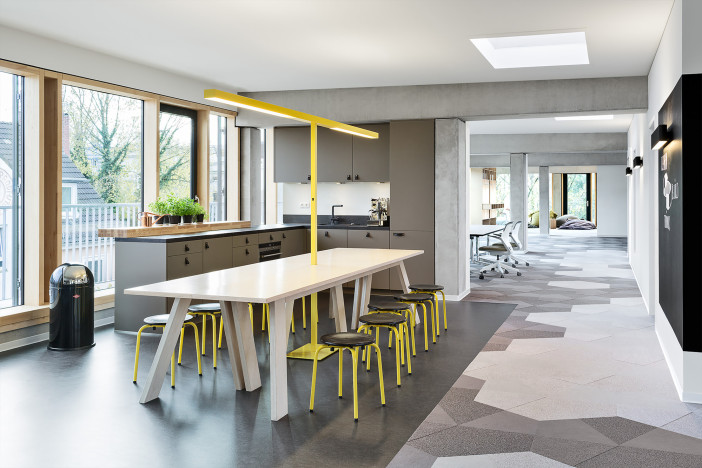 Furthermore, these mosaic patterns on the floor stand complemented by the use of bespoke wooden tables and chairs, specifically designed for the office. In addition,the finish for the wood, protected with a sealant, reveals its grains through the sheer coat of the varnish for a raw and glossy look. Consecutively, a bright yellow accent dabbled across the wood posts, chairs, and cushions, adds a splash of visual vibrancy to the décor.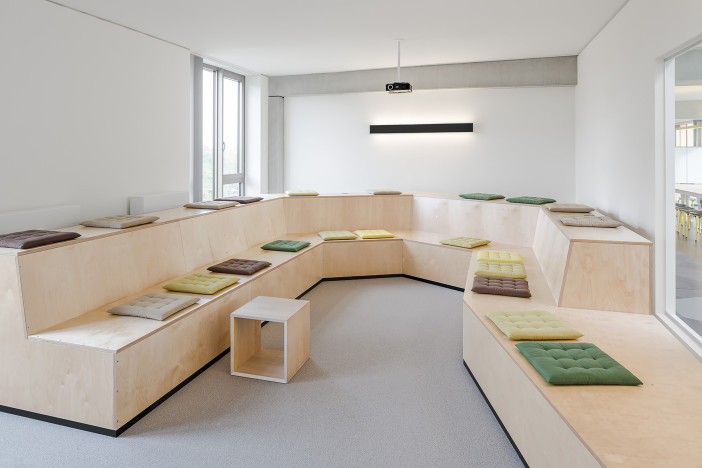 In essence, the office space looks visually appealing and motivates the employee to work at leisure, unlike the conventionally cramped workstations, which remain eliminated from the décor for a fuss-free work environment.
Photos by: Andreas Meichsner