Oushak rugs are a gift of Turkey to your home design that suddenly uplifts a room to another level. They are incredibly soft and beautiful in appearance that can augment the interiors of your home by their simple presence. There are so many styles available these days that you can easily mix and match the one that goes perfectly with your home design.
[Image: Woven Accents, Inc.]
The name Oushak rug has been taken from Usak, which is a city in Turkey and was the main hub for the production of Oushak rugs during the Ottoman Empire. It still is one of the main areas for the manufacturing of this unique rug as of today. In yesteryears, this rug was known as Anatolian. However, after years when the designs, collectors and scholars are well equipped with knowledge and tools, they are able to identify between the two varieties of the Turkish Rugs.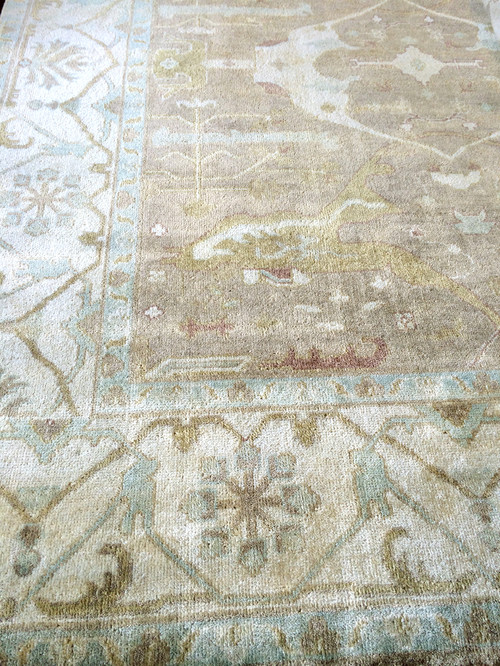 Image: Laurl Designs
These fine rugs are made using the finest components like silky wool that are hand knotted into various designs by extremely skilled craftsmen. The colours that are used in the carpet are naturally derived which are then dyed into the carpet. Mostly the colours that are used include warm hues and spice tones like gold, blue, soft red, ivory and gray. Green is hardly used since it is extremely tough to make a natural dye for green.
Image: Bill Bolin Photography
The main design theme of an Oushak rug is that it features a central medallion or a star, which is surrounded by floral motifs or an overall design pattern of vines, leaves and palmettes. There are many other small designs that can be incorporated into the overall theme of the rug. There is another feature of Oushak rug that is known as Lotto carpets that have an arabesque design on a red background most of the time. The name Lotto was given to these rugs because of the 16th century Italian artist called Lorenzo Lotto who used them as a backdrop for his paintings.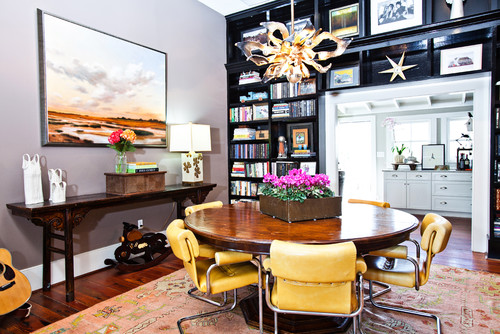 Image: Cortney Bishop Design
Motifs that one can see on the Oushak rugs are somewhat similar to the one that is seen on Persian rugs. However, the motifs on Oushak are much more geometric and large scale in design than the one seen in Persian variety. Another big difference between the two is that Oushak rugs are made of large sized knots and the colours are very light toned. The colour scheme includes soft pastels that are rich in cinnamon and saffron tones.
Image: Michael Merrill Design Studio, Inc
Due to their soft and stylish colour scheme, the Oushak rugs can easily blend in with all kinds of décor. They look perfect with traditional design just as well as modern ones.  
Image: McCroskey Interiors
These rugs are very elegant and have been popular design choice for many centuries, that too for a reason. One of the main reasons for their popularity is that they are a standalone style statement and can create a focal point by just being present. They are luxuriously soft under your feet and make a perfect choice in the bedrooms as well as the private sitting rooms.
Image: Panageries
When you are looking for a quality Oushak rug for your home, make sure that you purchase only from a reputed dealer and look only for the hand knotted varieties made in Turkey. There are many other parts of the country where Oushak rugs are produced, but they are all machine made. You can pick from the antique ones or the ones that are made today. The antique ones will naturally be costlier. However, if you look extensively, then you can find slightly imperfect ones for a much lesser cost than the new ones.
If you want your home decor to look every inch stylish and elegant, then the Oushak rugs will be a very good investment. They are natural, durable and have a unique quality of giving you room a facelift, no matter where you put it. Due to their soft colours and flexible design, you can match them with contemporary or traditional style homes with ease.