Hanging floral baskets has been one of the most followed design ideas by the traditional British households for several generations. With their colourful summer flowers and all season plants, they are able to make every garden seem different and special. The most common shape for these planters is a cone. Due to their depth, they are capable of holding much more than the standard size and allows for greater retention of the moisture, as well as growth of the roots. Made out of banana leaf, black sea grass and water hyacinth, these planters are a delight to any garden.
[Images Credit: Frank Organ]
If you have a high wall, use it to plant some of these planters using high hooks, which can adorn the tallest wall. You can plant your own variations of these flowers depending upon the weather and choices that inspire your selection.
Using the traditional summer plants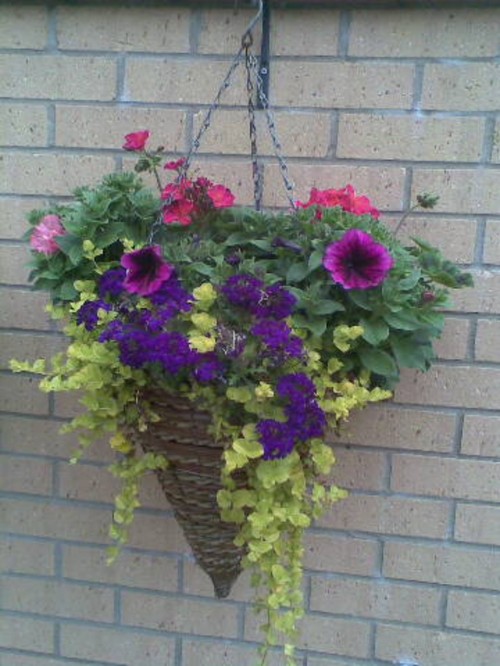 [Images Credit: Frank Organ]
The traditional hanging basket in summer plants comprises of all weather plants, as well as summer blossoms. To make your basket more colourful, use the zonal geranium, which is the bushy kind of perennial plant. You can see maroon or green on the leaves and huge flowers on stems that rise above the bush to add colour.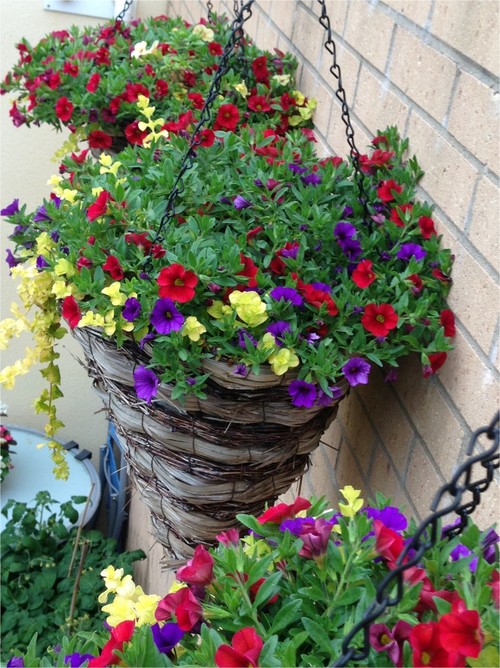 [Images Credit: Frank Organ]
Additionally, you can also add a mixture of deep purple and white petunias, which fare really well in warm and dry summers. However, they may not be able to sustain the damp weather. Even though, this arrangement seems sufficient, there is still need for more colours to bring out the life in it that this planter intends.   You can also introduce trailing verbena, which grows strongly on its own and yet remains dominated by the other plants in the planter.
The colour burst of busy Lizzie
[Images Credit: Frank Organ]
You can also repeat the arrangement of the plantation to give a look of rampant growth of the powerful red coloured busy Lizzies. These plants are gorgeous and need the least maintenance for them to grow and blossom at their full potential. However, since they are unable to withstand the mildew, the gardeners have been advised to not plant these flowers. So much so, that they are now hard to find in the markets.
Summer Special Petunias
[Images Credit: Frank Organ]
These petunias are not only easy to grow from the scratch, but they can also be bought as plant plugs, and they would still grow into their current look of pale lime green with a dash of pink.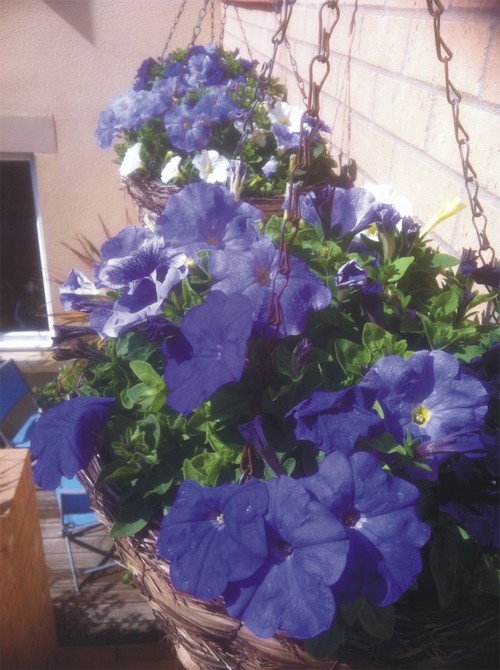 [Images Credit: Frank Organ]
Another variation is the Petunia 'Surfinia Sky Blue,' which has much stronger resistance to the weather and can really show the unbeatable flower power by blossoming to its full potential. However, you cannot buy these plants as a seed and must be bought as small plugs. By the end of summer, you would be pleasantly surprised at the violet purple flowers that cover most of your wall in its lavender blue shade.
Colourful blend of flowers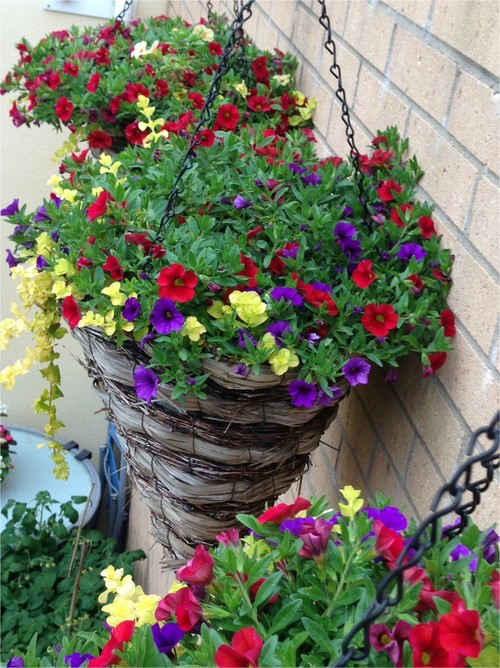 [Images Credit: Frank Organ]
You can also plant the 'million bells' also known as the Calibrachoa, which is considered as a perfect alternative to the petunias that are planted in the baskets. They are all weather friendly and do not lose its original colour, even in the rains. Start planting them in the conical shaped planters and soon they will be outgrowing themselves and filling the planters in beautiful mixed colours.
The winter colour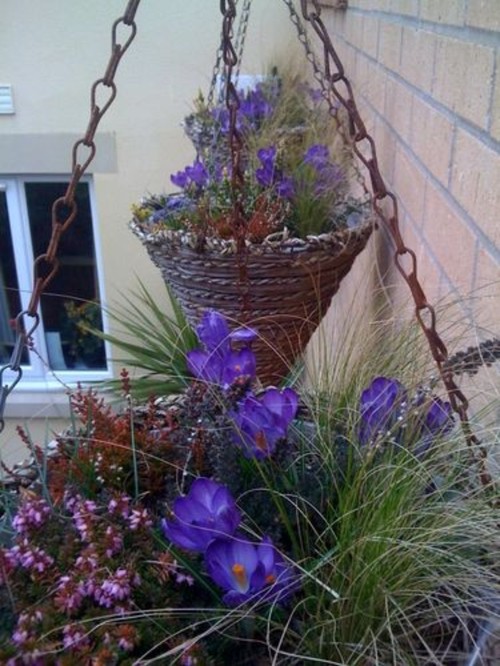 [Images Credit: Frank Organ]
It can be tricky to maintain conical planters in the winter season due to damp weather conditions. While pansies and viola are able to somewhat sustain the weather, but they soon start to give in with all the dampness and colder weather. However, you can use the moisture retention granules that you use in the compost of summer baskets. They will soak in the excess moisture from the compost and prevent water logging in the basket.
You can also get a winter flower called heather, Erica carnea, as well as small grasses in combination of the flowers. They will together fill out the basket perfectly with its purple colour with tall grass that will leave a dramatic effect with the seasonal winds.
You can also grow grasses like Stipa tenuissima, which are not only easy, but can be grown from the seed. You can start growing them in spring, and by winters, they become these small plants that fill up the planter, and by summer, they are ideal to be grown on the border.
While working on design ideas for a small garden, make sure there is cohesion in colours and plants to make them appear in perfect harmony. Make your planters the dominant feature, which can be strongly coloured and become a garden artwork. You can also colour coordinate the planters by growing some plants underneath the planters for an added effect.