Lighting up your bedroom is a tricky feat – too much of it makes the room look too exposed, and too little is tough to operate in. Try these ideas using hanging, pendulous lighting ideas to provide a warmth only rustic lighting can provide and make the room an attractive place for fun, laughter and good night's sleep. Find out how to use them the best possible way:
1: Hanging Drum lights –
[Image – Terrat Elms Interior Design]
These are drum shaped, hang low and can be used to glam up an under-decorated room using fancy chains. If used for an adult's bedroom, use in combination with soft grays for a luxury look and sophistication.
2: Hanging chandeliers –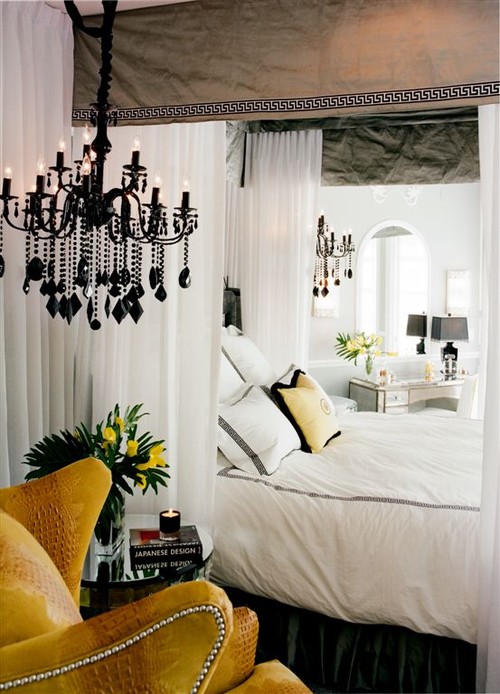 [Image – Tracy Murdock Allied ASID]
Bold move for something to go in the bedroom, but if the space is huge, might as well try something a little delicate. The sheer hangings can dapple the light from the fixtures.
3: Oversized pendant –
[Image – Threshold Goods & Design, LLC]
Next to the bed, this light looks less dramatic, but more subtle. It attracts attention yet is less flashy. Ideal for a minimalistic looking bedroom, this fixture is a must have.
4: Traditional and ornate –
[Image – Andrew Snow Photography]
Find an ornate looking yellow light pendulum for spicing up a plain, contemporary space. This type of lighting is superb for neutral surroundings, as the detailing on this lamp balances the lack of any fancy fixtures on rest of the décor.
5: Rustic look –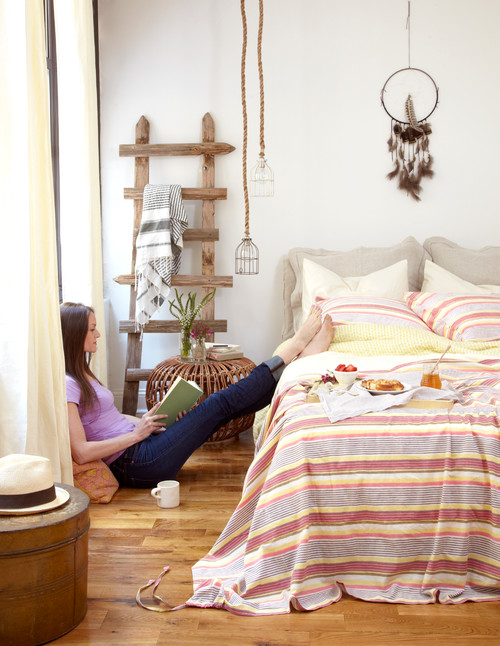 [Image – Urban Chandy]
Combine wire and rope in a stylish way! These cage style lamps can work on electricity or candles and come down from the ceiling on ropes made in a natural fiber like coconut or hemp.
6: Chic contemporary –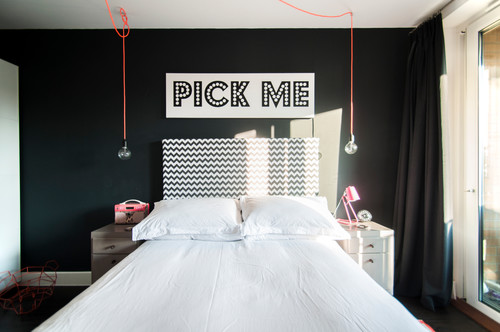 [Image – Amelia Hallsworth Photography]
Using large sized bulbs in sockets is the best design idea for teenager's bedroom. Hang them from hot pink or electric blue cord wires; no covering on the bulbs is required. This truly cool look is so inspired and attractive; your rebellious teenager will love it!
7: Tin man –
[Image – Adelene Keeler Smith Interior Design]
Old wired tins make for lovely rustic look lamps! Acquire one from a salvage shop or get one made using wire molding. They go beautifully with a country style bedroom with reclaimed wood highlights. Fix them in with electric bulbs shaped like candles. Hang them from the ceiling using rusty chains – not actually rusted, but painted so.
8: Silver spheres –
[Image – Inspired Design Ltd]
Set against a background made in rich deep blues, grays and blacks, a silver orb in bright finish completes the look perfectly. The steel or silver polish will balance the look and brighten the room without any overtones. The interior décor looks superbly stylish, slightly exotic and the deep surroundings make it all the more alluring!
Pendulous lights are beautiful additions for any room. Especially in the bedroom, they look stylish, sophisticated, and compliment the setting effortlessly. Try out some styles in your bedroom and see the ambience change!