It may seem like an easy task to choose the perfect bathroom countertop at first. However, as you learn more and more about the options and their possible cons in regards to their pros, it can become very challenging to make the right choice. But thanks to the variety of options that are available at different price points, by knowing just the right amount of details, you would be able to pick up an ideal countertop for your bathroom without sacrificing too much on the overall theme. The one thing that many buyers consider while buying bathroom countertops is a lot to do with style and cost than with the strength as opposed to the kitchen sink, the bathroom sinks take far less beating. Fortunately for homeowners, the top choices for bathroom countertops, generally, are sturdy in both beauty and strength. Here are some comprehensive details about the most sought after countertops that feature amongst the buyers and also provide some stunning bathroom interior ideas.
Granite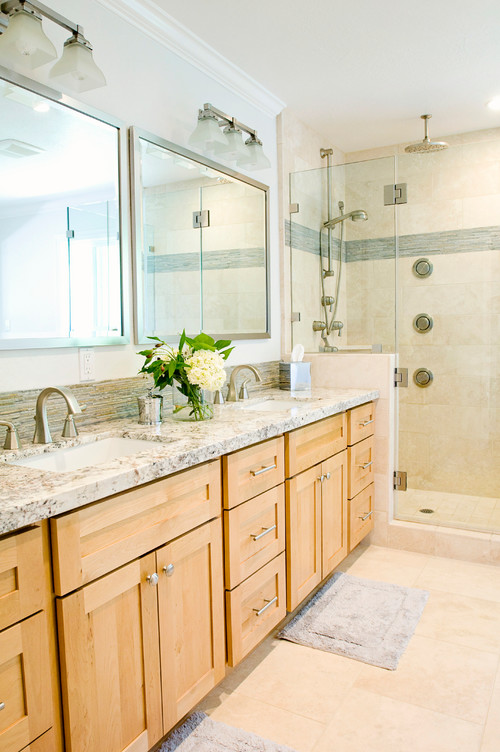 [Image: J Manning Studio]
Mostly people prefer to buy granite for their bathrooms. Even though, quartz comes at a close second, granite still remains the preferred choice for a lot of buyers because of the variety available in this natural stone. This stone has several elements of beauty and endless patterns of colours and styles that one can choose from.
Pros:
Since there are so many options that are available for choice, you would most certainly be able to find the slab that fits your needs and that of your bathroom.
Granite can endure a lot because of its sturdy surface and is also scratch resistant, which requires very less maintenance when sealed properly.
It will not be damaged from humidity inside the bathroom or even hot curling iron.
It is very durable and can last for a long-long time.
Due to the desirability of this stone, granite slabs in the bathroom can augment the resale value of your house.
Cons
It is very costly to buy this natural stone as a bathroom countertop.
You need a professional to install the slab as it may get damaged due to wrong handling,
Granite is overall recyclable, but its mining and transport uses a lot of essential energy resources, which makes it less eco-friendly.
Quartz
[Image: Casa Verde Design]
Quartz is available in copious quantities in nature and is one the hardest stones available. As a matter of fact, every stone consists of some percentage of this material in their composition. Many manufacturers are known to add a small percentage of pigments, resins and other recycled content to this stone which is 95% pure quartz.
Pros
Quartz is much stronger than granite and does not need sealing.
It has a natural property of being resistant against bacteria, moisture and stains.
There are many installation options available, which give several choices to the buyer.
Cons
Quartz is almost as expensive as granite and marble.
The textured finish available will lead to fingerprints and smudges and may require more cleaning or wiping of the surface.
Solid Surface
[Image: Atelier BOOM TOWN]
Solid surface countertops available for bathroom interiors are made using the composition of resin and crushed stone. There are many colours and patterns available, which give the buyer a wide variety to choose from. They pair exceptionally well with the contemporary décor of your bathroom.
Pros
This material has a very long life and has a natural resistance to water, bacteria, as well as discolouration.
They can be a good alternative to natural stone when you buy streaked or flecked patterns.
They look perfect in appearance.
Minor damage due to heavy use can be corrected by slight polishing or buffing technique.
There also other varieties such as lighting effects, colour inlays and backsplash options available in this type of surface.
Cons
Cannot be installed without the help of a professional.
Blemishes and scratches can be highly visible in case of dark coloured surface.
Can cause intense damage with excessive heat and dropping of heavy objects
Marble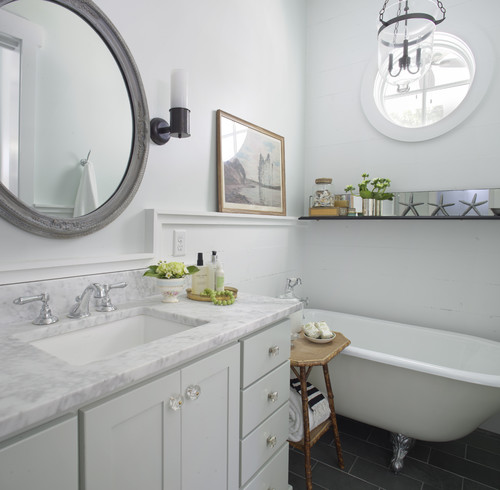 [Image: Rethink Design Studio]
Marble has been used for centuries not just for their durability, but also its sophistication and elegance. However, over the years, they have now become affordable for normal people due to increase in production techniques. It is a hard and crystallized limestone that has patterns of grey and white streaks on its surface. There are also many other colour options and patterns available.
Pros
They can naturally resist accidental dents or chipping and has a long life.
You can polish the surface for a shiny look or also use it in matte finish.
They can be easily adapted to all kinds of style, which makes them highly versatile.
Cons
They can be very expensive.
They are porous in nature, which makes them susceptible to staining and reaction to acidic substances.
To maintain the finish of the surface, it requires regular sealing.
Concrete
[Image: CONTENT Architecture]
Concrete has come a long way from being just an industrial substance. As of today, there are many known aesthetic applications due to its shape-shifting qualities that can be evolved into many different kinds of looks. These products are mostly manufactured offsite to have greater control over the quality of the finished product.
Pros
Concrete looks organic in appearance that can effortlessly imitate the look of natural stone.
There are many colours and varieties available that include different textures and decorative inlays.
Can be styled into any kind of shape or style as the customer wants.
Has a very long life.
It can also be made using recycled content, which makes concrete surfaced countertops an environmental-friendly choice.
Cons
Professionals are required for designing and installation of the surface.
The porous nature of the surface makes it necessary for the countertops to be regularly sealed and waxed.
Seam lines are visibly prominent. but they can be minimized by adding coloured filler to the mixture
Laminate
[Image: Country Cabinets]
Laminate has culminated from the garish display of noticeable seams and pastels that were very popular in the 60s and 70s. This product is also popularly known by the name of Formica and is created by a thin plastic, which is bonded over a particle board using pressure techniques. It can also be plastered on a plywood board. These laminate surfaces can also replicate natural stone finish and also wood like finish along with many other graphic patterns.
Pros
This countertop is one of the least expensive surfaces.
They are long lasting and easy to maintain due to its natural resistance to water.
They have a warm touch feeling.
You can pick up a pre-sized surface that is readily available at home supply stores.
It can be easily installed without the help of a professional.
Cons
Laminate loses its sheen and texture over a period of time.
Any damage caused is irreparable and the whole countertop would be required to be replaced.
Tile
[Image: Sienna Building, LLC]
Ceramic tiles have a very charming quality to their appearance that looks casual, as well as elegant. If your bathroom is styled with Spanish colonial or beach styled theme, then this surface will augment the overall visual exterior. You can install bold patterns to make a suitable surface for backsplashes or tub surroundings.
Pros
Glazed versions of these tiles are naturally resistant to heat, moisture, stains and scratches.
Tiles are reasonably priced, and in case of damage, the individual tiles can be easily replaced.
You can customize the installation and pattern as per the style that you need.
Cons
Grouts can become unclean and attract mildew.
They can crack or chip at various locations.
This basic insight into the most commonly used bathroom surfaces will help you immensely when it comes to choosing the right one for your bathroom. Pick the ones that best complements your décor and adds to the overall look of your bathroom. You can also make a choice as per your budget as most of these options are versatile and can be used as you desire.