Home Design Architecture
The Potrero House is a gorgeous house in San Francisco, California, designed by very celebrated architect Cary Bernstein. The house spreads on an area of 3,700 square feet and is a remodeled version of an existing cottage that was built in 1904.
The exteriors: Most parts of the house features large glass windows, mainly for the views. The plants and greenery gives the area a quiet and serene feeling. Apart from concrete structure, parts of the wall and an extended deck on the upper level have been completed in a very natural shade of wood. Every room has sliding windows on each level, and the designing is such that the house is much in harmony with the surroundings around.

The interiors: The interiors of the house have been completely redone with the best of elements, with very sustainable factors. The house features quite glossy looking reclaimed timber floors and the walls and ceilings have been done in a white finish. There has been extensive use of other sustainable features like FSC-certified siding, low-VOC paint, radiant heat and ipe decking. The elongated kitchen of the house features complete theme with cabinets and drawers designed in glossy finish, while the island and the beautiful floors are in wood. The concrete staircase with wooden steps is among the main highlights of the residence, and there is a painting on almost every wall in the living spaces.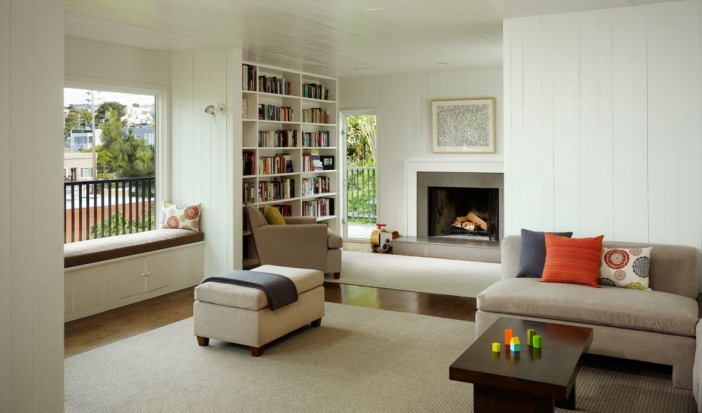 Furniture and lighting: The furniture in the house is mostly in the modern style with seats, chairs and couches used in a unique balance. Using carpets for the living areas, the rooms have been made more warm and cozier. The lighting is mostly about small LEDs used in the ceiling with mounted lights on the wall.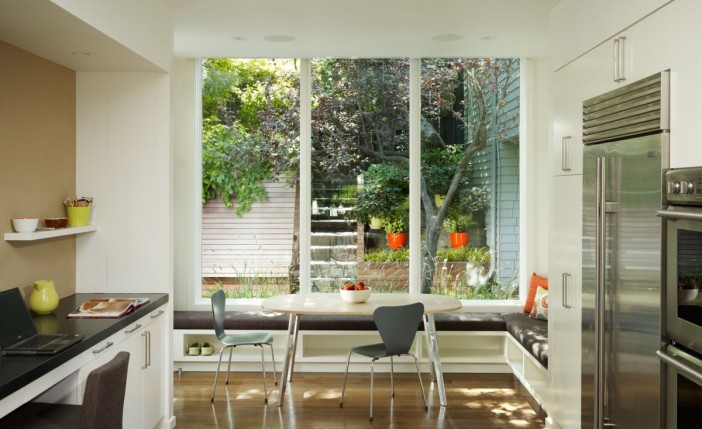 Photos Courtesy : Cary Bernstein