If you are blessed with a sunroom and want to make the most of it, knowing some interior design ideas may help. Sunrooms are designed with ample styling because such rooms are made for leisurely living where you would love to bring some guests on. You need to be extra careful as the space is more like living room, but a little creativity can go a long want. Check these smart sunroom interior design ideas.
Traditional sunroom ideas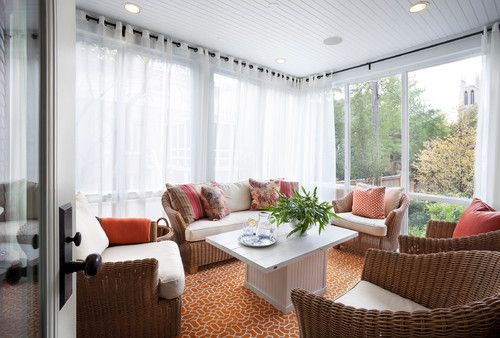 [Image- Tom Stringer Design Partners]
Add curtains: Sunrooms are meant for enjoying the sun, and ideally you will find elongated floor to ceiling walls and windows that are designed completely in glass. Adding curtains is a good way to add some privacy, especially when the neighbors stay close to the main room. The most perfect choice is those breezy and airy curtains that keep the smooth air coming and ensure ample light, as well.
Quick interior design tips
[Image- Town and Country Conservatories]
 Add plants: Sunrooms often blur the lines of interior and exterior living, and therefore, plants are easy choices for the room. You can have plants all around and make the room feel much more natural than it actually is! For the accents, you can be better with flowering plants in the pots that create good atmosphere for many seasons at a stretch.
Kohlmark architects and builders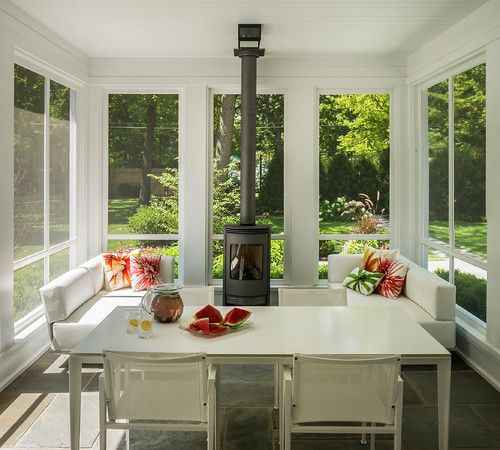 [Image- Fraerman Associates Architecture]
Add a dining space: While sunrooms are more like living rooms, adding an extra dining table will only enhance the functionality of the place and make it more interesting. However, keep in mind that such a room needs very leisurely spacing and needs ample foot space, so make sure that you choose a dining table only when the space is available. You also need to see if there is space for chairs.
Sunroom interiors
[Image – Balodemas Architects]
Add the right lighting: Sunrooms make the most of the natural light and don't generally have A/C installed. However, some days are way too much hotter and you may need a ceiling fan to swing the air around. As for the lighting, soft lights and lamps are always welcome as you can create a theme with them with ease.
Transitional sunroom design ideas
[Image – Lucy Interior Design]
Add comforting furnishings: Just like your living room where you need to look into the comfort level of the guests, sunrooms too have the same kind of need. Ensure that the furniture is placed leisurely and there is ample floor space around. You should go for upholstered seating instead of wicker furniture. And for more softness, add big cushions in a large number! Do check for expert opinion on furniture ideas before buying one.
Sunroom interior design
[Image-Crisp Architects]
Add space for events: Sunrooms have ample airing, lighting and ventilation, and it makes sense to use the space for parties and events where a small group of friends are coming over. Look for all kinds of chairs and bar stools that don't take too much of space or can be folded when a few people come over.
Sunroom remodeling ideas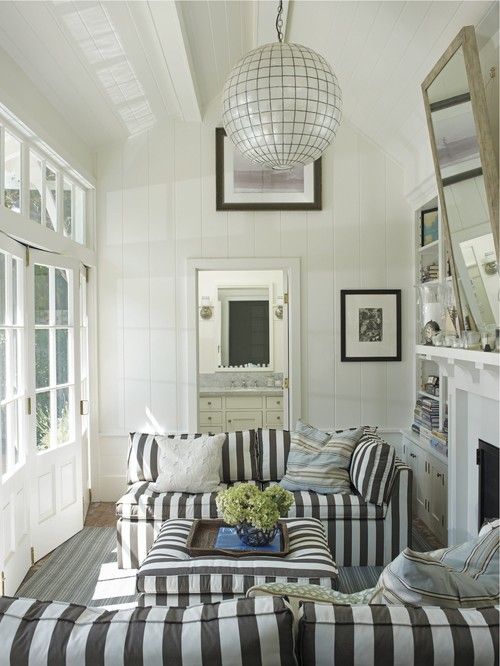 [Image – Coastal Modern by Tim Clarke]
Add decoration: While you may not have many walls to hang all the framed pieces of art, but art decoration has much more meaning than paintings. You can choose tea lights, scented candles, small decorative artifacts and lot more. Other things to add include classy mirrors, magazines and few books. The main aim of interior decoration ideas is to keep the flow of the room with detailing!
Sunroom interior design ideas
[Image- AVP ARCHITECT VIEW PRODUCTS BY IMASOTO]
Create a space for home office: Working in an open environment is always desired because we love connecting to the nature. Adding a simple desk to the sunroom can make space for home office easily. Especially when you are doing something creative, such a space will only make things easy on the mind.
Sunroom interior designs
[Image- KohlMark Architects and Builders]
Add carpets and rugs: If you love to have an extra effect to the sunroom, you can certainly add accented colored rug and carpet for the room. This works well for the fact, that the walls in such a room cannot be used for accenting, and therefore, rugs are best ways to do the same. For those in budget, this is an option hard to replace.
Traditional sunroom design ideas
[Image- LDa Architecture & Interiors]
Simplify things: Having said all of that for the perfect sunroom, it is good to mention that simplicity is the key to a perfect shining room like this. Here, you are supposed to enjoy the air around and have a more relaxed time than what you have in the living room. As such, don't add too many colors and items and keep the tone light. The theme should be based on white and add colors that are in sync with the simple colors.
Sunrooms ideas
Sunrooms can turn into a picture-perfect space for fine living, and not all homes have one. Creating a sunroom would need you to consider the climate, the proximity of the owners and similar things. As such, it is best to see if you can maximize the room, even if it is a small one.