If you are someone who loves the elevated garden beds, you might already know that this is a practical solution that works excellently for all kinds of gardens. No matter whether you have poor soil conditions or have issues with erosion, a raised bed can be a good solution.
Even for those gardens where the drainage system is poorly maintained or has soil that is more of the rocky texture, it is good to just enhance the garden bed. Don't worry about the material choices as there are more than many. In the next few series, we will talk of the most practical solutions and materials to choose from.
Wood:
The most banal and oldest solution for enhancing and raising garden beds is wood. Since gardens have issues of water and other climatic things, the choices are mostly for woods like cedar that last long. There are choices in wood that are preserved with certain chemicals, which may not be suitable. As such, make sure you choose the natural ones.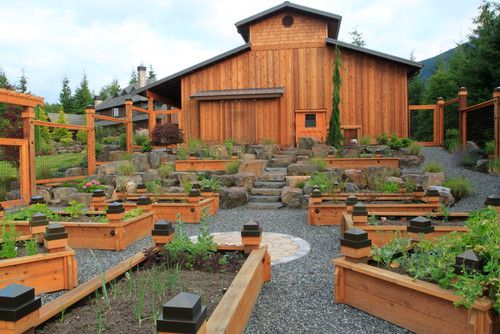 [Image – Alderwood Landscaping]
Benefits: Firstly, raised wooden beds are easy on the pocket and can fit in all kinds of budget. Also, even if you have a contemporary style garden, wood fits in with ease just like in the traditional gardens. Wooden choices are easy to find in the market, and you will find many choices in material and finish. The installation is also not going to cost you huge.
What's scary: Unlike many other choices, wood is not meant for a lifetime, and there is always a need to ensure that you take that extra care! Check for the options in treated wood that should last more than one and half decade.
Masonry:
One of the most important reasons why people love masonry is the fact that it can ease and look good in any kind of garden. The only thing that you need to check is whether you can get access to a crew who can do the task, and you will be surprised to know that there are many who can actually do it on their own.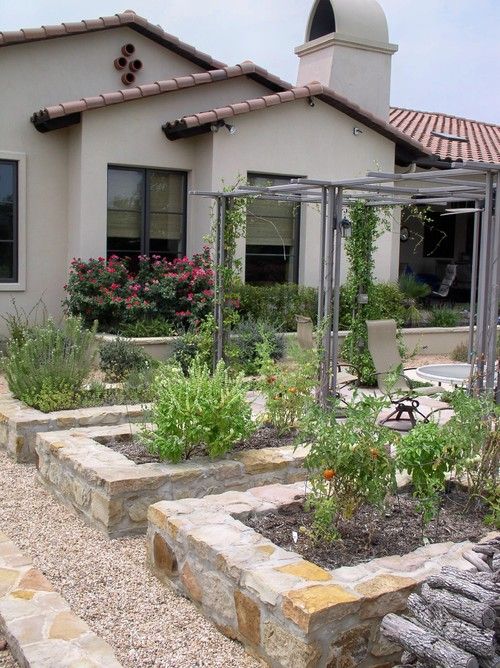 [Image – Rick O'Donnell Architect]
Benefits: You will have an easy time finding masonry supplies, and there are many ways to complete the same. Keep in mind that you can even choose a style in masonry that is designed to be matching the house exterior theme or paint you have. As we have already mentioned, this is one of the most versatile choices that is available on a budget. Also, this is one of the most long-lasting solutions, which may run for decades without any need for replacement.
What's scary: This may cost you more than wood or concrete. If you are willing to spend some money on the garden beds, masonry is a good choice, provided you have chosen the right kind of rock. Higher priced rocks are always more on the demand, so waiting for the costs to come down is not a right thing to do. Keep in mind that once you choose the material, the changes are going to last, so it is better to look for a rock on a better price.
Concrete:
Coming to the modern exterior design ideas and choices, concrete is one that makes the most buzz and makes it possible to be used for any kind of needs. While on the first glance, it may appear to be just another material choice, but there are many designers who actually focus on the designs in concrete. It suits almost all kinds of gardens and has a very versatile look that is hard to resist and beat.
[Image – Berger Partnership]
Benefits: Concrete is simple yet versatile, and there is a lot of design choices. It is easy to find installation, and if done right, it can last more than a lifetime. Concrete is one of the more permanent solutions when you know that you don't want to spend a huge amount at least in the next two decades.
What's scary: Concrete can be an over the top choice with regards to budget. While the materials may not cost you huge, but there is no denying that you will have a lot of additional costs on the installation, which is often not easy to bear. For many unshaped and sloped gardens, the choice of concrete may require more labor, which also adds a lot to the cost and increases the overall budget.
Steel:
In general, you will find steel is the main material for most of the construction projects, but there is a lot of creativity to the material that makes worth using in garden. The sheets of steel can be installed into shapes like a square and circle, and you will love the glaze that it gives in the initial time. However, the real beauty comes from the beautiful rusted look after a few months. Depending on the quality of the steel, rusting can be immediate and quite admirable for the look it creates.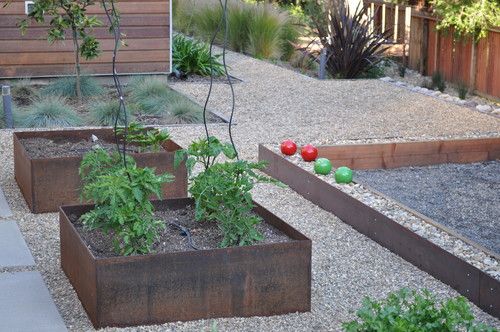 [Image- Huettl Landscape Architecture]
Benefits: Needless to mention, steel is a much better choice when you are concerned about the condition and durability of garden beds. Costing is one more benefit, but that is much dependent on where you live, so keep an eye for the sellers who offer discounts and deals. When an easier but defined choice is what you want, steel is the material.
Cons: Steel being a heavy material may be quite difficult choice for the construction and installation. For plants that are heat-sensitive, steel is not a choice as it heats quickly and can cause damage. Costing in some areas can be high. However, if you are someone who wants to use steel for the areas where the plants will be shaded, you can overcome most of the cons.
Rock:
When you are on an average budget, rock comes as an easy choice in form of spreads, rather than being mortared. You have beds of small boulders that look classy or can choose to have large ones that are stacked one upon another. The best thing is you have the option of all kinds of shapes and styles to do, and most of the times, the designing can be perceived and done on your own. If you are someone who likes doing his garden on his own, you shall be more than happy with the choice and designs of rock.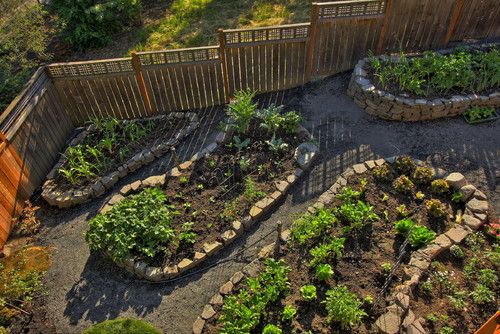 [Image – Paradise Restored Landscaping & Exterior Design]
Benefits: Rocks are designed to offer that very relaxed feel around the garden, and therefore, is meant for the owner of a casual garden. There are so many styles and shapes of rocks that you can find, and most of these choices are easy to acquire without having spent a million. For those who love to ensure that their garden changes the look every season, rocks are easy solutions, provided you are not choosing to use concrete for construction of the beds. If you already have some rocks, you can save almost the entire cost and do the design for free!
What's scary: Well, rock raised beds are not meant to be a permanent solution, so the option can be tacky. However, if you have a rented home and want to make sure that things are designed at your will, this is a good option.