An industrial facade look can be seen in the Tsunami House by Designs Northwest Architects in Camano Island, in Washington. Designed using mill steel, galvanised composite panels, red cedar wood and porcelain tiles, the architects have structured the tsunami house into two levels offering outstanding design ideas to others. The lower level serves as the flood belt and is used as a flexible space, to act as a buffer in the awake of tsunami alerts. With the upper level, the family has its living spaces oriented towards facing the sea.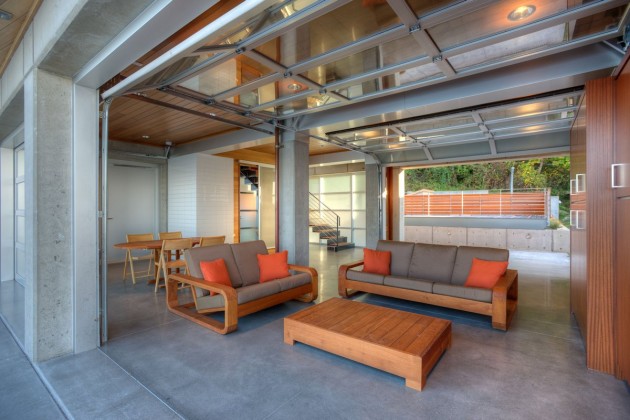 The use of durable and easy to maintain material finishes have been advocated by the architects for the Tsunami House in case of disastrous storm attacks. Effective use of space in the upper level leads to sliding bedrooms with translucent windows that throw open the filtered light into the living spaces. Clear glass openings with steel railings watch the facade with louvered windows on two sides, thus, lending privacy from the neighbouring houses.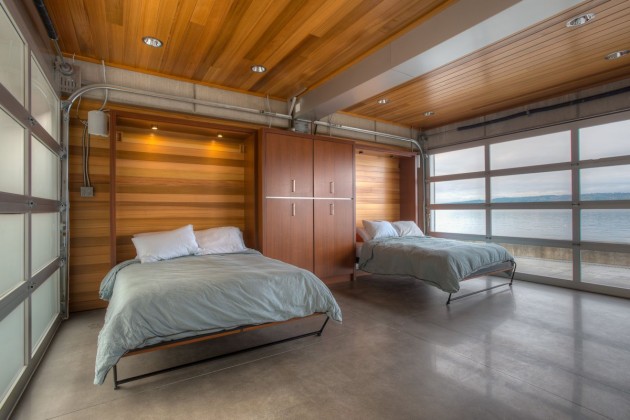 The house is raised above 5 feet from the road and is supported using a pile foundation that gives rise to concrete columns holding the lower level of the house. The main living floor of the house stands at 9 feet from the ground level, thus, gaining a comfortable space to view the open sea.
Red cedar wood adorns the ceiling and floor of the lower level while porcelain tiles are used for flooring in the upper level. It lends a rustic natural look to the house facade, which is seamlessly arranged with composite aluminium panels. Clear openings, concrete columns, mill finish railings and staircase leading to the upper deck of the house lend volume to the overall residence. A brilliant culmination of materials fused with innovative design is the tagline of the Tsunami House!
Photos By :- Lucas Henning