The Havaianas Store designed by Isay Weinfeld in Brazil is located on an open underground layout, right below the street level. It is accessed by a series of steps, where the shop has 3 different levels, the mezzanine, the shop, and the basement office. Designed in a descending order, the shop caters to a wide range of Havaianas or traditional footwear of the Brazilians. It is more like street shopping, but in a more organized manner using different forms of the galleries and display stands.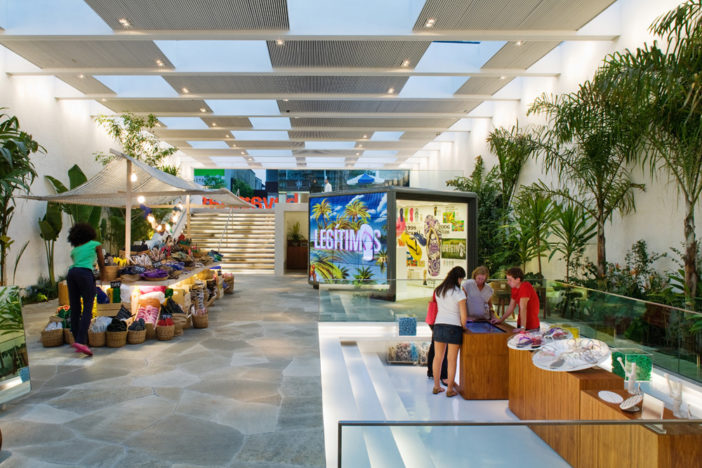 From the mezzanine level, the shop is to be seen with a colourful display of flip flops, which are arranged in steel containers, island display tables, cubicles and stand-alone kiosks. Each section caters to varied kinds of flip flops ranging from children wear to newest arrivals and is handled over an open platform that looks more like an extension of the street. It is simple, uncomplicated and retains a fresh look devoid of cramped space and internal walls.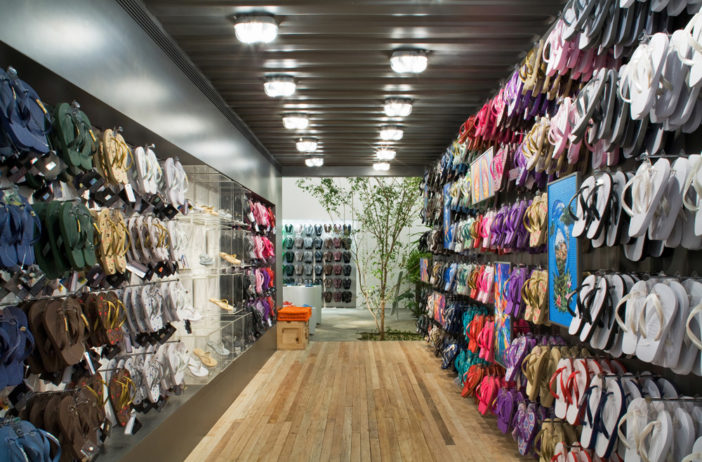 Moreover, the shop is designed to have a good lighting, ventilation and irrigation system for the green plants grown right inside the shopping arena offering remarkable go-green design ideas. The ceiling is kept simple with an alternating board of glass and wooden louvers that filters in light, air and is operable under rainy conditions. Below the shopping arena is the basement, which houses the office, store room, kitchen, staff lockers and the rest room. There is an elevator present in the basement to carry stored goods to the shopping arena, as well. On the whole, a meticulously designed shopping arena without the need of facades, or glass windows, the entire underground open layout is flexible to change from time to time based on the needs of the display. It is a new revolutionary design process, where shopping can be fun devoid of expensive store fronts and candid interior décor.
Photos By : Nelson Kon