When you are confused about the number of accent pillows to add to your bed, just follow this simple rule of thumb that the number must not exceed the midpoint of the length of the bed. There are people who prefer to add too many pillows on their beds, there are also people who think too many pillows are a waste of space on the bed. However, when you add accent pillows such as bolsters or neck rolls, you cannot only enjoy the comfort of additional pillows but also keep the high number of pillows in control.
[Image: Fiorella Design]
Although many people often use the terms bolster and neck rolls interchangeably, there is a huge difference between the two. Bolster pillows are long in length and are almost the same width or a tad smaller than the width of the bed. However, neck roll pillows are much shorter because they are shaped in a tubular manner. If you have contrasting welts or bold lines, these pillows can do a great job in accentuating that design element.
The word Bolster was first used in 12th century and was derived from the word "belg," which means a bag. It is also sometimes referred to as support so the name of the pillow has been appropriately named after this word. In Western countries, this pillow has been typically used to offer support to the lower back when someone sits against the headboard. When you use a bolster pillow, you do not need a mountain of other small pillows on your bed to offer you support while reading, watching TV or simply sitting. You can also use these bolsters on your sofa and not just on your bed. Many people in the Asian countries hug their bolster pillow when they sleep at night.
Here are some of the ways to use bolsters and neck rolls on your bed providing some awesome interior ideas for your bedroom.
Full Length Bolsters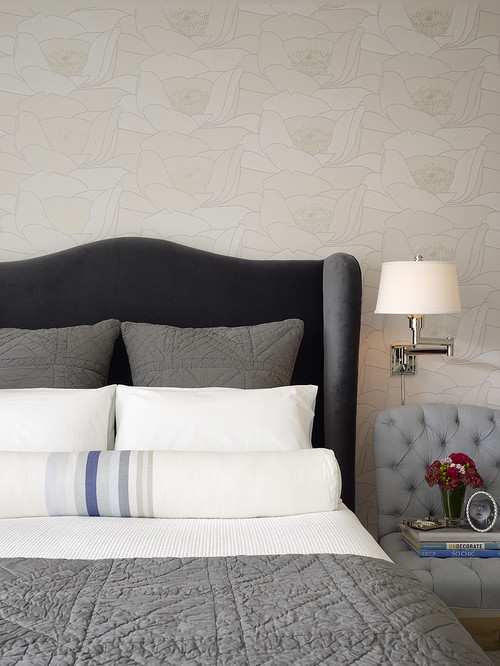 [Image: Jute Interior Design]
Bolster pillows are available in many lengths, but one of the most popularly used varieties is a full-length bolster. This bolster is equal to the width of the bed or may be little less by finishing just before the edges. So a full-length bolster for a king size bed can be 76 inches long.
Their placement is usually in front of the larger pillows, which helps restrict their movement on the bed. In this image, a full-length bolster is placed in front of the dropping size set of pillows.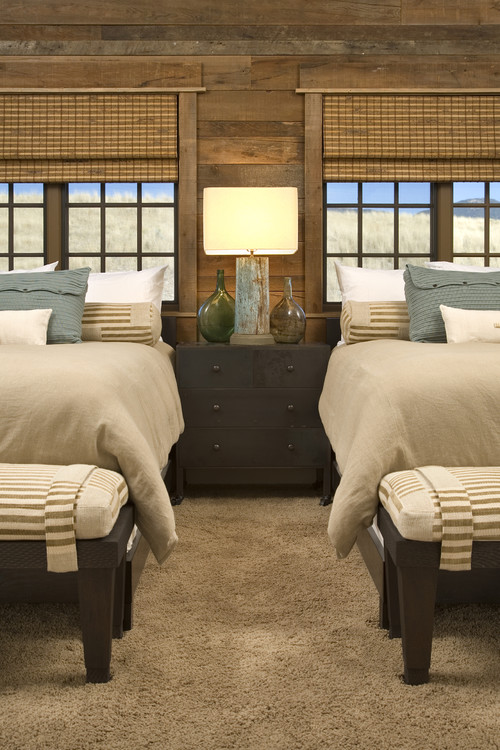 [Image: Van Bryan Studio Architects]
They are also popularly placed between large pillows in the back and throw pillows in the front while sandwiching the full-length bolster in between. They will look perfect if the colour of the bolster is neutral or has a textured finish as most of the design will be hidden behind the decorative pillows that are placed in the front.
[Image: MaRae Simone Interiors, LLC]
There are some designers that prefer to use the bolsters sparingly with these bolsters replacing the traditional styled large pillows.
[Image: Pinto Designs & Associates]
Some people may also place the bolster at the foot of the bed so that you can put your feet up for relaxation. In this image, the bolster pillow has been added at the head and the foot of the bed and has been upholstered in contrasting fabric to make a greater impact.
[Image: CTA Architects Engineers]
If you only place one full-length bolster and that too at the foot of your bed, you get an option to get more variety of pillows at the head. You can get a much better and streamlined look with this arrangement.
Medium Length Bolsters
[Image: Sara Ingrassia Interiors]
If you do not like a full-length bolster, you can also consider buying a mid length one for your bed. The experts suggest that the ideal length for king size, queen size and twin beds is 4 foot, 3 foot and 2 foot length, respectively.
Twin Bolsters
[Image: Artistic Designs for Living, Tineka Triggs]
Placing two short bolsters end to end on a queen size or a king size bed will make perfect sense if the bed is being shared by two people. They are not just comfortable but together placed side by side looks more interesting visually as can be seen in these tangerine coloured bolsters with white stripe outlines.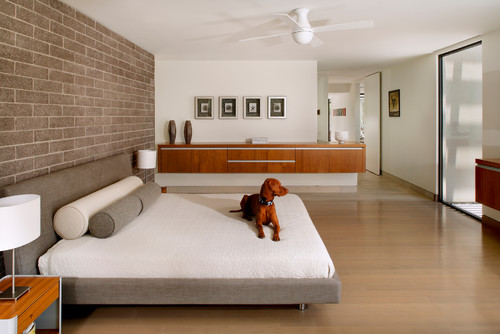 [Image: 180 Degrees]
In this image, a full-length bolster has been placed against twin bolsters, which offer a unique and interesting combination.
Take Diameter into Consideration
[Image: Design Milieu]
Some bolsters have a greater diameter due to a large amount of filling while there are some that might appear skimpy. Generally, if you want to place a bolster on a king size or queen size bed, then you should go for 9-inch diameter. However, for the twin beds, settle for smaller ones. When you make a cover for these bolsters, they should be shorter in size (diameter and length) by 1 inch so that they make the pillow appear full and not overstuffed. If the insert is the same size as that of the cover, then the pillow does not look, but instead looks flaccid and untidy.
Neck Roll Pillows
[Image: Historical Concepts]
Neck Roll pillows are shorter in size than the bolster pillows. Neck rolls are generally sized between 14 and 20 inches in length and almost 6 inches in diameter. As the name suggests, this pillow is used to provide support to the neck. However, they may also be used for purely decorative purposes as well.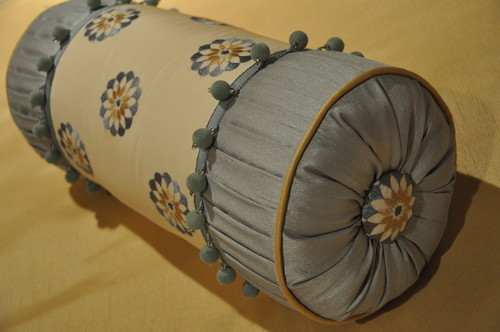 [Image: Bela Casa Decors]
Neck rolls may not necessarily have an opening at one end as can be seen in this image.
They are mostly smaller in size and are generally used for ornamental reasons; you can find the neck rolls to be brightly coloured with elaborate patterns and trimmings like in this example.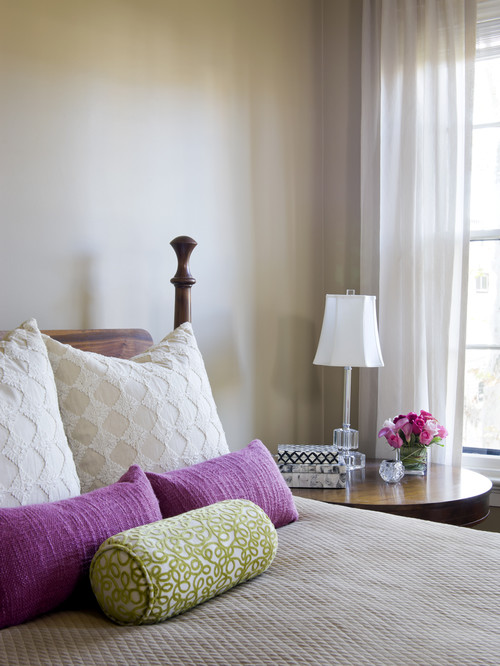 [Image: LDa Architecture & Interiors]
The most important part to note in both neck rolls and bolster pillows is their insert. Since they are meant to support the body, the insert needs to be firm. Full-length bolster especially need a lot of stability so that they do not break in the middle.
Many people prefer to use down or feather inserts, which make the pillow very smooth and slightly expensive, as well. Feather variety is less preferred as they may have quills that can poke you and cause discomfort.
Experts say that the inserts that are made of 10% down and 90% feather composition are much more comfortable than the ones made of polyester or foam. However, do note that if you are allergic, then down may not be such a good option for you. Better alternative will be polyester fibre fill, which is a great hypoallergenic choice. If you are looking for a more natural insert, then you can choose higher composition of down between 30% and 100%.
Bolster and neck rolls have come a long way from being a support on the bed to a beautiful accessory, which augments the visual factor of your bedding. This is why people pay far more attention when they choose the styles, fabric and patterns V/s when they are looking for inserts. Although both the aspects play an equal role, however, depending upon their utility, you need to make relevant choices.