The bedroom is our personal space and we devote a lot of thought in choosing every piece of furniture carefully, even if it is a night stand. However, when it comes to keeping the nightstand surface organized, many homeowners end up cluttering it with tabletop lamps and other such items that can take a lot of precious space. Break away from the conventional matching oversized lamps when you can use these bright ideas to free up all that taken space. Here are some decor ideas and tips that you can employ to use your nightstand more judiciously than cramping with lights that can installed elsewhere.
Explore the floor
[Image: Holly Marder]
It is a very natural expectation to place a bedside lamp well on the nightstand so that it can suitably illuminate the personal area without disturbing the other person in the room. However, you can also achieve the same purpose by using the floor lamps that can save you a lot of space on the nightstand that can be used to place books, décor items or other important things. Floor lamps can be adjusted as per height and distance from the bed, which gives you greater flexibility in using the light as per your need.
You can select from the variety of options available like a slim one with a flat base that can easily slide under the open space of a night stand. You can also pair it with an open table without causing a space crunch for either of the two.
A style that is tall and has an arc can easily bend in the middle and light up just the required area. It can sit behind your nightstand without taking too much space and reach forward when needed.
[Image: Pause Architecture + Interiors]
You can also try the one with a focused beam on your reading area and can bend forward. In this room, the floor lamp has been paired with an interesting nightstand that has a tray topped surface which can hold important items.
Combination of Table and Lamp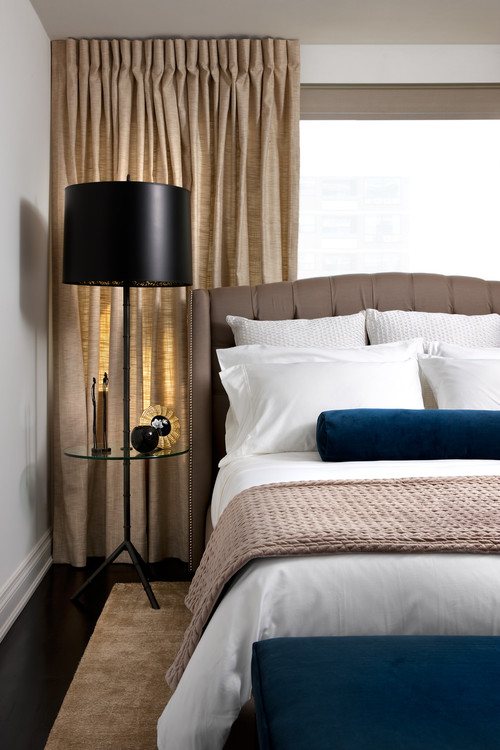 [Image: Toronto Interior Design Group | Yanic Simard]
This innovative design is a perfect solution for table lamp and a nightstand, without taking too much necessary space. In this design, the lamp has been built into the design of the table which can be used for both the purposes. In this image, a combination of black and bronze has been used that is not only masculine, but also very sophisticated in appearance. It is a perfect addition to a newly built or renovated condo in an upscale urban area. Choose from the variety of options available and get the one best suited to your home décor.
Pendant Lighting
[Image: J. Hirsch Interior Design, LLC]
A pendant light hung right above the nightstand can free up a lot of space, just the way a floor lamp does and illuminate a particular area like a spotlight. This one is very sophisticated with a dreamy and romantic flair to its design.
[Image: Andrew Snow Photography]
If you want a more modern approach to your lighting, you can add a simple looking Edison bulb with a basic cord. Hang this light ultra-low so that its warm light reaches just the right amount of area to illuminate your bedside.
[Image: Tracce]
For a fun and innovative approach to pendant lighting ideas for bedroom, you can add two lights at different heights for an asymmetrical turn to the pendant light. This can be helpful in cases where there is only one sleeper who prefers to read while in bed.
If you want to hide the non-hardwired pendants, you can creatively sneak the cords behind the curtains that can run down to the floor and not be visible.
Wall Sconces
[Image: Tamara Magel Studio]
When you want your room to have a creative glow, you can use the wall sconces. It not only saves considerable amount of space but is also available in neat and sophisticated designs that can augment the design of your room. While there are options to place the sconces directly above your bed to provide soft reading light, there are also options that can hug the wall and give your room an extra source of lighting and also make a sleek statement.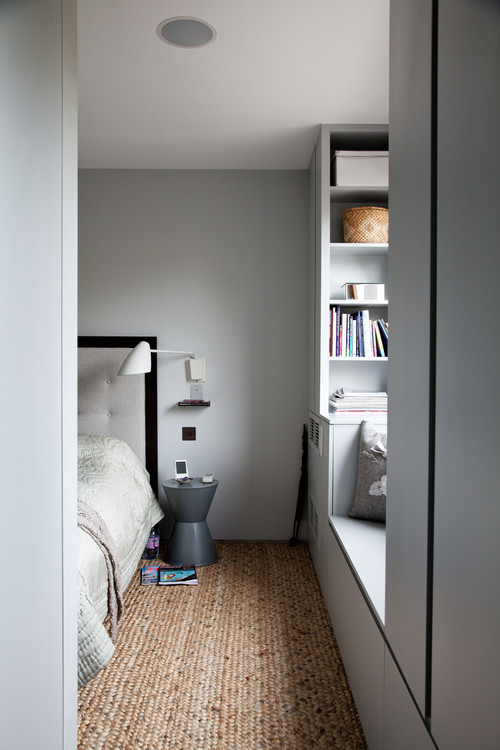 [Image: Sigmar]
If your main focus of adding a sconce is to function as a task light, then by adding a swinging arm, you can swivel the light as and how you need it. Swing the light in whichever direction you want and then swing it back once you are done.
[Image: The Cross Interior Design]
You can also add the sconce light to your headboard if you have a wide headboard and bring the light closer to your bed.
[Image: Avocado Sweets Interior Design Studio]
One of the best advantages of using headboard lamps is that you can hide the cords. You have the option of tucking wires behind upholstered panels of the headboard or let them hang behind, thus, eliminating visual clutter of wires.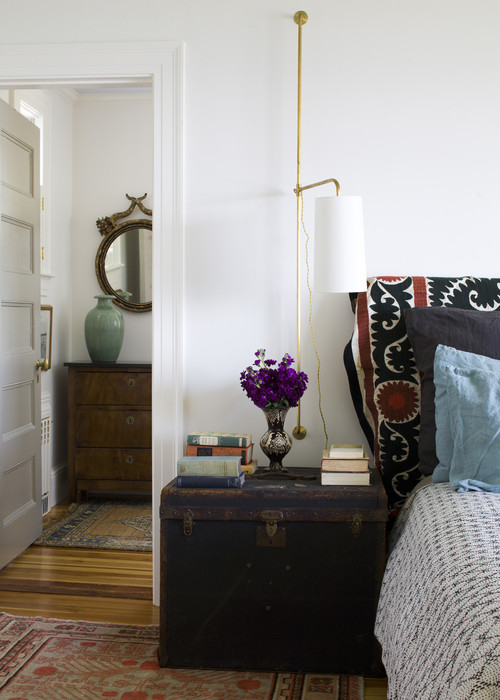 [Image: Siemasko + Verbridge]
Another way of dealing with a wired or a plug in sconce is to make the bracket a point of interest rather than trying to hide it. In this image, the bracket has been done up in a gorgeous golden tone which makes an obvious statement by simply being paired with an off white shade. Another matching wire has been added to the fixture that gives it a fluidity of jewellery like appearance.
[Image: Rauser Design]
You can also use the traditional rustic setting by adding a sconce to a black/bronze hardware with matching cables.
Nightstands are for utility and so are the lamp shades. They can separately meet a much larger purpose than being combined. Why not make the space available on the nightstand and place the lamps in a creative way when you have that option? These simple lighting ideas will give you a head start when it comes to using the space more wisely.