If you are one of those people that are struggling for space, then what you need is smart ideas to optimize the storage space. These ideas are perfect in the aspects of style as well as functionality. The furniture is also designed in such a way that it affords flexibility and matches the décor every bit. There are all kinds of options available these days that can accommodate different budgets and vary from storage under the seat to built-in bench arrangement. As a matter of fact, there more and more furniture companies that are focusing on maximizing storage while taking less and less space. Use these furniture ideas to enhance space while rejoicing in the compactness of your home.
Add bunk beds to utilize vertical space
[Image: Rice Paddies Interiors]
Bunk beds are the most usable solutions when it comes to small space woes. They are perfect for children's rooms where the space is comparatively less and also provides a fun place to bunk at night. You can buy a readymade piece or involve a carpenter to build you something more suited for your home and its design. You can utilize every inch of your space by using this smart option.
If you have more space to spare, then you can use longer bunks that can make some extra room ready when a friend visits. To give the room an actual cabin like feel, use natural wood as the primary material for the bed. Use accessories to make it attractive and fun. Don't forget that you would need a ladder to gain access to the upper bunk so make provisions for it.
Table that can be tucked under the counter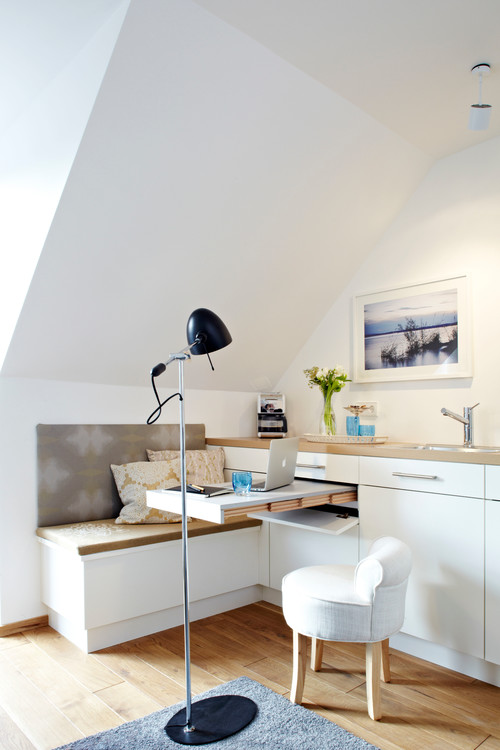 [Image: Ute Gunther INNENARKITECKTUR & DESIGN]
Laptops are a necessity these days, and almost all of us use it as a main option when it comes to a PC. If you have small homes where your work space and kitchen double up as a home office, then you can consider using a built-in pullout. This table can be used as a home office workstation by the day and breakfast/meals table during supper time. When not in use, simply slide the table back into the counter and make the additional space available in no time.
If you are lucky to be planning a new kitchen, then consider employing companies that can make this option available to you and integrate into the design. You can also hire a professional to make some space for a table that can slide into the counter.
Table for 2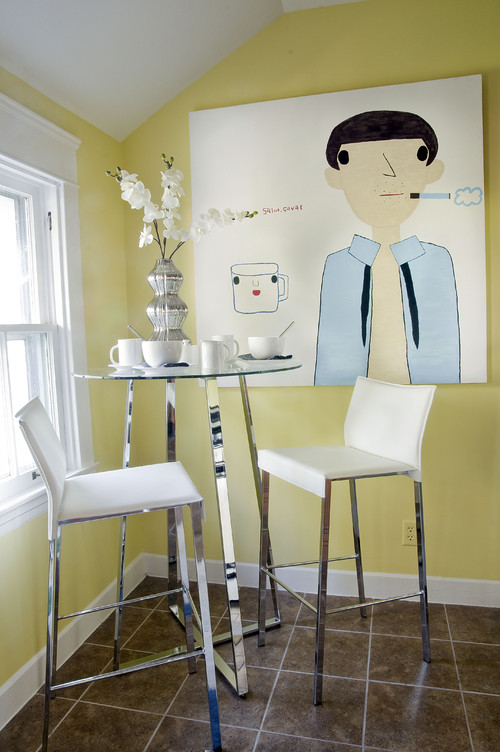 [Image: Eclectic Living Home]
If you are not too social and already have a space crunch, then a table for 2 is a perfect solution for a dining table. No need to use a great amount of space for bulky dinner tables and chairs if you don't entertain all that much. A tall bistro style table uses less space and is very stylish in a contemporary room. Just tuck it one simple corner to make a comfortable spot and enjoy warm snug meals.
Glass should be used for small spaces as it creates an illusion of space by providing a clear line of sight. Pair it with metal finish and whites so that light can bounce off, and it opens up the area.
Modular Sofa to optimise seating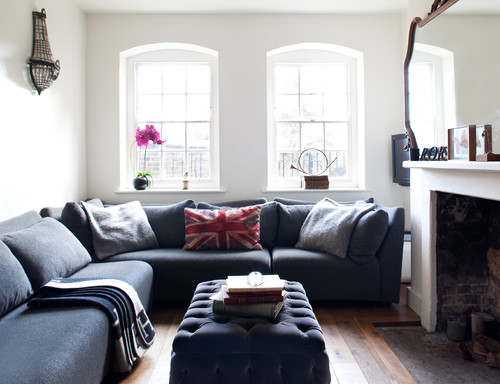 [Image: Paul Craig Photography]
When you are faced with a tiny living room, then sectional sofas will serve you well. You can tweak the number of pieces that you need as per the requirement of your living room. Arranging your sitting in the corner not only makes extra room in a small space, but also gives you a cosy spot for special family gatherings.
In this image, the seating has been placed at the window sill level, and the eyesight is automatically led in that direction due to the presence of Union Jack pillow. It strategic position links the outdoors with indoors that enhance the space and make the room appears larger than it actually is.
Use slimmer pieces of furniture    
[Image: 24mm Photography]
When you use antique furniture, they are naturally built in a small fashion as opposed to the contemporary style that is subliminal but big in size. This is the reason vintage pieces are a perfect addition to a small room. Look for tables that are small and slim that add a hint of elegance without demanding too much space. You can also use an armless chair with short legs to give a corner cosy feel and provide for a reading nook.
Make a snug seating in an alcove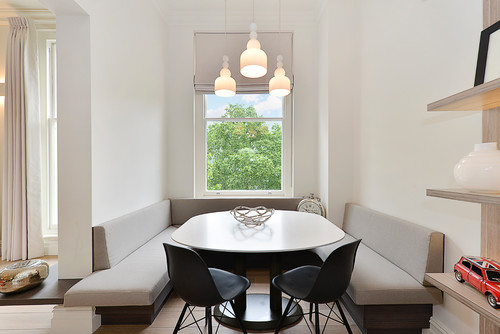 [Image: Aflux]
If you are lucky to have an alcove that is available for use, then make the most of it by inserting a multiple seating bench for close family interactions. You can get a carpenter to build you one from the scratch and the one that fits the alcove perfectly. You can also use under the seat area for storage purpose that will meet two objectives at the same time.
Upholstering your seating in velvet finish or linen can bring in a touch of minimalistic style. You can tie in the décor by using window treatments using the same fabric giving it a pared down feel to this tiny nook. It also makes the space appear larger by giving a harmonious blend rather than chopping off the vision by introducing variations in the fabric.
Use the scaling technique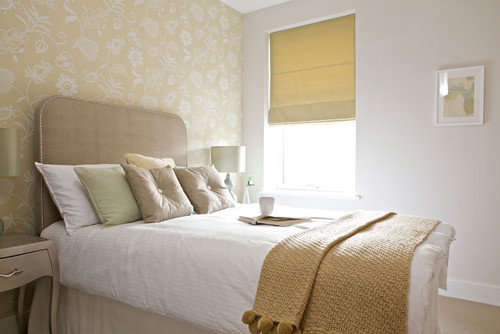 [Image: The Couture Rooms]
In a small bedroom, you can trick the eyesight by using scaling technique that makes the room feel spacious. Using a big headboard is a great way to augment the size of the room. You can further emphasize the room's area by using soft fabric such as linen or wool that can be accompanied by a range of soft pillows and layered bedding.
Buy pieces that meet dual purpose    
[Image: Kelly Deck Design]
A simple yet stylish sofa bed is a space-saving solution that can serve as a sofa and also as a bed when guests come over. This additional space is always welcome, especially if you are living in a single room house.
Invest in styles that are not overly demanding and neutral tones in soft fabrics. You can a dash of colour by using patterned and vibrant pillows which can be changed instantly to give your room an update from time to time.
Utilizing every bit of your space takes a bit of cleverness and creativity. These interior decor ideas are very simple but use the furniture in such a way that the utility is met with style and storage. You can implement these ideas or come up with your own so far as it meets the space purpose.