Most of us are now concerned about the environment, and as the experts put this, everyone has something to contribute to the environment. Over the years, designers and interior decorators have tried for ways to make the kitchen for environment friendly, and that's to that, we have some unique choices to make. If you are thinking of getting a kitchen that is designed well, here are some niche ideas that can help you go 'green' and be in balance with the nature.
Find the ecofriendly appliances: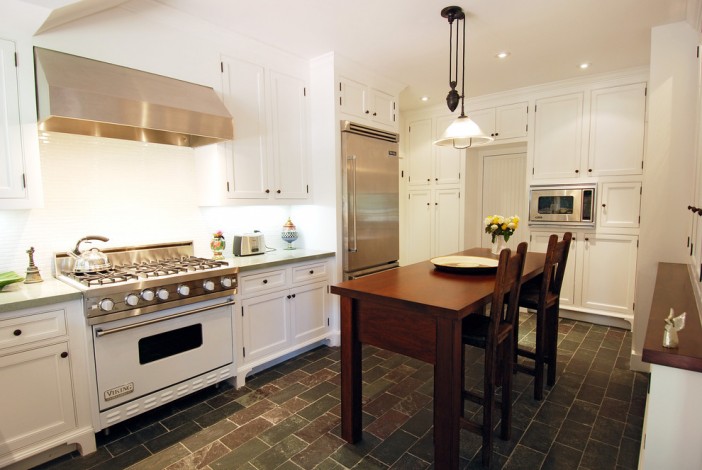 [Image – Kelly Baron]
Most kitchens have a lot of appliances including microwaves, refrigerator, toasters, ovens and induction cookers. Thankfully, we have electronic companies that sell products based on energy rating, which is an indicator of the energy or power consumed by each of them. If you choose the products with better rating, you are not only contributing to the needs of environment but also having a huge chunk on the power bills.
Use LED lighting: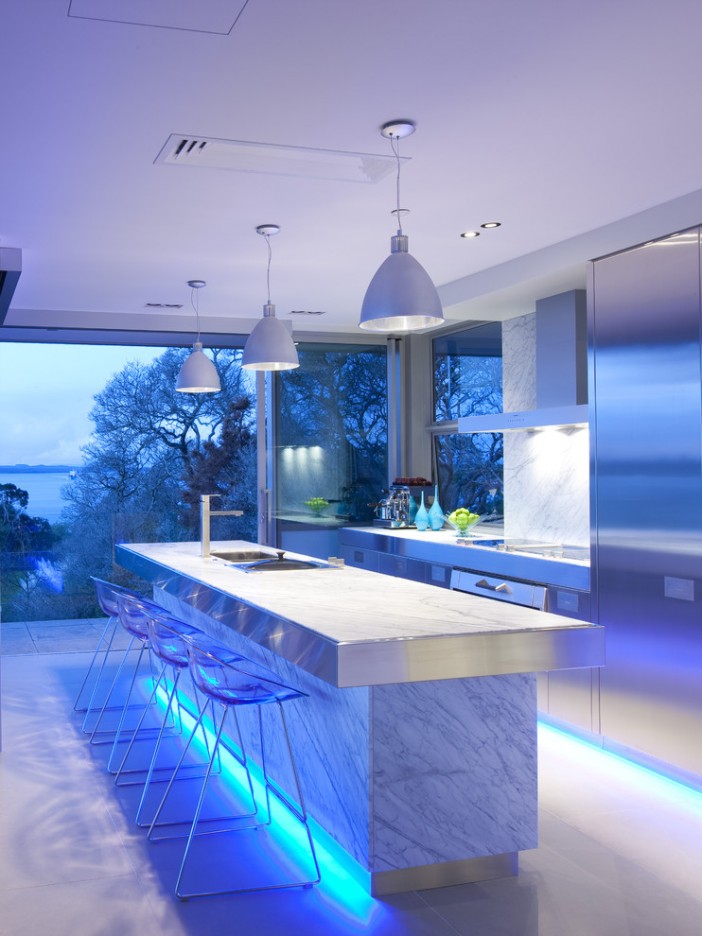 [Image – Mal Corboy Design and Cabinets]
Most of the famed contemporary designers always think of LED lighting as one of the greenest solutions in hand. LED lights last much longer and have a lot to offer in terms of design and styling, apart from the fact the energy consumed is much lesser than traditional lights. There are numerous choices for every kitchen, so there is nothing that you would need to compromise with.
Use recycled tiles: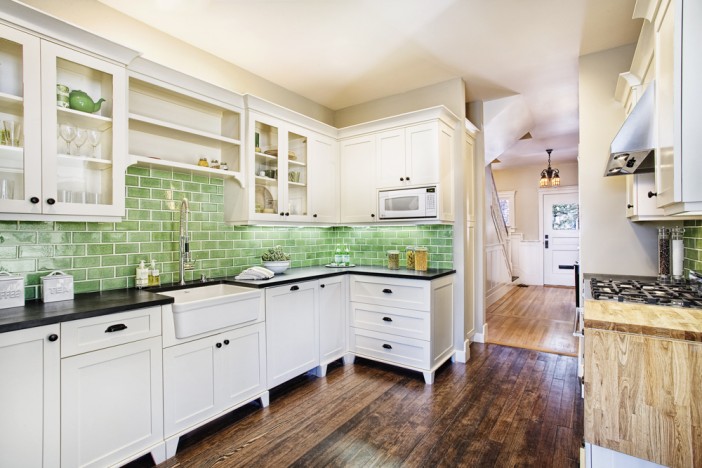 [Image – Fireclay Tile]
Every home owner needs to think of the tiles that are required for the backsplash of the kitchen, and this is where you can go for recycled tiles. These tiles don't cost you a fortune and can be as long lasting as your regular tiles. Not to forget, the designs are as much interesting as you may desire.
Opt for ecofriendly countertops: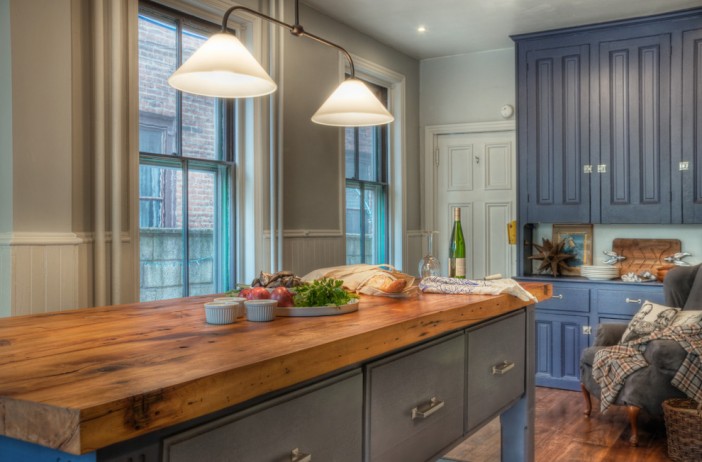 [Image – Buckminster Green LLC]
We have talked in one of our posts how the ecofriendly countertop materials can be a choice for the kitchen. Right from recycled paper mixed with other materials to recycled wood and stainless steel, green materials are always worth the money spent. All you need to do is set a budget, and you will find more than few select-able options.
Consider adding windows: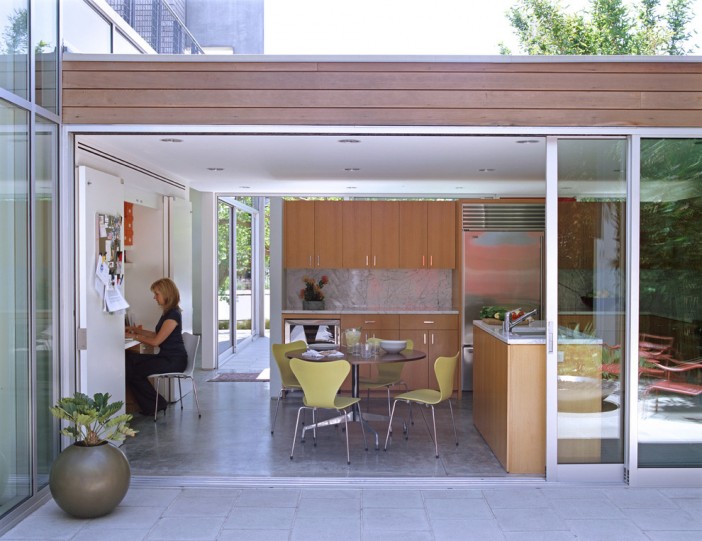 [Image – Paul Davis Architects PC]
Having natural light in the kitchen is a smart and nifty way to get away with the electricity bills, at least for the day. Also, having a large window from Newport News roofers keeps in space for more airing naturally, which can be a good idea to stop, using the exhaust fan. Depending on the kind of space you have, adding one window should not hurt!
The right flooring: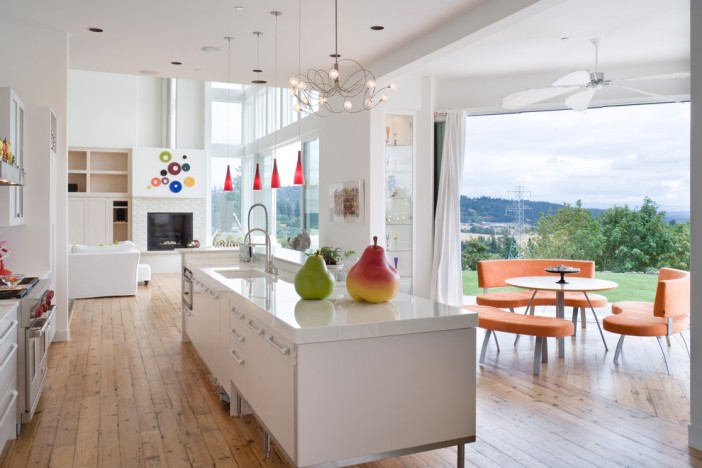 [Image – Alan Mascord Design Associates Inc]
Many homes have green flooring, so that's something that is worth considering. Apart from choices like recycled wood and tiles, you can also look for the materials that come sans any toxins. Flooring with such materials may cost you a little higher, but the money paid is certainly worth it.
Get green with your kitchen with these ideas for a feel-good difference!