When you are living in a house that is compact, every piece of furniture needs to justify its presence in the room. These interior design ideas below will help you place adjustable tables, sliding bookcases and other flexible furniture to make the most of small living spaces.
Table with Flexible Height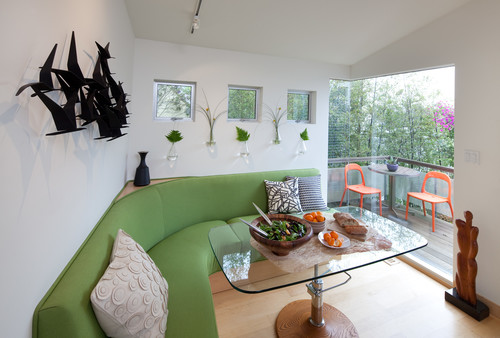 [Image: Kimball Starr Interior Design]
When the height of the table can be modified, it can be brought to use for a variety of purposes. In this room, the table's height is adjustable, which can transform a coffee table to a dining table within seconds. It has been cleverly teamed with cushioned banquette, which can serve as a sofa while watching a movie or a comfortable dining area when you need to grab a bite.
Classic Murphy bed with Double Purpose
[Image: Black and Milk Residential]
Murphy beds are perfect for rooms with a small space as they can be folded back into their stand during the day, which keeps the room spacious. However, in this case, the bed has been designed in such a way that it opens up onto a sofa set. This means that you do not have to shift any furniture when you sleep at night. Just open the bed and fold it back in without any additional effort. This is one of the best small bedroom ideas.
Movable bookcases
[Image: Read Studio]
In this room, the living area has been expanded by installing a bookcase on a track system offering a floor to ceiling storage space that has been positioned over the staircase.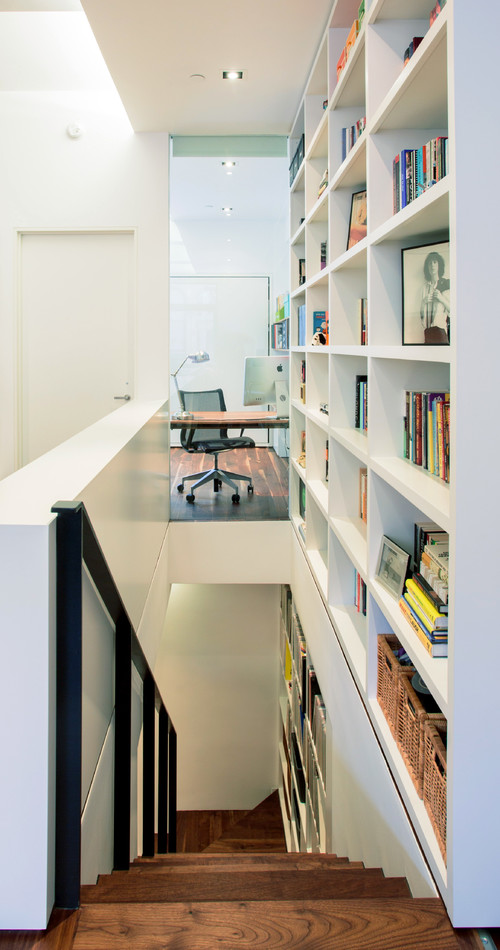 [Image: Read Studio]
When you need to open up the living room, you just need to shift the bookcase out of the way, and it instantly creates more space in the living area. When you want to gain access to the shelves, you can reposition the bookcase so that you can reach the books that you need easily.
Opening up the Dining Table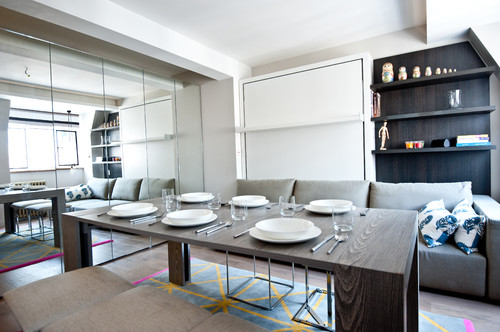 [Image: Black and Milk Residential]
An innovative Parsons console table in this image can be expanded and formed into a full-size dining table that can accommodate up to six people. Just use a leaf, which can be easily stored and transform your small console table into a full blown dining one.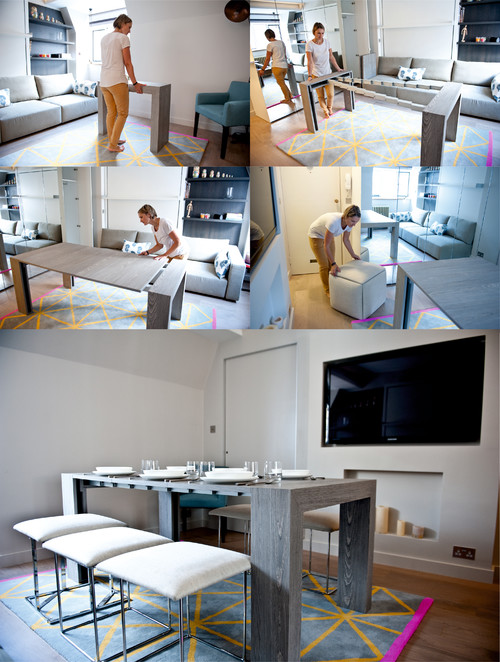 [Image: Black and Milk Residential]
The ottoman cube that has been placed in the office also dismantles into six stools that can easily seat the guests at the dining table.
Folding Dining Table
[Image: Geraldine Laferte]
In a small kitchen, space is a luxury that many are deprived of. However, this fold-up wooden panel gives you more room to move around when you are working in the kitchen and can be unfolded to transform into a tiny dining table that can accommodate four people.
The bench underneath the table can be used as a seat and opened to store items, as well.
Pull Out Surface for Home Office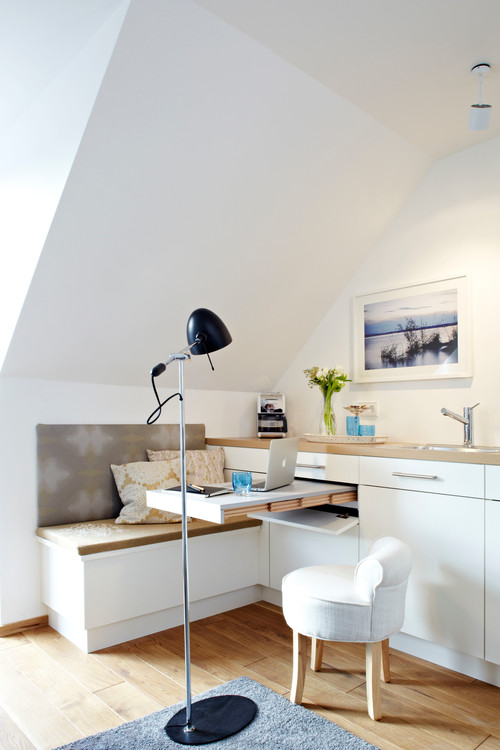 [Image: Ute Gunther INNENARCHITEKTUR & DESIGN]
You may have seen in the kitchen how the pull out board helps as a cutting surface. However, you can use this same principle to create a pull out desk that can be used for working on a laptop. When extended fully, it provides enough space to comfortably work and will slide back in when you require more space.
From Workspace to Seating Area
[Image: Geraldine Laferte]
You can fold the work surface back in and pull out the nesting benches as well as a coffee table from underneath a sofa to reveal a small seating space.
Secretary built into the wall
[Image: Geraldine Laferte]
This is one of the most common ways to conceal storage space and a working surface behind closed doors. You can use this space for storage purposes or drop down the top and make the place available for work.  It has a simple non-committal design that does not need a professional and can be done by a handy homeowner in their spare time. It is, however, recommended that skip the storage when you are attempting it as a DIY.
Sliding Bed
[Image: Julie Nabucet Architectures]
This is a very unique design that allows the bed to be slid under the raised floor and making plenty of space available during the day. Slide the bed out during the night and add a few pillows to make it into a complete bed.
[Image: Julie Nabucet Architectures]
By the day, you can slide it back in and put a few cushions over the slightly revealed bed that works as a couch. Also, the cabinets can be used as a storage space when the bed is rolled in.
Murphy bed in the Loft
[Image: Geraldine Laferte]
Unlike the common bedroom interior designs that we often see, this Murphy bed has been positioned at a much level as compared to the lower ones. This small design change makes the lower area accessible even when the bed has been rolled out. You can access the bed with the help of a ladder that can be stored in a closet and the built in wall storage can be treated as a night stand.
Use space under the stairs for storage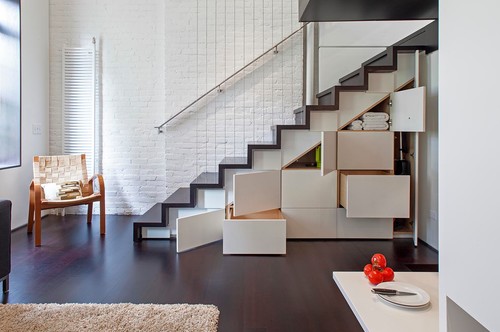 [Image: Specht Harpman Architects]
Space that falls under the staircase can be used perfectly as a storage space in small compartments. Keep the stair open sided to make the space look roomier and also allows light to flow into the upper level.
Mirrors to create the illusion of space
[Image: CDA Design]
Mirrors have been used as a mechanism by many designers to create an illusion of space. While they don't actually increase the space, they definitely make the space appear grander.
[Image: CDA Design]
By adding wall to wall mirrors, one can make a small room emerge much larger than it actually is.
It does not need too much design techniques to make your small space look spacious and roomy. All it takes is a bit of creativity and combination of tips like these to transform your small house into an open space when required.