Not everyone has many bedrooms, and even when you have one, there is often a need to make the most of the spaces. In this series of posts, we will talk exclusively about making the most of the bedroom corners and how you can put those smallest spaces to use. Here, we are not just talking for the options for senior's room, but there are bedroom design ideas and choices even for the kids, as well.
[Image – Lori Gilder]
Align the bed: If you have the space and want to ensure that you have a view of the door, which is often recommended, then having the bed angled to the corner can be a good thing. This also works extensively for using the space for a large vase or even for decoration and lamps. Whatever you choose to add behind the bed, the option is quite enticing.
[Image – Denise DeCoster Architect]
Create workspace: Most of us like hooking to the laptop, sometimes by passion for work or even by compulsion. No matter what the case may be, you can add a small customized shelf to create the nook of the bedroom for work. This can work well when you just need to use the laptop or have an urgent call to attend. Check if the space can be used for dressing space by adding a mirror and few shelves.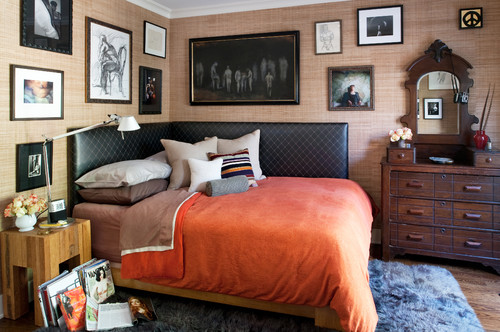 [Image – Tommy Chambers Interiors, Inc.]
Enhance the upholstered headboard: When style is the key to designing a bedroom, you need an upholstered headboard to be extended to the walls, mainly when the bed is aligned to the corner. This is great for a more relaxed feel, something that most of us expect when designing or investing in a couch or daybed. Not to forget, this is quite a budget thing to do.
[Image – Thrifty Decor Chick]
A nook for the fireplace: Adding the fireplace to the bedroom nook will save a lot of space and is more of a functional solution than anything else. The only thing that you need is a small fireplace that can work for the space available and save the upper part for windows and other detailing.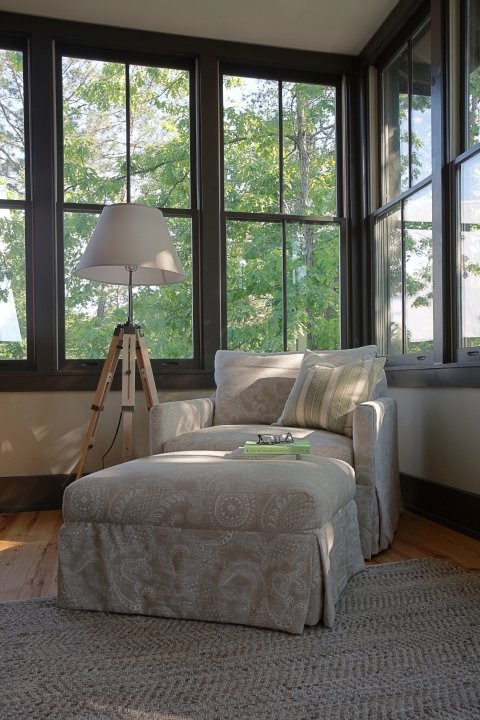 [Image -Tracery Interiors]
A reading space: If you have been enjoying reading and don't want to get on the bed for a thoughtful time, the best choice is to make the corner as a reading nook. The investment for this idea is fairly simple as you just need to look for reclining chairs or an armchair that comes designed with a footrest. Adding a lamp on the side or a light above ensures that you read with ease. Look for some great furniture ideas!
[Image –Griffin Enright Architects]
An open balcony: By far, this is more of a restrictive idea that works only when you have the views and location along with the right climate conditionals all through the year. The corner of the bedroom can have a balcony or an open space, ensuring you don't need to get out anywhere to connect with the nature.
[Image –Shelley Gardea]
A space for two beds: Most parents need to ensure that the kids are close and don't fight over the better space, and for that, you need just place the bed adjacent to each other around the corner. One of the most comfortable solution, and the space in between, if any, can be used for a light or a corner table.
[Image – Dan Nelson, Designs Northwest Architects]
An L shaped Bookshelf: You can either choose to customize a book shelf that can fit in the corner or can simply choose to add two shelves to create the L shape. In both cases, your corner is put to functional use, and if you are an avid reader, this creates space for adding some more to your collection.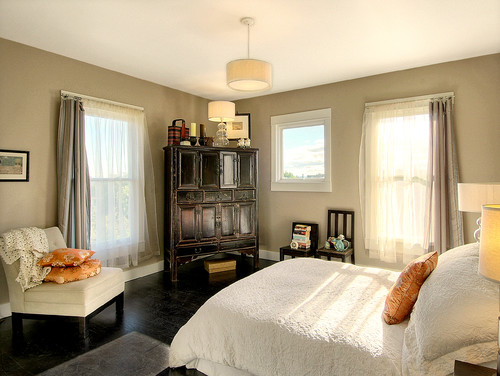 [Image – Zinc Interior Concepts]
A TV console: Not everyone likes to have a TV in bedroom, but when you have one, it can be a good idea to place the console around the corner where you can enjoy from the bed. Needless to mention, this is more of a banal solution and works well without any investment, except for the creation of a plug point.
[Image – Sheila Schmitz]
A creative nook: Whether you need to enjoy a small space for breakfast or want to sit down with the kids for some hugging time, a small bedroom corner nook can be a good option. Consider adding an ottoman, and you will find that the storage requirements, if any, are taken care of with ease.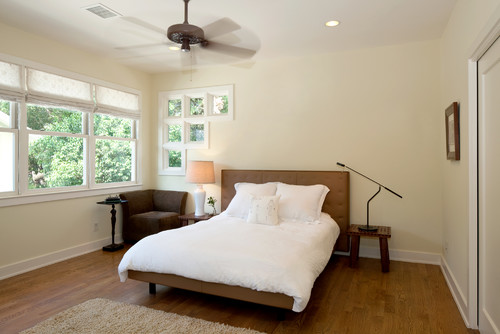 [Image – Cravotta Interiors]
A corner chair: Easily the most effective solution is the corner chair that can fit in even when you have extremely limited space for anything to fit in. There are numerous styles that you find in corner chairs, and the options in terms of designs are more than many. Either you choose just one for one corner, or can use double for the two different corners of the bed.
What are you thinking for the bedroom corner! Did any of these interior design ideas strike a chord with you?